Mars betyr karnevalsfering i Ecuador, og for oss begynte den med å kjøre langs den asfaltkledde tofeltsveien til den lille bygda Nono nordvest for Quito.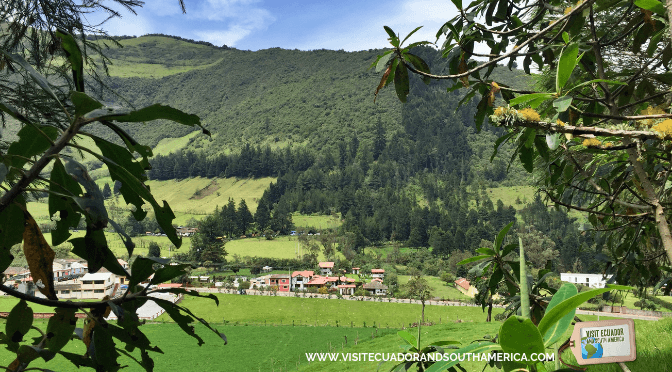 Om Nono
Nono er en liten bondelandsby beliggende 18 km utenfor Quito, i en dal med slående landskaper som fikk oss til å tenke på områder i Norge og Sveits med små gårder, fjell i bakgrunnen og grønne daler dekket av gress.
I helgene mottar bygda innbyggere fra Quito. Noen søker eventyr, andre er på jakt etter ro, og for noen handler det om hesteridning eller innta lokale retter mens de nyter det pittoreske landskapet.
Men jeg må tilstå at selv om jeg har reist en mengde steder i hjemlandet mitt så var dette første gang jeg besøkte Nono, hvor jeg dro sammen med moren min og mannen min.
Vi elsket alle å spasere gjennom hovedgaten som er fylt av små, koselige og fargerike hus, med nydelig dekorerte fortau.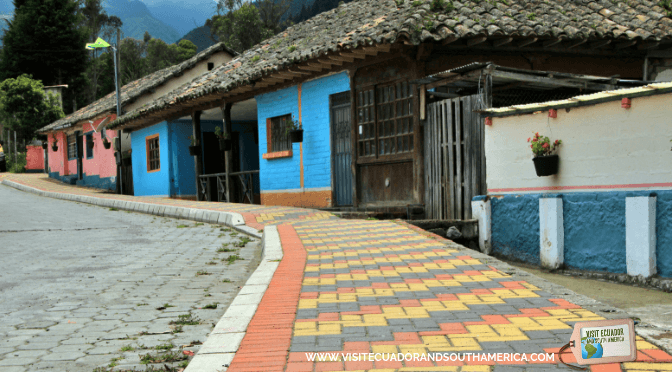 Karnevalsfeiring i Nono
Vi tok turen hovedsakelig for å delta i karnevalsfeiringen i Nono. Denne feiringen er perfekt for å lære om kulturen og tradisjonene i området.
Gjennom hele dagen ble karneval feiret med ulike arrangementer, leker, kulturuttrykk, håndarbeid og mat.
9:00 – 11:00 Parade langs hovedgaten
11:00 – 13:00 Paseo del Chagra, hesteshow med lokale cowboyer
14:00 -18:00 Tyrefekting og matfestival
20:00 – 00:00 Karnevalsnatt med lokalt orkester/band
Parade
Vi ankom mot slutten av paraden for å beundre en lang rekke dansegrupper, orkestre, samt djevler, zamarros (tradisjonsfigurer) og andre viktige figurer i Ecuadors mange parader, som gjorde hovedgaten til en fargesprakende fest.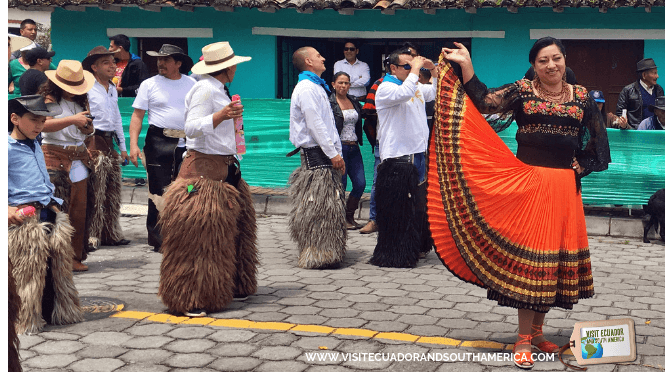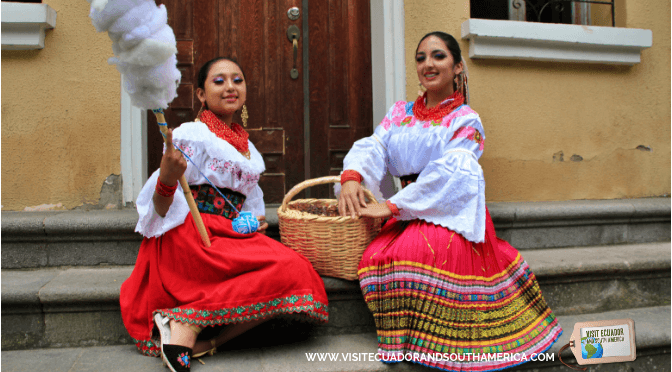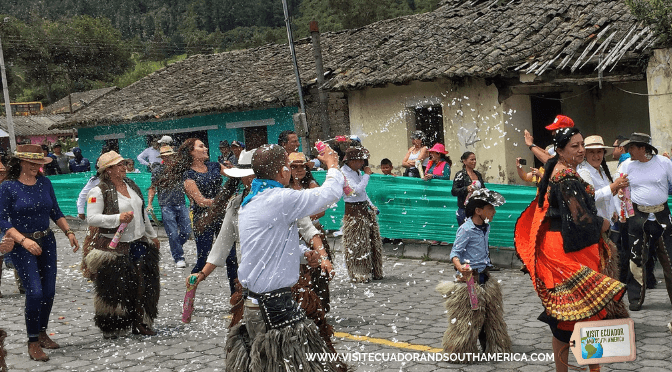 Paseo del Chagra
Vi var heldige som fikk med oss Paseo del Chagra, som er de lokale cowboyenes anledning til å vise fram sine kunster på hesteryggen.
Chagraen, som er den viktigste figuren for denne delen av feiringen, er en figur fra Andes som knyttes til kvegdrift og landbruk.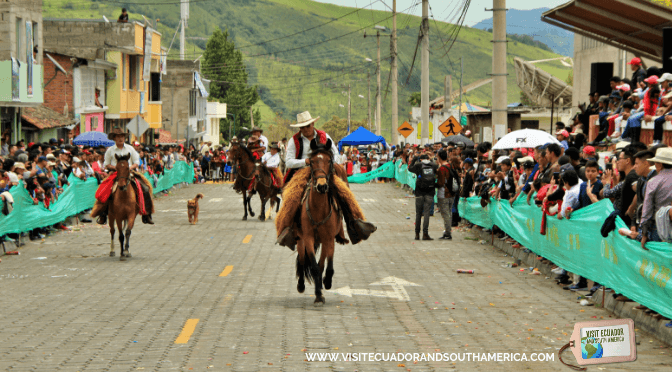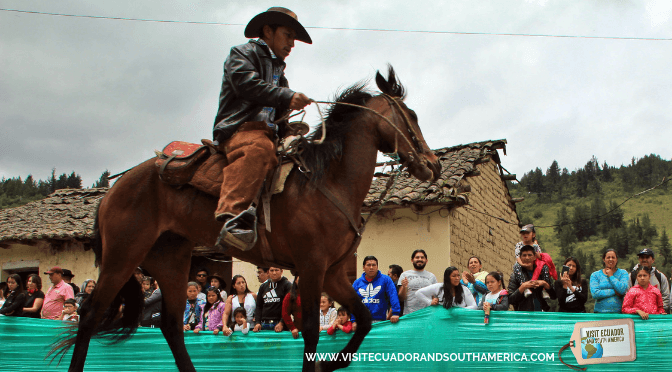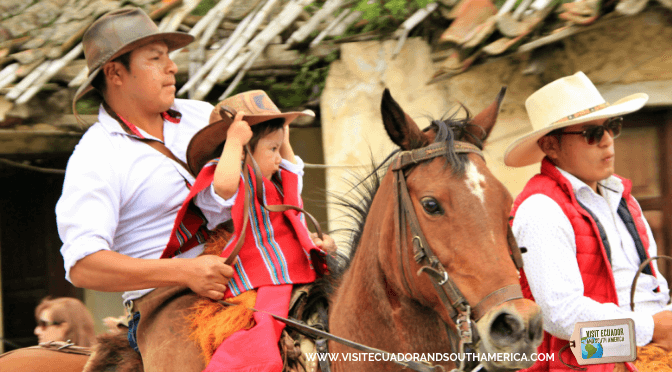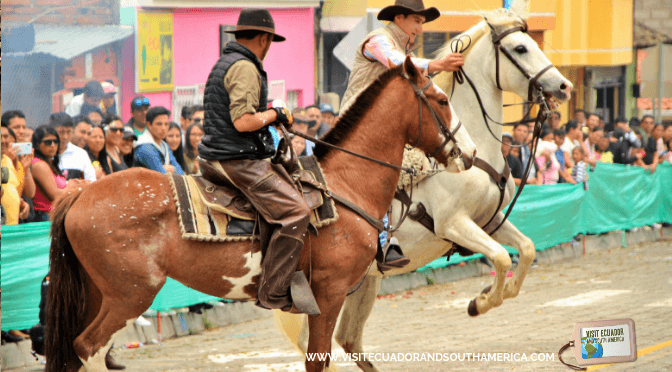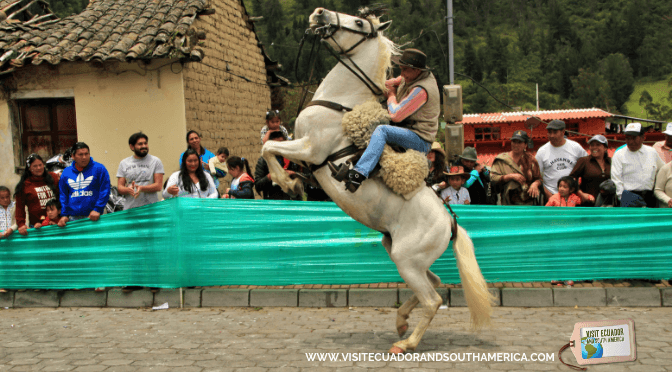 Karneval
Det er spesielt én tradisjon som finner sted over hele landet under karnevalsfeiringen. Det er den tiden på året hvor folk sprayer hverandre med "carioca", en form for farget skum.
Dette betyr, selvsagt, at sjansen er svært stor for at du vil bli dekket av skum dersom du går i gatene eller, som i dette tilfellet, deltar i en parade.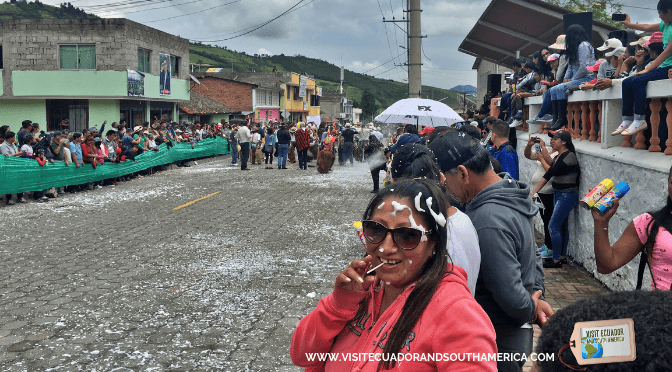 Mat og gastronomi
En annen viktig del av feiringen var mat. I tillegg til matfestivalen var det både restauranter og små matvogner som serverte tradisjonell mat som pristiños (biter av frityrstekt deig dyppet i sirup), fiken med fersk ost, og ananas med iskrem.
Hvordan komme seg dit
Kjør til rundkjøringen ved El Condado og ta den tredje avkjørselen til Avenida Antonio José Sucre. Deretter høyre på Machala-gaten til du ankommer veien til Nono på høyre side.
Aktiviteter i bygda og nærområdene

Kolibrireservat ved Yanacocha. Minod er et glimrende sted for fuglekikking, og reservatet som ligger langs veien til Nono er et perfekt sted å oppleve denne aktiviteten.
Det første fossefallet ligger 10 minutters kjøring før Nono. Ved ankomst må du spasere ca. 15 minutter for å komme til fossen. Adgang kun i helger.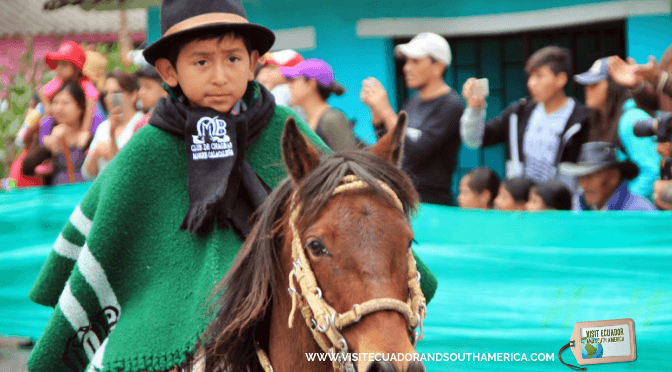 Hva må du ta med
For å få fullt utbytte av oppholdet:
Ta med en plastpose for å samle søppel under turen dit, på vandring eller aktiviteter for å hjelpe til med å holde verden ren.
Ta med solbriller, solkrem og en hatt dersom du planlegger å oppholde deg utendørs over lengre perioder, solen på ekvator er sterk. Jeg vil også anbefale å ta med myggspray for kveldene.
Konklusjon:
Vi hadde et herlig opphold i Nono, og elsket ikke bare den morsomme karnevalsfeiringen men også de sjarmerende husene og den avslappende atmosfæren.
Hvis du syns denne siden var til hjelp så vil jeg sette stor pris på om du vil pinne, dele eller tweete den på din favoritt medieplatform! Alt hjelper for å støtte våre reiser slik at vi kan fortsette å bringe topp innhold til vår nettside!
Planlegger du en reise snart? 
Kommenter nedenfor eller sen meg en e-post. Jeg kan hjelpe deg med å planleggen turen din.
PIN FOR SENERE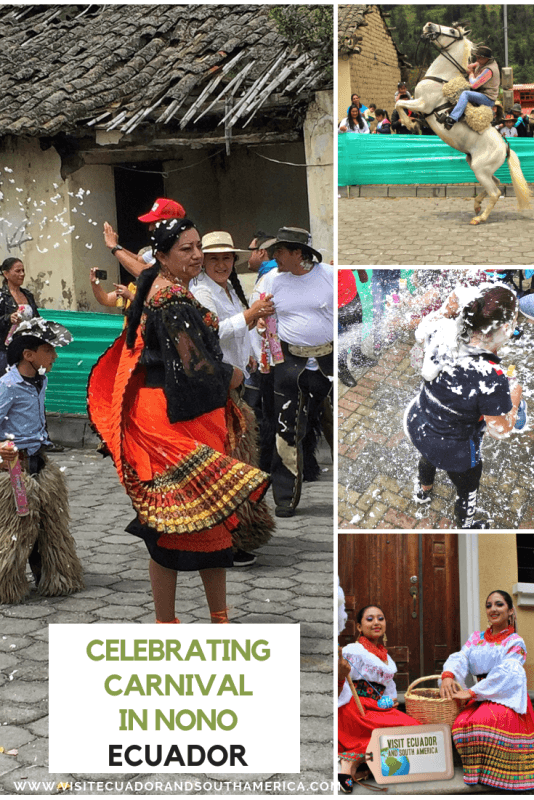 Dersom du ønsker mer dybdeinformasjon og en guide som du kan ta med deg på reisen så anbefaler jeg reiseguiden Lonely Planet Ecuador & the Galapagos Islands. Dette er en glimrende kilde til informasjon og tips, kart og alt du måtte trenge dersom du planlegger å besøke Ecuador. Personlig liker jeg muligheten for å ha en papirbok hvor jeg kan ta notater og ha lett tilgjengelig.
Don´t just dream it, make it happen. Plan your South American trip with a local!
Ta en kikke på denne listen over reiseressurser for å planlegge reisen din i Sør-Amerika. Dagdrømmer du om en reise til Sør-Amerika? Bestill din Gratis Ebok hvor jeg deler noen av nyttige tips og ressurser for en minnerik reise! Jeg inviterer deg til å følge meg på Facebook, Twitter, Pinterest, og Instagram. I tillegg kan du abonnere på YouTube. Du kan også sende en epost for å få hjelp med planleggingen av reisen din: info(at) visitecuadorandsouthamerica(dot)com