6 Most Popular Latin Dances
written by: Wendy Dessler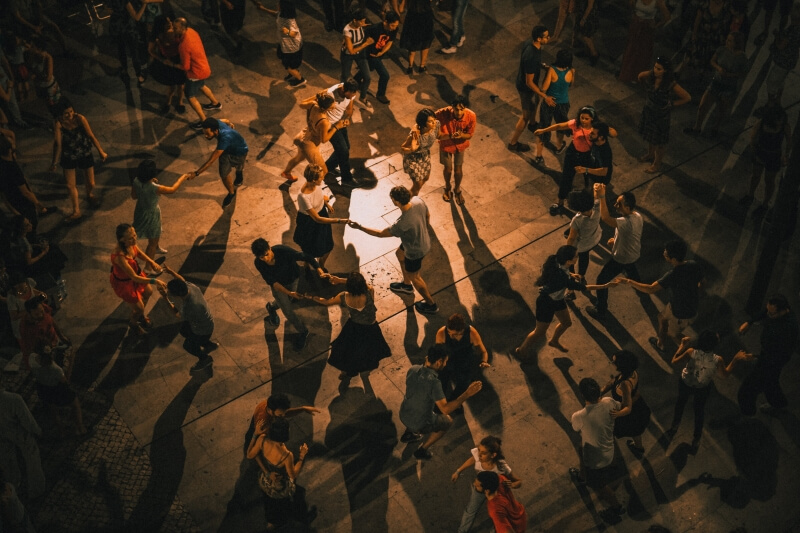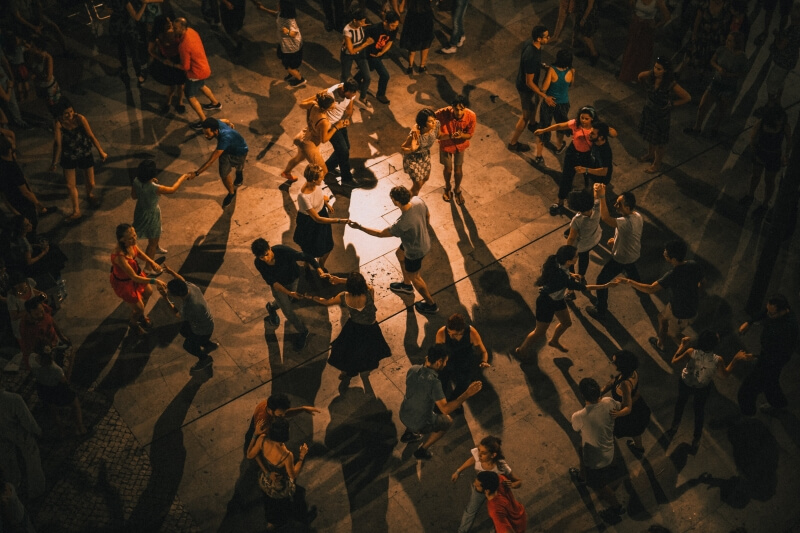 Dancing and music are a large part of Latin culture. Latin dance has evolved over hundreds of years, becoming the exciting genres we know today. These dances are a melting pot of European, African, and indigeounous influence.
Because Latin America has a rich and varied history, so do the dances. Latin dance originally was developed in the indigenous cultures of Mexico, South America, Central America, and the Caribbean. Dance was a normal part of community life, and they were a form of symbolic representation for festivals and rituals.
As these cultures become introduced to Spanish and Portugese colonists, they began to change. Fashionable European dances mixed with the indegeonus dances, incorporating elements of both styles. Similarly, with an influx of people from Africa, there was an introduction of polycentric rhythms and movements. Today, you can find many types of Latin Dances no matter where you go, and here are the 6 most popular.
1. Cha Cha
Cuba is a hotspot for Latin American dance, but one of it's most prized treasures is the Cha Cha Cha, also known as the Cha Cha. With this dance, there's a basic movement of stepping forward or backwards while shifting weight between your feet. It's a series of three quick steps, counted out like "cha cha cha."
2. Mambo
Also born in Cuba, the Mambo involves a signature move which is a 3-peat step moving forward and then backwards, also shifting weight between feet. This is a two-person dance where one partner goes backwards while the other goes forward. You can recognize the mambo by its characteristic hip swaying action!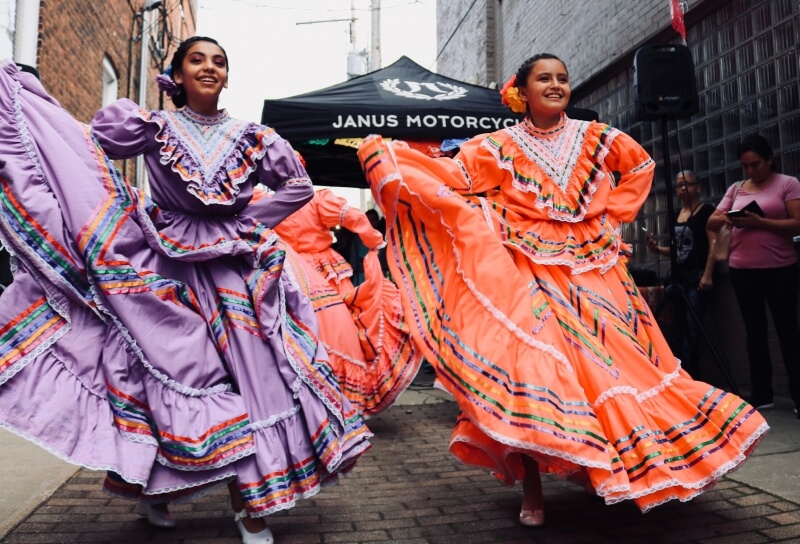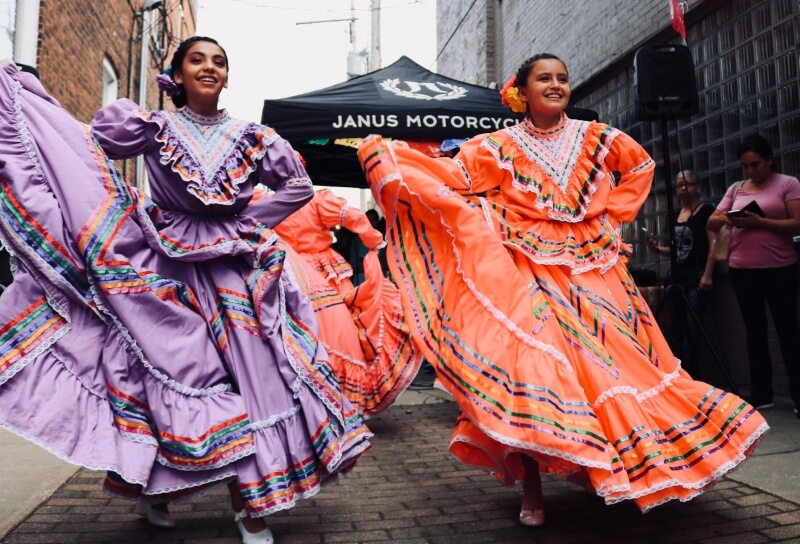 3. Salsa
Perhaps the most well-known Latin American dance, the Salsa has strong Caribbean roots. It's usually done by couples on a 4-beat combination with two quick steps and a slow step. While it can be simple, it can also easily be made complex by adding extra footwork and performance elements.
4. Samba
This Brazilian dance is related to the music that goes by the same name. You've probably seen samba in action during Brazil's famous Carnival festival. This is a high-speed dance that  can be done with couples of individual dances. One of the best parts of samba is the costumes! Visit Just for Kix to see some dance costumes for yourself.
5. Merengue
Another popular dance is the Merengue, the official dance of the Dominican Republic. This is also one of the easiest Latin dances to learn, so it's perfect for beginners. The basic movement is to go to the front, side, and back. If you're dancing as a couple, you step on the inside edge of the foot and transfer your weight, dragging your first foot to meet the second.
6. Bachata
Finally, the Bachata is another dance that belongs to the Dominican Republic and is characterized by Bachata guitar movement. Dancers move in a 4-beat pattern side to side, focusing their attention on their hip movements. It's all about moving your body to the beat than worrying about getting the steps right!
Conclusion
There's a lot to learn about the history of Latin Dance. You can find these popular styles above just about anywhere in the world, but especially in Latin America. If you're visiting Central America, South America, or the Caribbean, learning some of these moves will help you feel right at home when the music starts playing.
It's true that the history of Latin dance is long, but it's also still changing. Todavy, new dancers make big strides, transforming these traditions into even more of a melting pot.
If you found this page helpful, I would appreciate it if you would pin, share or tweet it on any social media platforms you use! Every little bit will help fund our travels and continue to bring great content to our site!
Planning a trip soon?  Comment below or send me an email, I can help you plan your trip.
PIN IT FOR LATER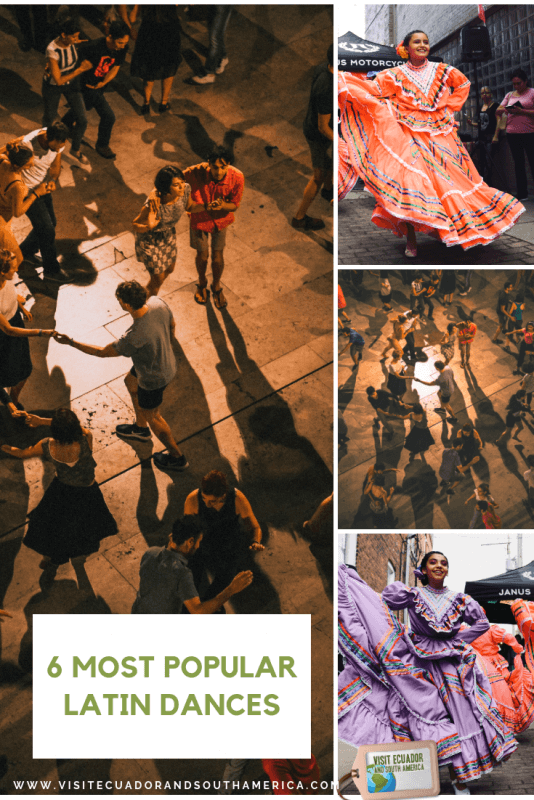 If you want more in-depth information and also a guide that you can bring along during your trip, I recommend the travel guide Lonely Planet Ecuador & the Galapagos Islands. This is a great source of information and tips, maps and all you need if you plan on visiting Ecuador. I personally like the option of having a hard copy version where I can take notes and have at hand.
Don´t just dream it, make it happen. Plan your South American trip with a local!
Take a look at this list of travel resources to plan your trip and travel in South America. Daydreaming about your trip to South America? Order here your Free Ebook, I share with you some useful tips & resources for a memorable trip! I invite you to follow me on Facebook, Twitter, Pinterest, and Instagram. In addition, you can subscribe on YouTube. You can also send an email to get help planning your trip: info(at) visitecuadorandsouthamerica(dot)com