Road trip through Italy, Switzerland, and Germany
Some years ago we planned a road trip through Europe, specifically through Italy, Switzerland, and Germany

Europe by car
We were traveling in a group of 4 and by car, so we planned our trip based on destinations, rather than what we did before that was based on train schedules.
Booking a tour
Of course, we enjoyed planning the trip.
If you want to see more countries, want to save time, and avoid the stress of planning and the logistics of driving, parking, etc, then we recommend booking a tour which we have done in Cataluña or book daily guided tours.
Here are some tour options in Switzerland, tour options in Cinque Terre, and some tour options in Germany 
Getting there
Unless you live already in Europe, it will be a good idea to start researching flight options.
We had time to find good airplane tickets from Norway to Germany, then with that information, we continued to figure out our schedule and plan all details.
Are you traveling for the first time to Italy?
Despite having been there a couple of times before, I had heard so many great things about the book Italy From The Inside Ebook, This book can help you avoid tourist traps and experience Italy like a local.
This is the guide everyone should read in order to get ready for a trip to Italy.
Our trip
We woke up early, to take in a breathtaking sunrise from the hotel's restaurant on Sunday morning. This was the perfect beginning for our so-needed vacations!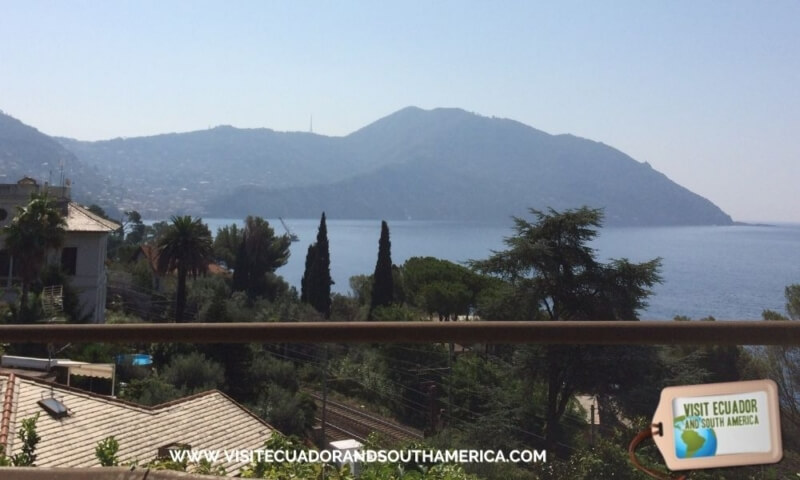 We decided to spend the night in a hotel right by the airport in Stavanger, Norway. So after taking our breakfast we walked 20 minutes to catch our first flight, Stavanger – Amsterdam.
The flight
One of my first intercontinental flights was with KLM in 1998, since then I have always enjoyed the service provided and how reliable they are.
This time I was glad to see that as part of their corporate social responsibility our sandwiches were made with organic bread, and providers of ingredients like eggs and cheese care for their chickens and the environment.
First stop, Germany
At 1130 we had arrived in Frankfurt, picked from Europcar our car and were on route! Next stop, Colmar.
Visiting Colmar
Did you know that Colmar was the inspiration for the village in the Disney film Beauty and the Beast? I would say it suffices with our first glimpse of downtown Colmar to fall in love with it!
At 3:30 pm we arrived at the quaint fairy-tale city of Colmar in the region of Alsace in France.
Colmar is a small town located in the Alsace region of northeast France. This region in France is on the border with Germany and because the owner of the region has varied between both countries through history, Colmar is a unique mix of those two cultures.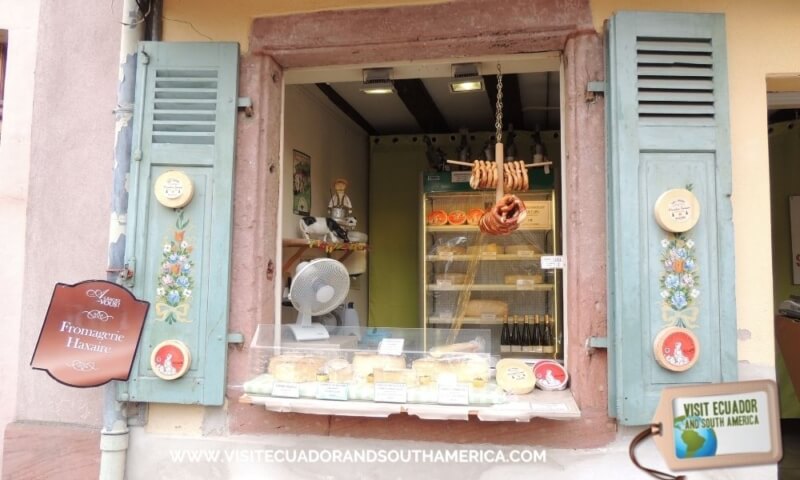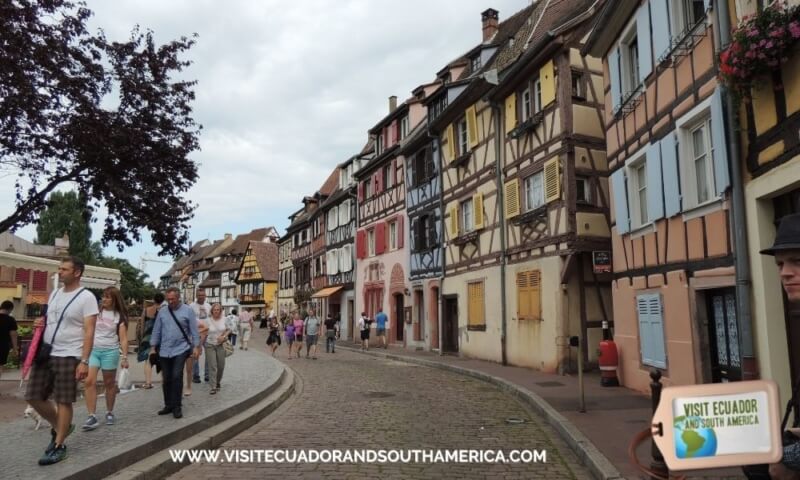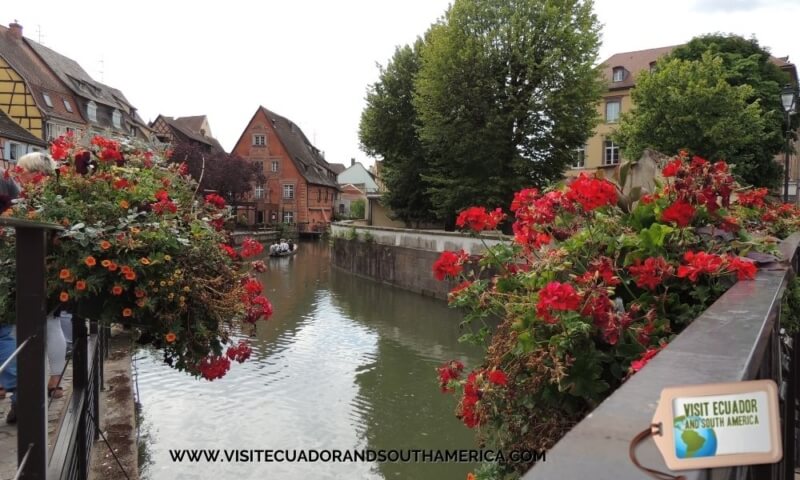 We then strolled along the cobblestoned streets of the old part of town, where we stopped to take in all the details in the houses and especially window sills.
Petit Venice
Colmar is the perfect place to explore on foot, with a myriad of scenic spots, where everything is neatly painted and maintained.
We arrived at the Little Venice of France and the most charming spot for our pictures.
This is the spot where merchants lived, worked, and transported their goods around by boat along with the River Launch.
There are colorful houses in the area, that have been preserved from the past when they used to be painted in a different color, based on the type of business. Blue was the color for fishermen, red for butchers, and so forth.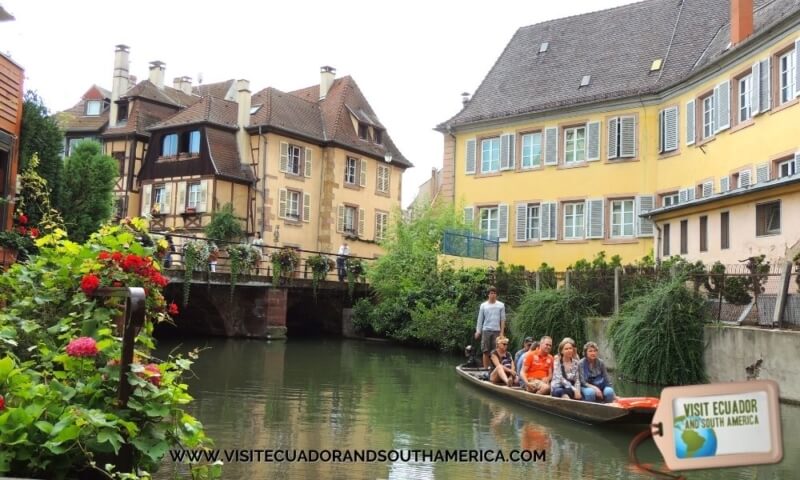 We arrived a day earlier with Kjell Anders and were able to meet my cousin Cata and explore Colmar with her and her family. 
I finally met her kids: Chiara and Tadeo and husband Cristoph! It was all around a really great day!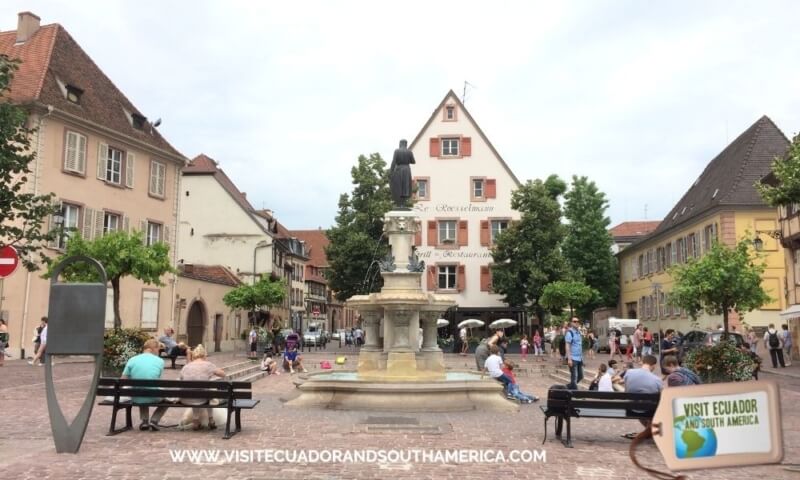 Gastronomy
Time to taste some local gastronomy.
Colmar boasts plenty of waterside cafés and tucked-away cellar restaurants. We decided to eat at a café and order tartes flambées, a traditional dish from Alsace.
Scenic boat ride
Boats leave from the bridge Saint Pierre, which is next to Restuarant Le Caveau Saint-Pierre.
The canals are pretty shallow in parts and they offer a different view of Petit Venice.
At 500pm we took a boat ride to take in the scenery and history of the city.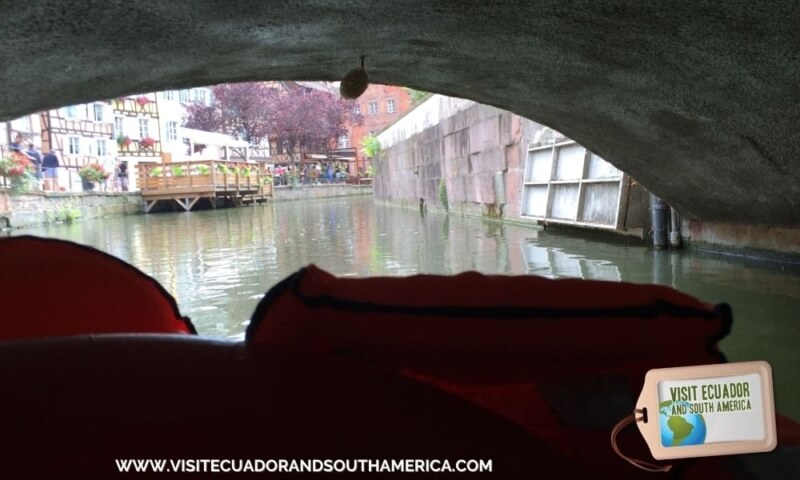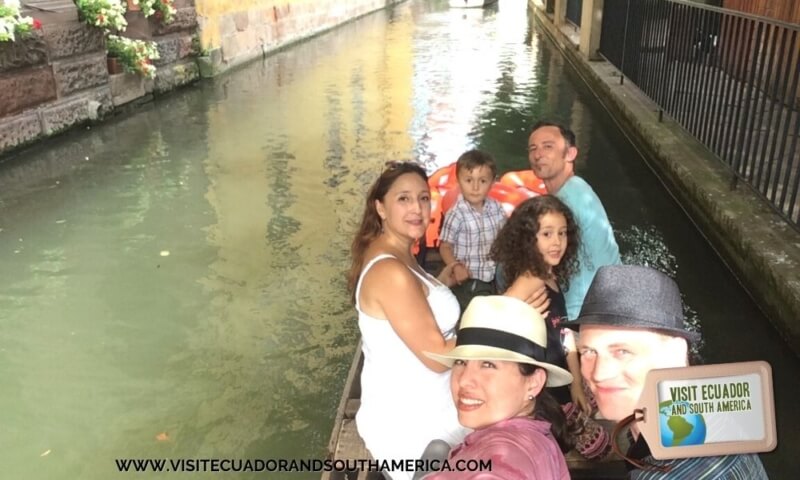 More local cuisine
Later that evening we found a nice local restaurant serving some fish from the region.
We had a beef stew and I had the frog's legs that were very tasty.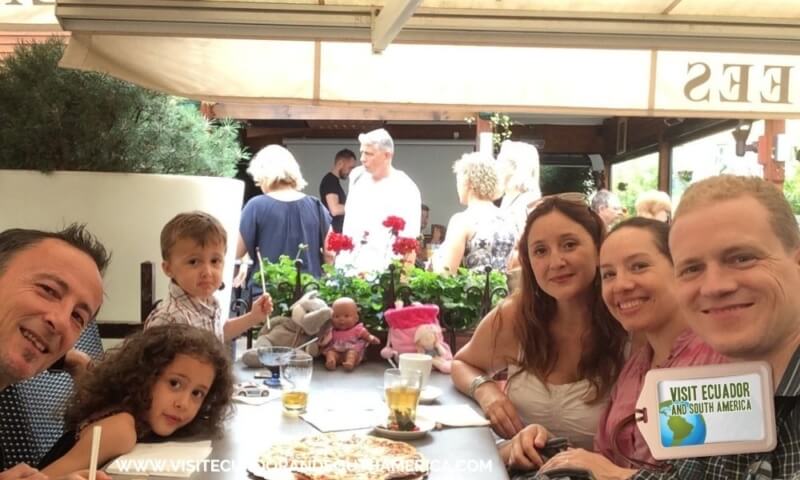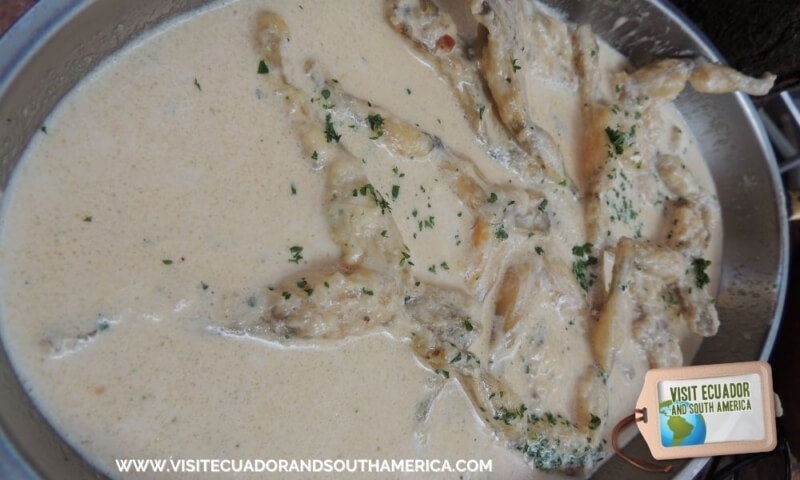 At 1100pm we followed Prima in their car and arrived at Huningue to spend the night.
The next morning Monday at 9 am we woke up and had a lovely breakfast with Prima Cata and the kids. Croissants, baguette, fresh fruit, scrambled eggs, and juice. PS: love French bread!
Prima had told us that the border was 5 minutes away from her home, and I did not realize she was being literal!
We crossed to Germany and not far from that we could see Switzerland:
On the road again
The scenery along the way from Germany/France to Italy, during our road trip.
At 1330 we were crossing a 17 km long tunnel, Gothard
At 600 pm we picked up my sister Belen and her husband Pablo in the old part Gothard, and from there continued to Castelletto where we had booked our room.
Accommodation
We are equally open to staying at a hotel, than at an Airbnb. We have mostly had good experiences with Airbnb´s all over the world, so we decided that we wanted something more authentic for this trip, to meet and live like locals, and went ahead and booked accommodation in an Airbnb.
This Airbnb room in Genova was gorgeously decorated, we felt like in an Arabian fairy tale
Genova
Then we started our walking tour of the old part of the town of Genova.
From palazzi to art, there are many wonderful activities to enjoy while in Genova.
If you are an art aficionado or passionate about culture, some of Genova´s museums' house works by Caravaggio, Van Dyck. Rubens, Durer and Veronese.
Genova has over 100 palazzi witnessing the might of the Republic of Genoa's ruling class during the 16th and 17th centuries.
One of the largest historic centers in Europe, with cobblestoned streets, palazzi with different architectural styles, shops, cafes, and restaurants.
From focaccia to varied seafood, Genova offers many tasty Italian dishes that will satisfy every palate.
The house of Christopher Columbus
The house of Christopher Columbus or what remains of it.
The so-called house of Christopher Columbus (Casa di Cristoforo Colombo) is a reconstruction of the 18th-century reconstruction of the original medieval building in which Columbus may have lived in his youth.
Probably the house was destroyed during the bombing of the French fleet of King Louis XIV that struck Genoa in 1684.
At night we found our way to the towers marking the beginning of the old part of town and the perfect spot to enjoy an authentic Italian dinner
Eating in Genova
Along the cobblestone streets of Genova, we found this cute small restaurant, called Pietra ristoranti.
From there we went to a second restaurant not far from the first one to enjoy dessert: panaccota, tiramisù, cake and mousse that we all shared.
Airbnb hospitality
Our AirBNB included breakfast, which was served by the window, overlooking Genova. We had croissants, focaccia, tea, or coffee while taking in the very lovely view of the ocean side of the city.
After that we stopped for a picture of the city from our area called Castelleto.
Cinque Terre bound
Next day we met around 930, and from there we headed South to Monterosso in what is UNESCO's National Park – CINQUE TERRE.
About Cinque Terre
Cinque Terre, five villages that make up for a breathtaking network of stunning coastal and mountain trails along in the Italian rivera .
Although most travel guides will recommend reaching them and connecting between them by train, we decided to drive through narrow rugged italian roads, admiring the scenery and also getting a bit of a thrill. The narrow, twisting roads, requiere for nerves of steel.
The road trip allowed for many spellbinding views, here are some of them.
MONTEROSSO
This village is located furthest north and is the only village that has a proper strip of beach. This is why we found it full of loungers and people enjoying the sun rays.
At 1230 pm we had arrived to the old part of town, found the only last spot in a safe parking lot. That is another thing to consider, there are few parking spaces. 
Lunch had to be focaccia with different fillings
Then we strolled along the old part of town to see the church
And then headed to the waterfront
And then to find Il gigante
And to enjoy a relaxing couple of hours by the sea, in the water and sun bathing
And then back to the old part of town to do some unexpected shopping
Next day
Another winding road and very narrow one at the end, made u
s very aware of the advantage of leaving the car and just taking trains from one place to the next. Actually in Vernazza there is no place to park, only residents park in the town and the few tourists that venture to drive such narrow roads have to park up hill and walk a couple of km.
We knew that now we needed to connect the other 2 towns in Cinque Terre by train.
We went first to Riomaggiore
RIOMAGGIORE
Hiked up to the church and the view of the town

And then continued to the castle For more memorable views of the sea side
Lunch
The waterfront
We took the train and 2 minutes later or 4 Euros later we arrived to the next village, Manarola.
MANAROLA
My sister Belen got her feet in the water while we went to a lookout point offering postcard views of this picturesque town.

This is the best spot to bath and enjoy the sea. We were regretting not knowing this before.
Last stop
VERNAZZA

We were down by 6 but all restaurants in this area do not open until 7. So we waited and we luckily got a magnificent view of the sea side while enjoying some Italian food
I had pesto frietti and Kjell ravioli with walnut sauce. Really good! My sister had spaghetti alla carbonara a bit different due the seafood and Pablo had some prosciutto
Serenella is our stop for the night. A very cozy bed and Breakfast decorated with hortencias was our accommodation for the night.
Next morning we went out on a short walk to the surroundings. To take some pictures of the Italian countryside
Recommendations for Cinque Terre.
Cinque Terre attracts many tourists during the summer months, so if you can plan your trip before summer or toward the end of it you will avoid the crowds.
You can visit all five villages in Cinque Terre on two days, or for a weekend getaway.
And stopped at Como almost by the border with Switzerland to enjoy the view of one of the largest lakes on earth.
LUGANO
We then continued to Lugano to get lunch(some panini and some Italian gelatto)
To get the best view If headed North you can stop up almost by the highway and find good restaurants with panoramic views over the lake.
And at 9 pm we finally made crossed Italy and all of Switzerland to Huningue to visit cousin Cata.
We enjoyed dinner al fresco in the Terrace with wine and cheeses and shared some anecdotes until 11pm.

The day after we did not agree completely on what time to start, so with Kjell Anders we were ready at 930 and left. I looked at the address for the boat to Rapperswil as it was what I did in 1998 when traveling solo and later in 2000 together with Belen.
So the GPS took Us to a place a bit outside the city. It ended up being a perfect vantage point to take the first look at Zurich, a place to fill gas, get something to drink and get help from a local.
Zurich
A lady kindly advised us to drive to Rapperswil.
As charming as I remembered it! I fell in love with Zurich and in general with Switzetland in 1998 and landscapes like the ones in this charming little town are part of the reason.
On the way up the staircase they had a beautiful summer garden with fruits and vegetables that tourists could harvest.
Admiring the colorful rose garden
And from here we drove again 20 minutes back to Zurich to stop at Lindt chocolate factory. Also something I did in 2000 together with my sister
Upon arrival we were directed towards the shop. At the entrance I had to ask about the tour of the factory. To get the following reply "You are only 15 years too late" and yes, I was! That was my last visit to Zurich and to the factory
So instead we ended up buying Swiss chocolates! Did not end so bad!
And just 5 kilometers away, we finally made it to the old part of town in Zurich
Love this city!
During our old-town stroll we saw
The Limmat Quai
The church of St Peter
Down the cobbled street Schpfe to enjoy some shops and boutiques
Lidenhof one of the oldest parts of Zurich.
Medieval kings stopped here and Romans also used the place.
Outdoor chess
Lovely views
And finally to the abbey of Grossmünster, a landmark of the city.
To then find the Fraumünster, were we stopped to admire the amazing stained glass windows by Chagall
And the window by Giacometti
On our way back to the car after 2 hours in the city, we stopped for some burgers. We wanted some sandwiches or something smaller but all you could find along the main streets were restaurants and this was the only other option.
On our Way
On the way back we stopped to see the Three countries bridge.
We had a nice dinner all together prepared by our cousin's husband, made with local products.
And later that night we went to stand on the three countries bridge
Next morning we had breakfast together and continued North to Hockenheim, where Pablo was going to stay at the Formula 1
Nescafé frappe while waiting for Pablo's cousin and his girlfriend. Unfortunately their train or bus connection had some problems and they did not arrive.
We left Pablo at the venue and continued
Then we stopped to visit Schwetzingen as suggested by a waitress in Hockenheim.
This is a small charming town which had as main attraction the beautiful castle with its gardens
This day they had a festival going on so we could listen to some music and the entrance was free
Then when we went to pick up Alice at the train station we continued to Heidelberg and got some traditional food
HEIDELBERG
We marked Zentrum and the GPS apparently took us to Zentrum South so we ended up walking a lot to reach the main attraction: the Renaissance palace of Heidelberg
It is very impressing and a world-famous ruins attracting around a million visitors each year.
The views from the castle overlooking all the city center and river are worth the hike up through small cobblestoned streets in a warm day, under the sun
In our way down in the main pedestrian street we stopped for some gelatto and some souvenirs
The main square surrounded by lovely restautants, official building and a fountain in the middle like most towns and old cities in main Europe.
And final stop, the main bridge in the city also providing breathtaking vistas
And back to the car
After a long walk we made it back to the parking lot in the Bauhaus store
Our first glimpses of MANNHEIM where we were to spend the night
After not finding the parking, then the apartment we arrived to a very interesting neighborhood which was very international and where we had booked out AirBnb for all 6.
Just 2 minutes away we found a great burger place next to the river.
After a good night sleep and needed, as our feet hurt from last days walk across the center of Heidelberg, we started around 830 to wake up and get ready.
We took the car to see main sights in Mannheim.
First of all we discovered that our neighborhood was a tourist attraction or a place to see, mainly due to a mosque and a Catholic Church and how international it is.
Then we stopped at Paradeplatz in the old part of town, for a short stroll and breakfast
Then we continued to Markplatz or the main square to admire main monuments and architecture
We could not leave without admiring the Wasserturm
Then we continued North towards Frankfurt and stopped at Worms to admire the famous cathedral
WORMS
And finally to Gutenberg's City, Mainz
Gutenberg's Museum
FRANKFURT
First glimpses of the modern City of Frankfurt
The only thing is that the closest we got to the hostel by the train station the shadier the area. We were to find out about this area in our Free Alternative walking tour later.
After delivering the car at the airport we took the train back and I immdiately recognized the train station in Frankfurt
We picked up our bags from where the rest of the group where staying – Frankfurt Hostel, right in front of the train station. The place really nice for backpackers and young travelers, just the location was not ideal.
Then we walked 3 minutes to arrive at hour hotel
And then dinner one block away. We had some traditional German food
And Italian dessert, we unfortunately did not know they were so well ranked at trip advisor so we just had some
Profiteroles and tiramisu. They were delicious.
The next day we agreed on meeting at our hotel at 9 am, so that they could leave their suitcases out our place.
Breakfast was really good, lots of variety including hard boiled eggs, apples, cereals, juices, cheeses, 3 types of breads (croissants, whole grain, white) toppings, as well as coffee, milk and tea.
First to the Main Tower and then to the Operplatz
We then followed the Rhin towards the old part of town
On the Eisener Steg with the views over the city skyline and the Rhine river.
The Dom Romer
This house together with the cathedral are the only buildings that are original, all the others were destroyed during WWII.
The cathedral of Saint Bartholomew
A visit to the Kleinmarkthalle
And then to Borsenplatz and for some free wifi to Starbucks
Back to the hostel to meet and say goodbye to Pablo's cousins.
At 2 pm we joined the Free Alternative walking tour organized by the hostel where B,P and cousins where staying
The Free alternative walking tour.
Some of the places we visited:
The central station neighborhood, then to the western part of the old town inside what was the city wall and nowadays is a park. To see the modern opera house, the highest building in the old part of town, the Kommerzbank, then to spot a second Spider-Man. A project by students in an effort to change the reputation of the city.
In the main square we found the only house in addition to the cathedral that remained after WWII, all other buildings were reconstructed.
And in the floor a plaque marking the place where the students of the national socialistic party burnt books in 1933.
Facts we learned:
The area in front of the train used to be an aristocratic area and built around 100 years ago. It is nowadays the red light district. Until the 80's there was no police control in the area. It was neglected as the metro connected people to other parts of the city without the need of seeing the area. Due to drug use in the central station neighborhood around 300 people died each year.
There is now a legal consumption drug house to help and support users.
Prostitution is legal since 2002.
About 70% of the city was destroyed during WWII.
Frankfurt is known for its international fairs, airport and banks.
2nd most expensive city in Germany, and the city where Anne Frank was born and Schindler used to live.
At 430 we went with Pablo and Belen to pick up their suitcases, as they were to continue to the train station,
Then to the airport for their flight to Madrid.
We then went to enjoy a 50
Minute boat cruise along the Rhine river
Last meal during our vacations:
We found a very nice restaurant serving Turkish and Mediterranean food near our hotel. Merkez and I enjoyed my eggplant casserole with lamb.
The flight the next day was at 7, so we started our day at 4am. In conclusion, it was a memorable road trip, with lots of spellbinding landscapes, tasty food, great moments shared with family and friends.
A road trip is a really great way to enjoy sights along the road and do things at your own tempo.
Thank you for reading!
Cristina 
Like Visit Ecuador and South America on Facebook, follow the blog on Twitter, Pinterest and Instagram, and subscribe on YouTube. Send us an email to get more information or help planning your trip: info(at) visitecuadorandsouthamerica(dot)com
FREE EBOOK:
I have written an Ebook to help you plan your memorable trip to South America.
How to decide the best places to visit in South America, where to stay and what to bring?
Download here your Free Ebook: Travel to South America, highlighting Ecuador and the Galápagos Islands.
ACCOMMODATION
Lately I have grown fonder of AirBnB. I have written a full review, so find out What I love about AirBnB as a guest and as a host plus some good tips.
Be sure to claim this offer! Click here to get USD 38 credit or discount, as a guest! If you have an extra room, apartment or any space that can fit a nice bed, you can click this link and earn an extra USD 100 for hosting on Airbnb)
TRAVEL RESOURCES
Take a look at this list of travel resources to plan your trip and travel in South America.