What is it like to spend New Year in Ecuador?
To me to say  "Happy New Year" means hope, good things to come, blessings, and of course partyyyyyy!!!!!
You will be able to find a real party, and plenty of traditions in Salinas, one of the most famous beaches in Ecuador. It is located on the Pacific coast in the most protruding point of Ecuador. This beach receives around 80.000 visitors for this holiday.
Traditions
The new year's eve is a whole event with plenty of happiness, excitement, and preparations. The traditions start with the cooking of dinner: turkey or pork which has to have the perfect side dish, the stuffing,  a very rich stew made with pork, chicken, wine, raisins, olives, walnuts, and some other spices, !not to be missed! Another tradition is the outfit. It has to be brand new and shiny preferably yellow or red depending if the person expects renovation or red if expects love. I always wear something shiny.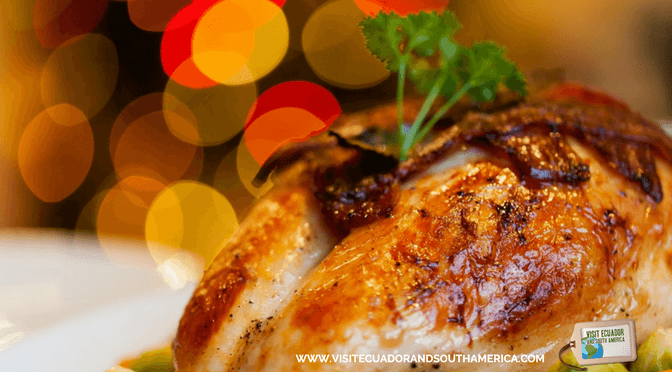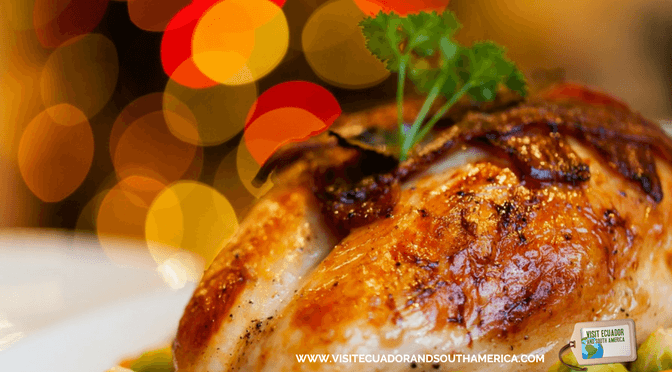 But the main tradition belongs to the "año viejo" a rag doll made with paper, cardboard, and wood. This doll usually is a representation of a character of our sympathy or antipathy going from a cartoon to a political celebrity. The idea is to burn it out and with it the bad moments through the year.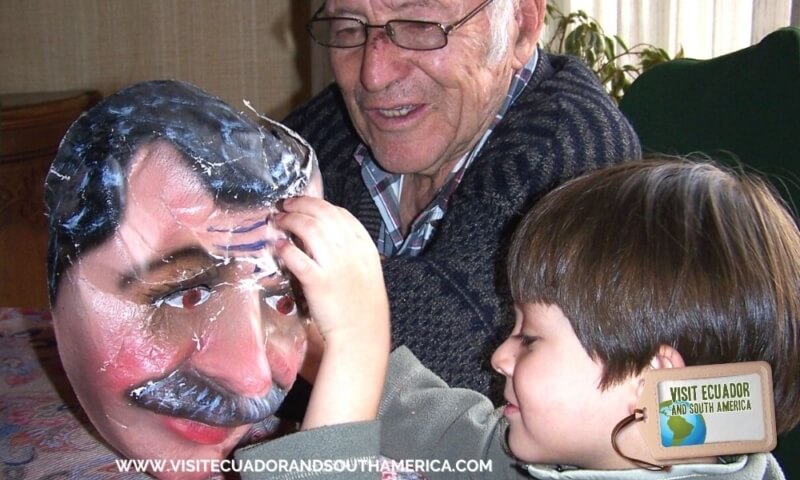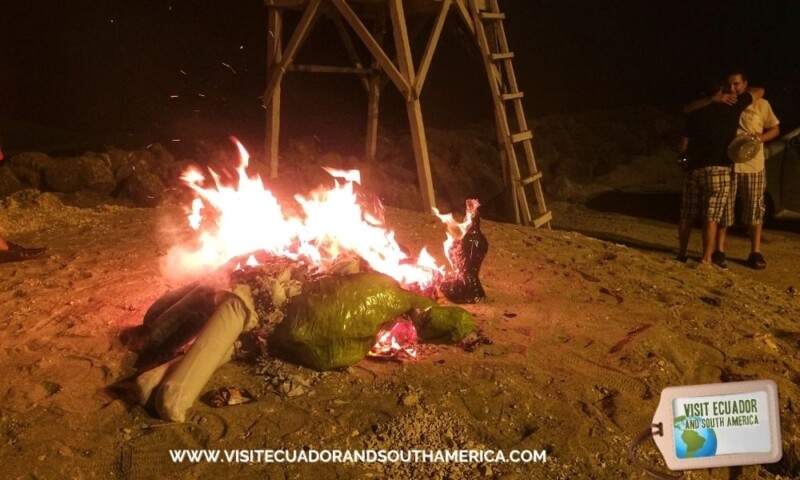 When the clock shows 10:30 pm my family together with other thousands go to the pier of Salinas to get the best places for the fireworks and the burning of the años viejos. Before 00:00 the families put them alongside the beach the ragdolls and at the count of 10, 9, 8, 7, 6, 5, 4, 3, 2, 1… the magic starts and the sky of Salinas lights up with the fireworks and the happiness of the people.
From all my year's going to Salinas, one of my favorite traditions to watch is when the people run around the block with two bags to assure themselves a trip, it does not matter where but a trip.  My sister Lucy holds a bunch of bills for richness she says. One of my aunts eats twelve grapes and with each of it, she makes a wish for one per month for the next year. But the one that I enjoy the most is hugging my husband and my relatives around. Those hugs mean the world to me because they are given with love and love is all we need.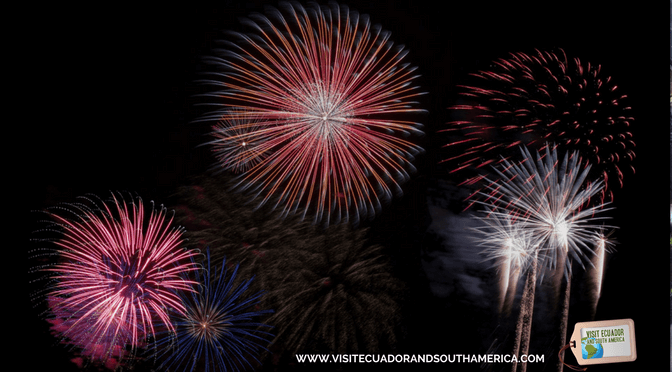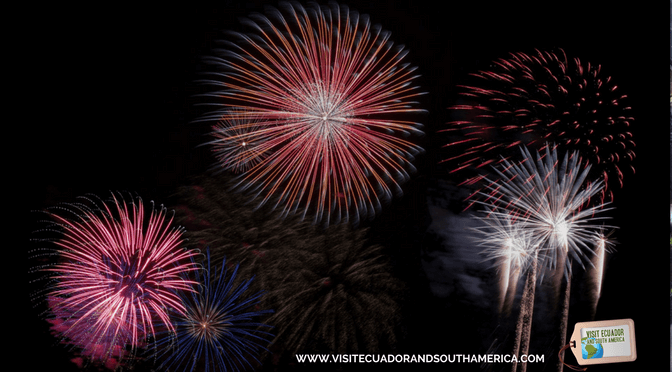 You must be asking what about the party? it starts right after the fireworks, hugs, and dinner. Salinas has a great offer of discos where is possible to have the party of your life until sunrise and a good Ecuadorian ceviche is included. Also concerts and of course the streets are full of good moods.
How to get here
Just by car before arriving to the one of our international airports José Joaquin de Olmedo in Guayaquil or Mariscal Sucre in Quito. From Guayaquil, it takes 2 hours to arrive in Salinas, and from Quito around 8 to 9. Be cautious and make tickets, hotel, and party reservations at least three months in advance.
Book a rewarding detour
Before heading out to Salinas why not take the opportunity to experience dolphin watching and see a variety of other wildlife at the same time?
What to bring
Happiness, hope and a good mood essentially. About the outfit do not forget to bring something yellow or red (especially underwear), sunblock, a bathing suit and of course, a good cell phone or camera to catch the best moments of the new year.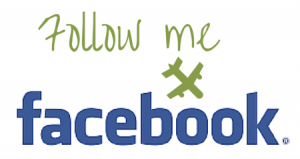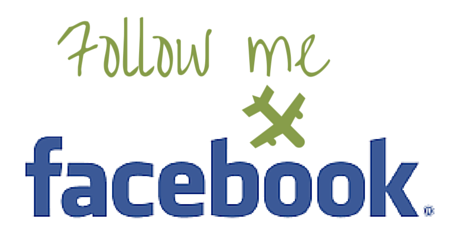 Conclusion
To sum up, celebrating New year´s in Salinas will be a fabulous way to start your year and learn about this tradition and how we celebrate it in Ecuador!
See you in Salinas!!
Carla
If you found this page helpful, I would appreciate it if you would pin, share or tweet it on any social media platforms you use! Every little bit will help fund our travels and continue to bring great content to our site!
PIN IT FOR LATER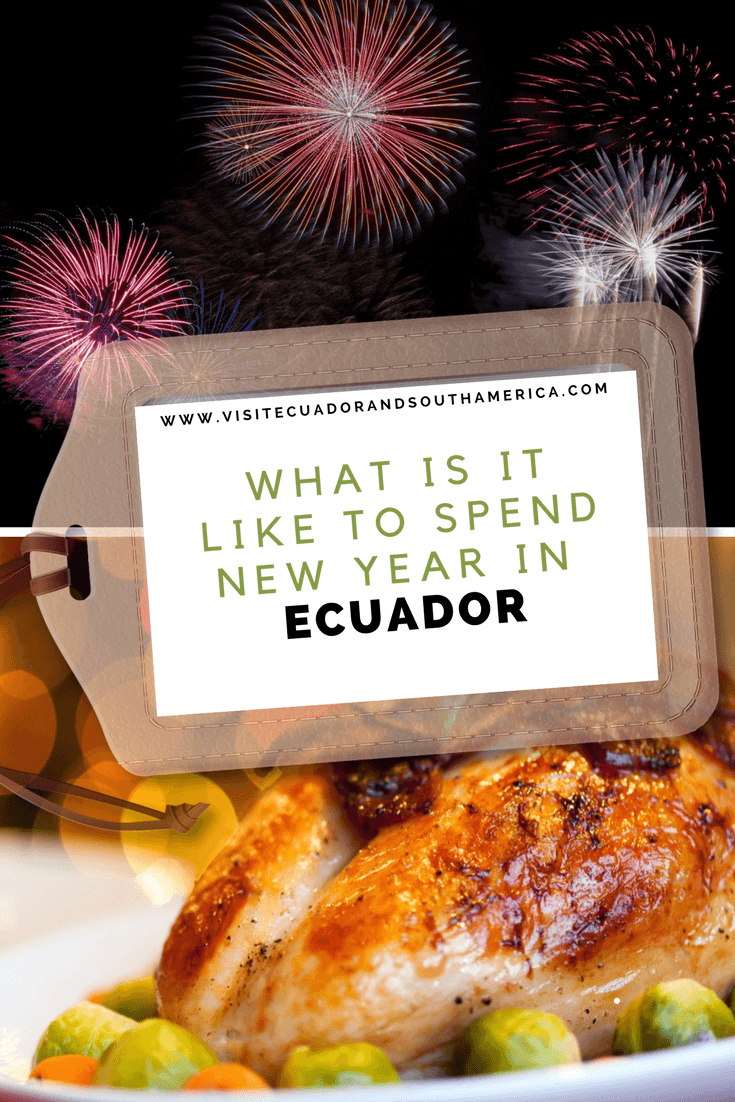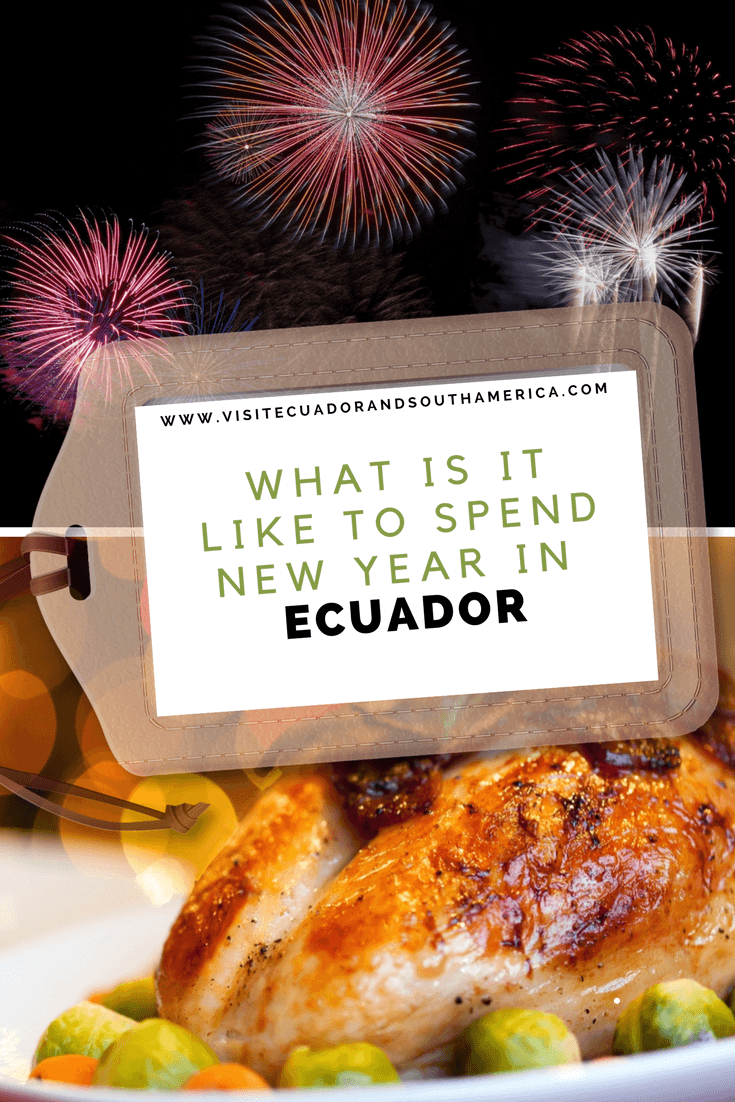 If you want more in-depth information and also a guide that you can bring along during your trip, I recommend the travel guide Lonely Planet Ecuador & the Galapagos Islands
.
This is a great source of information and tips, maps and all you need if you plan on visiting Ecuador. I personally like the option of having a hard copy version where I can take notes and have at hand.
Planning a trip soon?  Comment below or send us an email, We can help you with more tips to save money or to plan your trip.
Don´t just dream it, make it happen. Plan your South American trip with a local!
Take a look at this list of travel resources to plan your trip and travel in South America.
Finally, I would like to invite you to follow us on Facebook, Twitter, Pinterest and Instagram. In addition, you can subscribe on YouTube.
Send us an email for help planning your trip: info(at) visitecuadorandsouthamerica(dot)com