How To Eat Vegan While Traveling
by: Emma Wilson
Shortly after going vegan, I had a trip to Ireland planned with a few friends of mine. At first, I didn't think anything of it. Then, one of my friends asked me if I was going to "take a break" from my vegan diet for the trip. 
I emphatically told him, "No." 
However, the question did cause some doubts to arise. I'd never been to the country and had no idea what to expect in terms of food, culture, customs, or anything else. 
So, before I left for my trip, I did lots of research and created a reliable plan for keeping up with my vegan diet while traveling. 
In today's post, I'm going to give you the best tips for how to eat vegan while traveling! 
Eat Vegan While Traveling: Don't Let Your Diet Hold You Back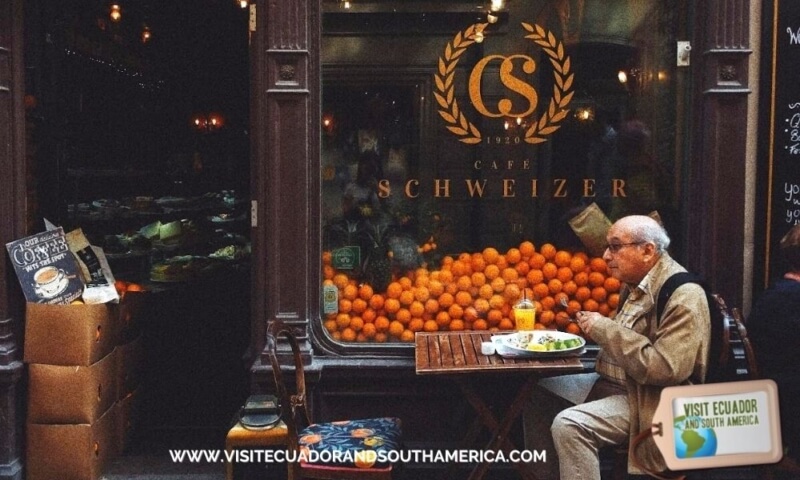 So, how do you eat vegan while traveling at the same time? 
The best way to stay on top of your vegan diet as you travel is to research the area you'll be traveling to. Find local fast-food restaurants that serve vegan-friendly dishes, research local vegan cuisine, and normalize buying your own groceries while traveling. 
4 Tips For Eating Vegan While Traveling
There's an old saying that says, "Confidence comes from knowledge." 
If you're unsure of your ability to keep up with your vegan diet during your travels, it's simply because you don't have the knowledge of where you're traveling. 
Therefore, the best way to become more confident in your travels is to have a good understanding of the country you're going to. 
Go on YouTube and watch some videos about the food and culture of the place you'll be visiting. You never know, you might just be visiting a country where plant-based foods are more normal than meat! 
The more you learn about a culture's food and eating, the more you'll learn about the vegan options that will be available to you in that country. 
With that in mind, here are four tips to help you eat vegan while traveling.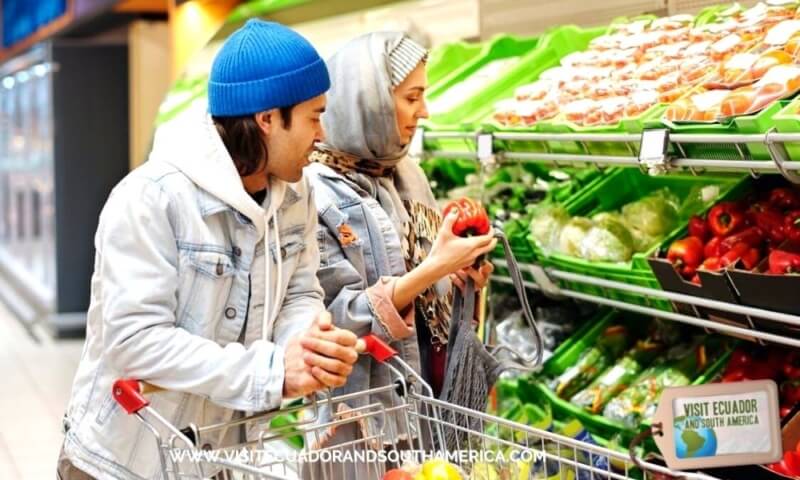 One of the best pieces of advice that I can give you is to get used to buying your own groceries as you travel. When all else fails, the grocery store will always give you the freedom to choose whatever you want to eat. 
You could walk into any grocery store anywhere in the world… Even if you don't speak the language and can't read the food labels, you can find some beans, rice, and a few veggies to make a nice meal from. 
Evening if you're traveling domestically in the states, buying your own groceries and cooking them where you stay is always a better idea than eating out. For one, you'll save tons of money. 
Since you'll be buying your own ingredients, you also won't have to deal with all of the extra salt and processed ingredients that you'll consume while eating out! 
Research Vegan-Friendly Fast Food Chains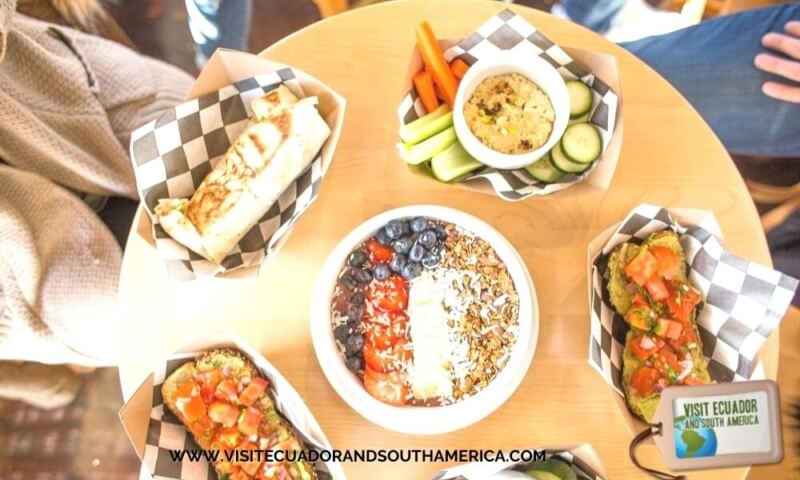 If you're on-the-go or staying somewhere without a kitchen, then you may not have the time or resources to prepare a fresh home-cooked meal. So, it's always good to get acquainted with some local vegan (or at least vegan-friendly) fast-food chains. 
For example, in the U.S., you can count on the fact that fast-food chains like Chipotle, Moes, or Taco Bell will always offer at least a few vegan options.
Sometimes, though, the place you're visiting might even have specialty options. Small cities are often known for having local family-owned restaurants, and you might just find one that's known for its delicious vegan meals. 
Find Local Vegan Specialties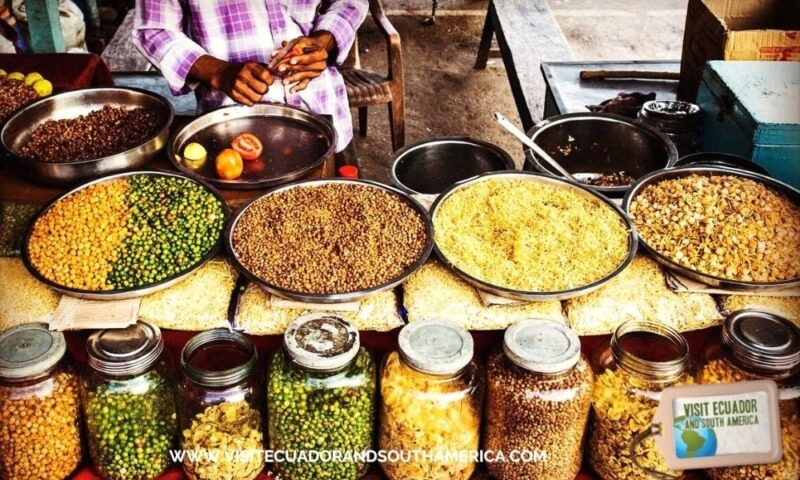 If you live in the U.S. or Europe, it's easy to forget that there are many countries where it's more common to eat plant-based foods than it is to eat meat! 
For example, many dishes from the Asian continent are plant-based and made from rice, beans, local vegetables, and herbs. Just take Japan's notorious vegan dish, natto, for example. 
That's why it's so important to research the place you're visiting. The more you know about a region's cuisine, the easier it will be to find and request local vegan-friendly specialties. Plus, it's a great way to experience another culture's cuisine and flavor! 
Don't Be Afraid To Ask Questions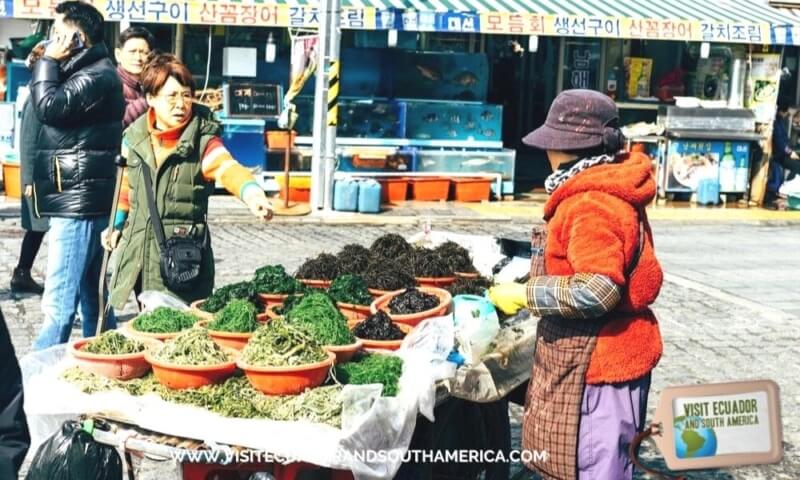 Last but not least, don't be afraid to ask questions. Some people may think that it's awkward to visit another country and ask what's in the food before eating it. As a vegan, though, it's both your right and your responsibility. 
If you get any strange looks or responses, kindly explain that you're abstaining from animal-derived foods for personal reasons. Even if they don't understand veganism, they'll at least respect your right to refuse certain foods. 
Final Thoughts
Eating vegan while you're traveling is nowhere near as difficult as it may seem. My best advice is to research and learn more about where you'll be visiting. No matter what country or city you visit, there are going to be more than a few great-tasting vegan dishes. 
If worst comes to worst, then you'll always be able to find what you need at a grocery store! 
Don't let your vegan diet hold you back. Keep on traveling and enjoy the world. No matter what anybody says, it's not hard to stay on track with your vegan diet while you explore.
Pin it for later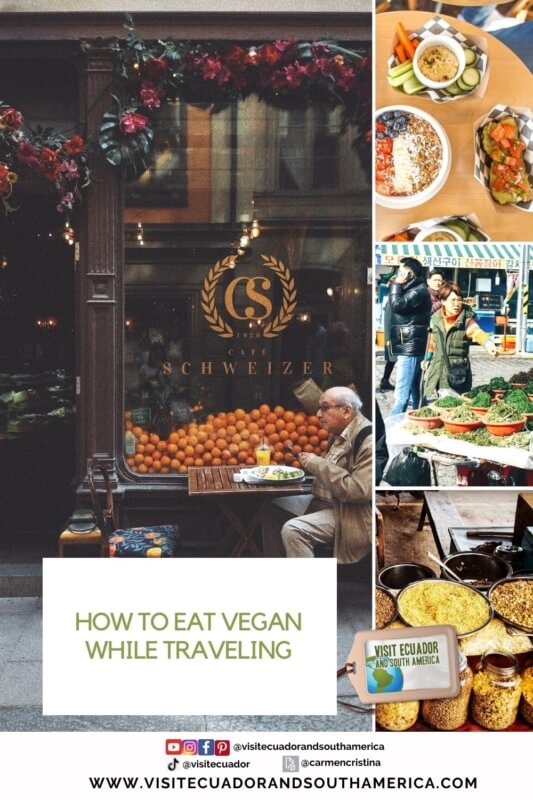 Don´t just dream it. Make it happen. Plan your South American trip with a local!
Take a look at this list of travel resources to plan your trip and travel in South America.
Daydreaming about your trip to South America? I share with you some useful tips & resources for a memorable trip! Order here your Free Ebook.
I invite you to follow me on Facebook, Twitter, Pinterest, and Instagram. In addition, you can subscribe on YouTube. You can also send me an email to get more information or help planning your trip: info(at) visitecuadorandsouthamerica(dot)com.