Detox at Hotel Spa Miramelindo in Baños Ecuador
Planning the perfect getaway to enjoy the adventure-filled, natural wonders of the city of Baños in Ecuador?  Want to enjoy a relaxing spa treatment in a place surrounded by unparalleled beauty? Then Hotel Spa Miramelindo, is what you are looking for.
Where is it located
The spa is located in the village Rio Verde, 15km from Baños Ecuador, surrounded by nature.
This is what makes Hotel Spa Miramelindo a charming place. Ideal to recharge your batteries.
If you want to find other similar spas to spend the night, here are some great options to enjoy a relaxing time in Baños
This was our ideal place to stop on our way from Quito to Cuenca. Once we arrived, we could immediately feel the laid-back atmosphere that this place exudes.
About the Lodge
All staff members are friendly and take care of every detail. The service was outstanding and equally memorable both times we stayed there.
As a matter of fact, on our second visit to this place, my husband got traveler's disease, a.k.a, Montezuma's revenge. Manuel the owner of the Lodge was not only very attentive.  He even found a doctor for him when we saw he was not getting better.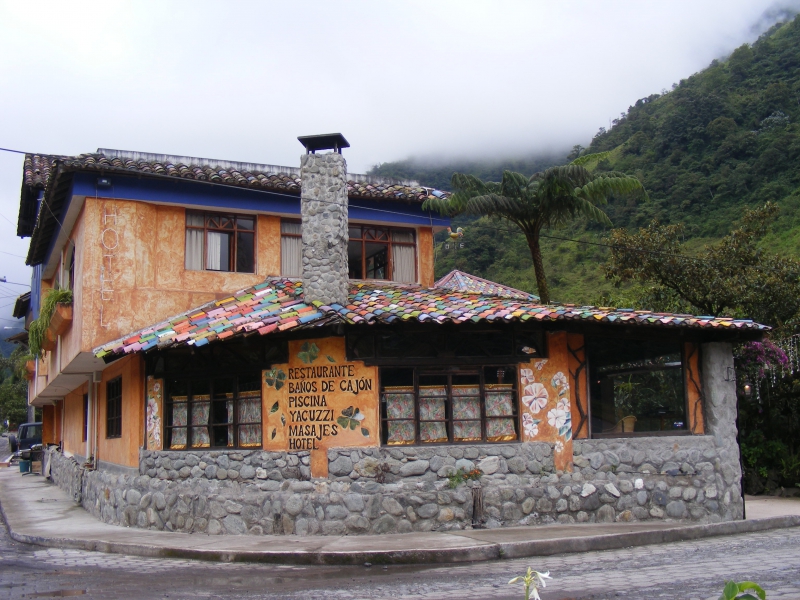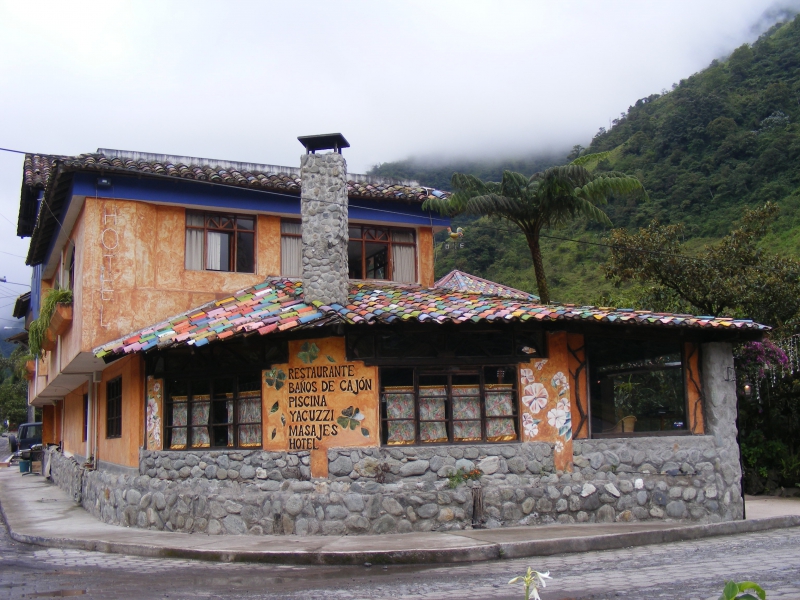 Another great feature of Miramelindo is that due to its location you get to enjoy unparalleled views of the Sangay National Park. It has been declared a Natural World Heritage Site and is part of the Llanganages National Park.
This place is a feast for the senses!
Moreover, the hotel has a lovely courtyard full of lush tropical plants that welcome you, as it is the main feature at the entrance.
In addition, this idyllic hostel is full of lovely decorations inspired by Latin American artist Endara Crow.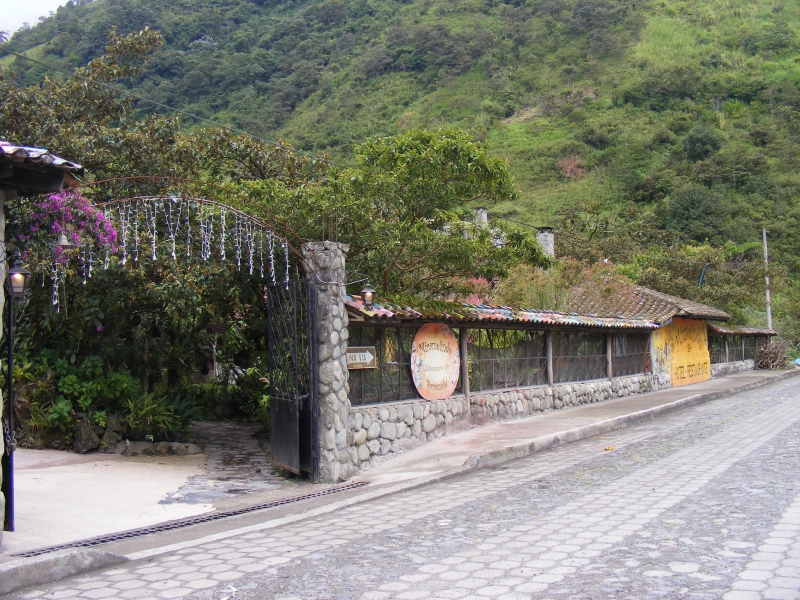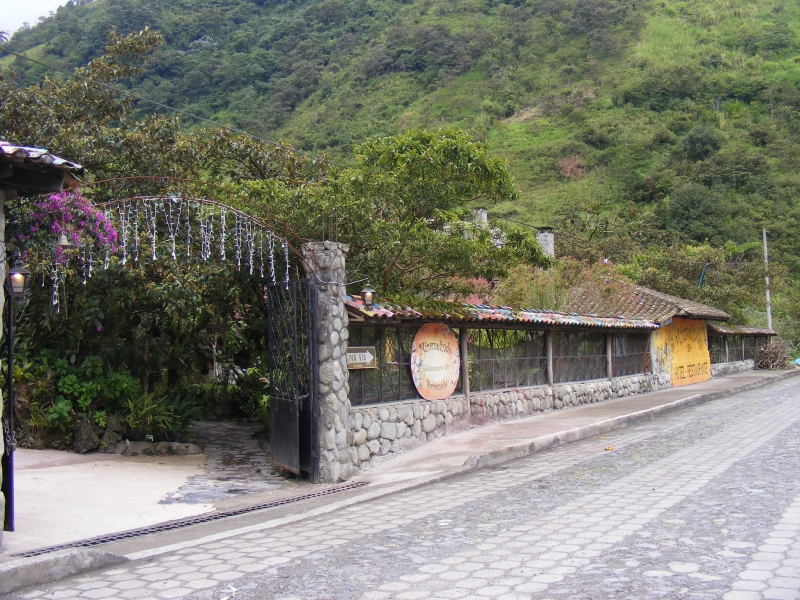 Activities nearby:
The Spa Hotel is located just a short hiking distance from one of the top waterfalls in the province, the Pailon del Diablo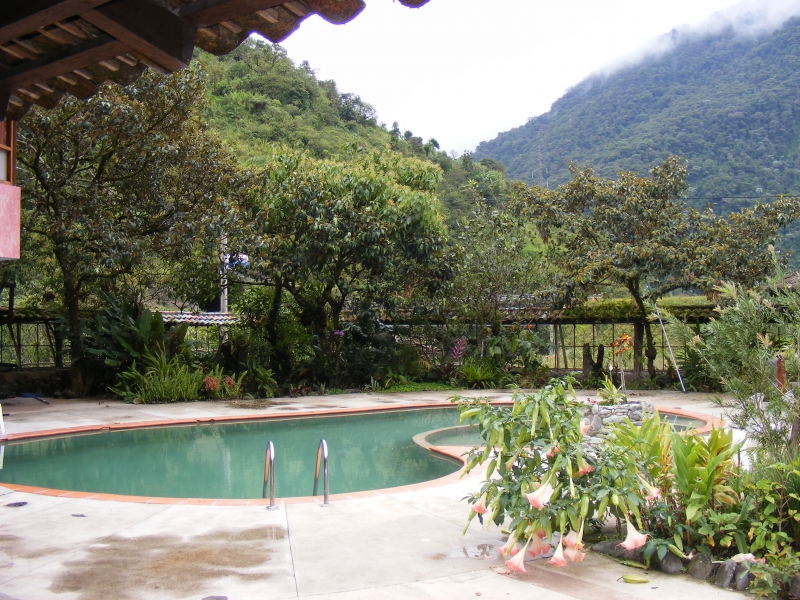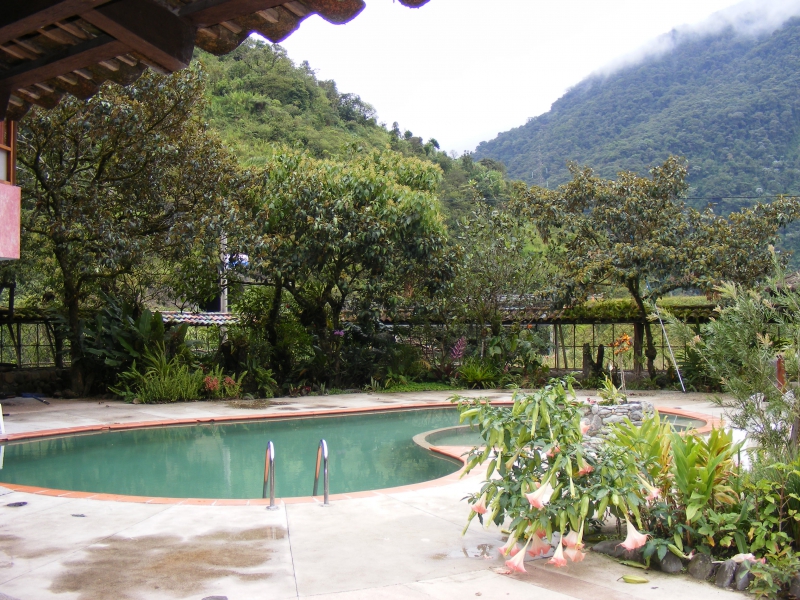 Time to relax:
In addition to the pool and a nice warm jacuzzi located by the river, we decided to book a spa treatment, called baño de cajón.  The aim of this treatment is to detox our bodies from some of the toxins that we get from everyday life.
Then, inside the sauna boxes or cajones, you get to wear your swimsuit with a towel around the neck. Inside the box, you have a lever that allows you to adjust the temperature or heat that you desire.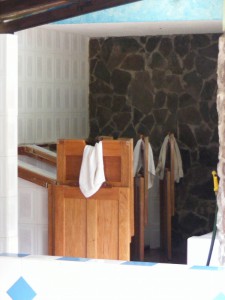 During the whole treatment, we switched between the sauna boxes and cold water. The duration of each stage increased, so we ended up at the end some minutes at the sauna boxes, and instead of being doused in cold water, we went in the cold running river located just next to the hotel.
Furthermore, 45 minutes later and with some sweating, we got a great detox.
Benefits expected: increased blood circulation, decrease levels of cholesterol, better sleep, and cleaner skin.
Conclusion:
You will surely feel more balanced and relaxed after a spa treatment and a hike to the breathtaking waterfall Pailon del Diablo.
Thus, spending a day or a weekend at this calming place, it is the perfect weekend getaway or a stop on your way to Cuenca or Quito.
Get your room at: Hotel Spa Miramelindo, Banos, Ecuador
Disclosure: I was the guest of Hotel Spa Miramelindo, however, all opinions expressed here are entirely my own and based on my personal experience.
If you want more in-depth information and also a guide that you can bring along during your trip, I recommend the travel guide Lonely Planet Ecuador & the Galapagos Islands
, it is a great source of information and tips, maps and all you need if you plan on visiting Ecuador. I personally like the option of having a hard copy version where I can take notes and have them at hand.
Don´t just dream it, make it happen. Plan your South American trip with a local!
Take a look at this list of travel resources to plan your trip and travel in South America.
Daydreaming about your trip to South America? Order here your Free Ebook, I share with you some useful tips & resources for a memorable trip!
Finally, I would like to invite you to follow me on Facebook, Twitter, Pinterest, and Instagram. In addition, you can subscribe on YouTube.
Send me an email for help planning your trip: info(at) visitecuadorandsouthamerica(dot)com
Save