Nine Unforgettable Experiences In Mexico City
written by: guest blogger Erin Neil
Mexico City, frequently overshadowed by travelers who prefer more renowned destinations, is an undiscovered treasure ready to be explored. As the largest city in North America, it offers a plethora of experiences that warrant more than a brief, passing visit.
What makes Mexico City truly special is its alluring outlook, often underestimated by outsiders. It has an array of neighborhoods, with each offering a distinct atmosphere and culture. This sprawling city has something to captivate every traveler.
Surprisingly, despite being home to a staggering 21 million people, Mexico City still maintains an unexpected tranquility. This is partly due to its vast expanse, covering a sprawling 573 square miles – nearly twice the size of New York City. For anyone who has visited the bustling streets of chaotic cities like Delhi or Bangkok, Mexico City's manageable pace will come as a pleasant surprise.
To ensure you make the most of your visit, here's a curated list of the very best things to do in Mexico City.

1. Explore the Historic Center
The Historic Center (Zócalo)is located in the heart of Mexico. It is a UNESCO World Heritage Site and a hub of historical and cultural landmarks. When you take a leisure walk through the fine plazas, you will be wowed by architectural treasures. This includes the Metropolitan Cathedral and the National Palace. Also, Diego Rivera's remarkable murals vividly narrates Mexico's rich history.
How to Get There : Getting to the Historic Center is a breeze. There is convenient access to public transportation options, like Metro and buses. The nearest Metro stations you'll want to head to are Zócalo and Bellas Artes.
What to Bring: Prepare for a day of exploration with comfortable walking shoes. This is because you'll be navigating cobblestone streets and pedestrian-friendly areas. Mexico City has a high elevation and sun exposure. Bring a wide-brimmed hat, sunscreen, and a reusable water bottle to stay hydrated.
2. Visit the National Palace
It has stunning murals by Diego Rivera and offers a peek into Mexico's history. It's not only an architectural gem but also a cultural treasure. While you visit The National place, don't miss the opportunity to attend the famous "El Grito" . It is "the cry for independence" ceremony held on September 15th.
How to Get There: Many hotels in the Historic Center are conveniently situated within walking distance of the National Palace.
What to Bring: A valid ID or passport is essential for entry. Do not forget to come with it. For added convenience during your visit, bring along a compact backpack. This is to carry your essentials, like camera, water, and a lightweight jacket or shawl for cooler indoor spaces.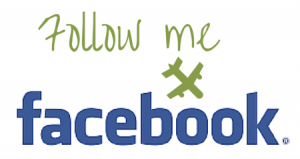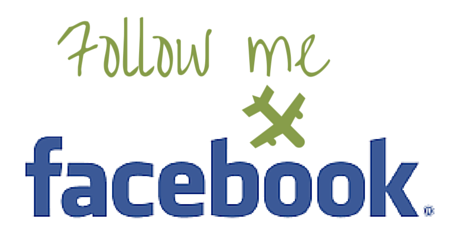 3. Discover Chapultepec Park
Chapultepec Park is one of the largest city parks in the world. It is a green oasis with museums, a castle, and serene lakes. While you're here, explore the Mexican art and artifacts at the Anthropology Museum. You can also take a relaxed stroll up the hill to Chapultepec Castle. There you'll see panoramic views of the city.
How to Get There: You can easily reach Chapultepec Park by taking a short walk from the Chapultepec Metro station. This makes it a convenient and accessible destination via public transportation.
What to Bring: Make the most of your visit to Chapultepec by bringing along a refillable water bottle. This will help to keep yourself refreshed and hydrated during your park adventures. Comfortable walking shoes are a must, as you explore the park's many attractions, including the Chapultepec Castle.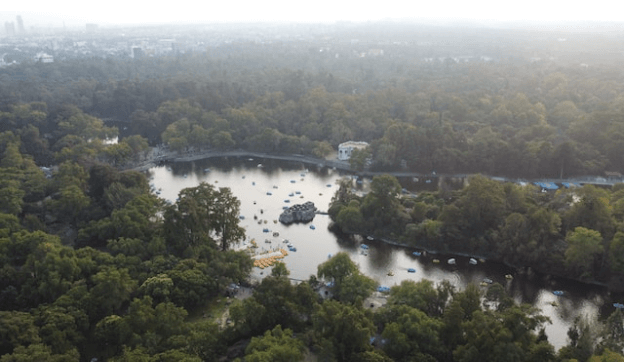 Photo by Anton Lukin onUnsplash
4. Marvel at the Frida Kahlo Museum
The Frida Kahlo Museum offers a fascinating insight into the life and art of the iconic Mexican artist. You'll get to see the rooms where Frida Kahlo lived and worked. It is adorned with her artwork, personal belongings, and a beautiful garden filled with indigenous plants.
How to Get There: The Frida Kahlo Museum, is known as the Blue House (Casa Azul). You can easily reach there by hopping on the Metro at Coyoacán station or opting for a short taxi ride from the city center.
What to Bring: Be sure to have some cash on hand for the entrance fee, because credit cards are not always accepted. A camera is also a handy accessory to capture the vibrant colors and art that permeate the museum and Frida's former home.
5. Taste Authentic Mexican Cuisine
Mexico City's culinary scene is a gastronomic paradise. They have street food stalls, serving mouthwatering tacos and even high-end restaurants. This showcases the diverse flavors of Mexican cuisine. Visit the traditional markets like Mercado de la Merced. You can also indulge in a gourmet dining experience in Polanco. Don't forget to try the iconic street food like elotes (corn on the cob) and tacos al pastor.
How to Get There: In Mexico City, delectable Mexican cuisine is everywhere. Seek recommendations from locals. You can also use food delivery apps to sample dishes from nearby restaurants and street vendors.
What to Bring: As street food is an integral part of the culinary scene, carry some Mexican pesos. Some street vendors who may not accept cards.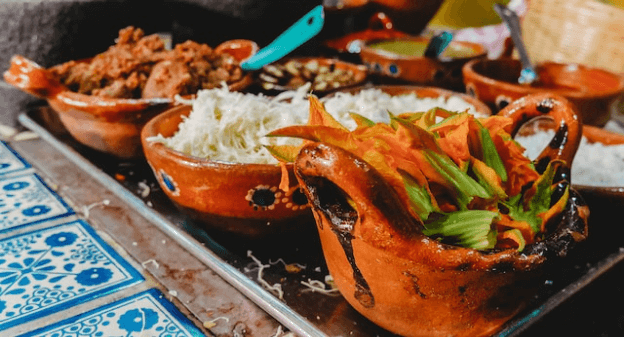 Photo by Roberto Carlos Román Don on Unsplash
6. Wander Through Xochimilco
Xochimilco's colorful trajineras and canals provide a lively and unique experience. Here, you can rent a boat and float along the waterways. You'll see floating gardens, mariachi bands, and food vendors. It's a fantastic way to soak up Mexican culture and enjoy a relaxing day on the water.
How to Get There: Xochimilco is known for its colorful trajineras (boats) and canals. To reach Xochimilco, you can take the Metro (Xochimilco station) or use a rideshare service. The boat tours are the main attraction.
What to Bring: As you'll be outdoors, it's wise to bring sun protection. This includes a hat, sunglasses, and sunscreen. Don't forget your camera to capture the lively atmosphere. You also need some cash on hand for boat rentals and delicious snacks sold by vendors along the canals.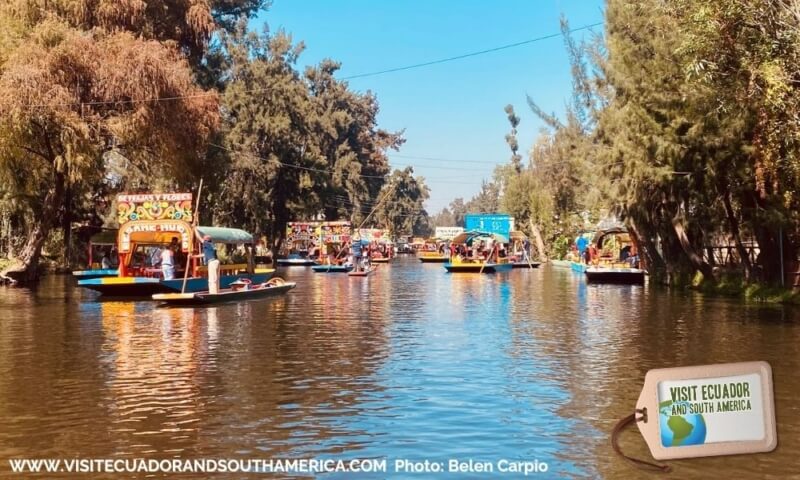 7. Visit the Teotihuacán Pyramids
Teotihuacán's ancient pyramids tell so much about Mexico's rich pre-Columbian history. The Pyramid of the Sun and Moon are truly awe-inspiring structures. They offer you a peek into the rich history of the country's ancient civilizations. Climbing these remarkable pyramids provides a deep historical perspective. It also affords you the opportunity to take breathtaking pictures.
How to Get There: You can reach the Teotihuacán Pyramids with just an hour's drive from Mexico City. Also, You can take a guided tour or use the public bus service from the Terminal de Autobuses de Pasajeros de Oriente (TAPO) to get there independently.
What to Bring: Dress comfortably and wear sturdy shoes, as you'll be climbing the pyramids. A refillable water bottle is essential for staying hydrated during your exploration. Also, have some cash ready for entrance fees, souvenirs, and snacks.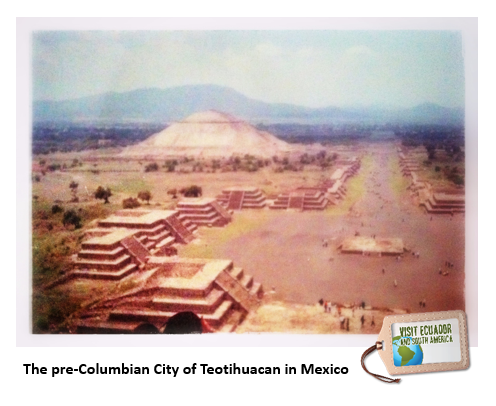 8. Explore Coyoacán
Coyoacán, a bohemian neighborhood, is known for its art, culture, and historic ambiance. Visit the central square, Plaza Hidalgo, and the charming streets lined with colorful houses. You can tour cultural attractions like the Leon Trotsky Museum. It is located in the house where the exiled Russian revolutionary lived.
How to Get There: Coyoacán is accessible by Metro (Coyoacán station). This makes it easy to reach from different parts of the city. It's a neighborhood best explored on foot.
What to Bring: To make the most of your day in Coyoacán, pack a small daypack for your essentials. This includes water, snacks. You'll also need a map of the neighborhood to help you navigate its charming streets.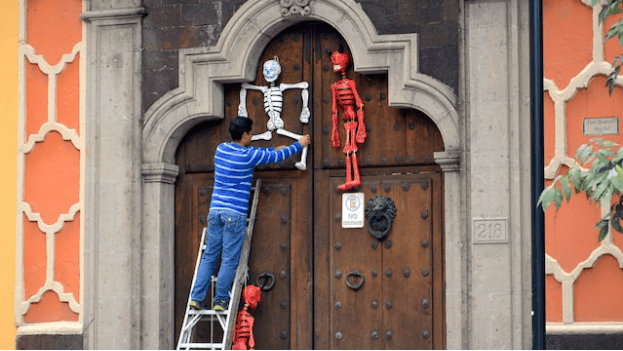 Photo by Carl Campbell on Unsplash
9. Experience Lucha Libre
Lucha Libre, Mexican professional wrestling, offers an electrifying and entertaining spectacle. Witness masked wrestlers (luchadores) engage in acrobatic battles of good versus evil. Arena Mexico is one of the most famous venues to catch this unique and culturally significant sport.
How to Get There: Arena Mexico is easily reached by taxi or rideshare apps from various parts of the city.
What to Bring: Bring cash for tickets and snacks, and be prepared to engage in the lively society in Lucha Libre. It's an experience best enjoyed with an enthusiastic spirit and a camera to capture the action.
Wrap Up
Mexico City offers a kaleidoscope of experiences for travelers to enjoy. Whether you're exploring historic landmarks, trying out its culinary delights, or embracing the local culture, Mexico City promises a memorable adventure. Begin planning for your next trip with the above-listed and explained guides.
Enjoy your tour!
If you enjoy the content, please consider liking, commenting, and subscribing. It's free, and it helps us.  Every little bit will help fund our travels and continue to bring great content to our site!
Planning a trip soon? Comment below or send me an email. I can help you plan your trip.
PIN IT FOR LATER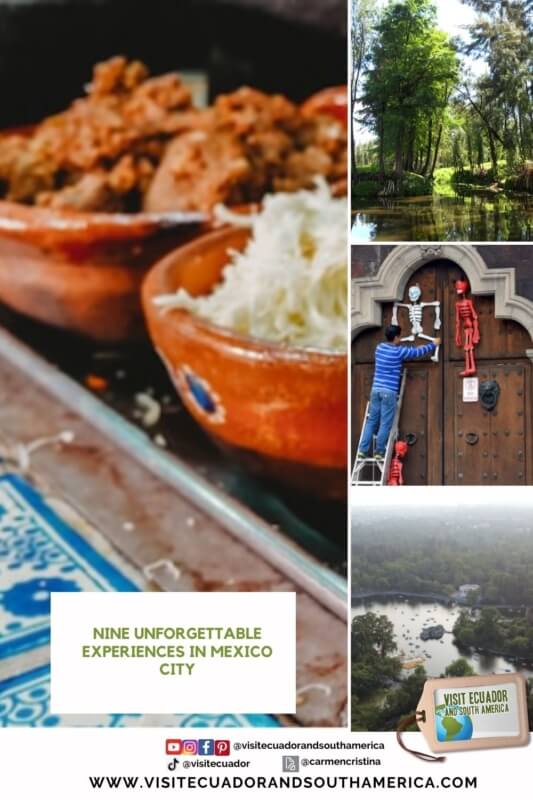 Don't just dream it. Make it happen. Plan your South American trip with a local!
Take a look at this list of travel resources to plan your trip and travel in South America. Are you daydreaming about your trip to South America? Order here your Free Ebook. I share some valuable tips & resources for a memorable trip! I invite you to follow me on Facebook, Twitter, Pinterest, and Instagram. Besides, you can subscribe on YouTube. You can also send an email to help plan your trip: info(at) visitecuadorandsouthamerica(dot)com.