Cocada: a popular Ecuadorian dessert
The meaning of cocada translates as sweet dessert made of coconut and sugar. Cocadas are commonly made in the province of Esmeraldas in the Coastal region of Ecuador, and are either white or black, depending on the kind of sugar added in the recipe.
This is a traditional dessert from the Coastal region of Ecuador and one that we enjoy eating getting during our trips to the beach.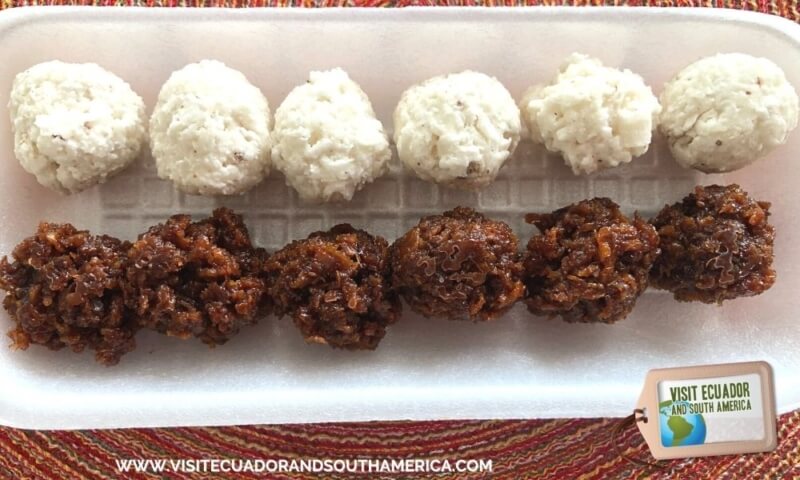 About cocada
Although the history of cocada can be traced back to Spain and back to the XIX century and nowadays this tasty treat can be found in some provinces in the Coastal region of the country.
We would like to focus this blog post solely on the cocadas from Ecuador.
If you are in South America I would love to see your pictures.
After so many years living in Ecuador and visiting as a tourist while living abroad, this year after my mom suggested visiting the cocada factories along the highway on our way to Tonsupa beach in Esmeraldas, I agreed and I was glad to be able to see how they are made.
I have made a video and some pics to show you a bit more about this tasty sweet from the Coastal region of the country.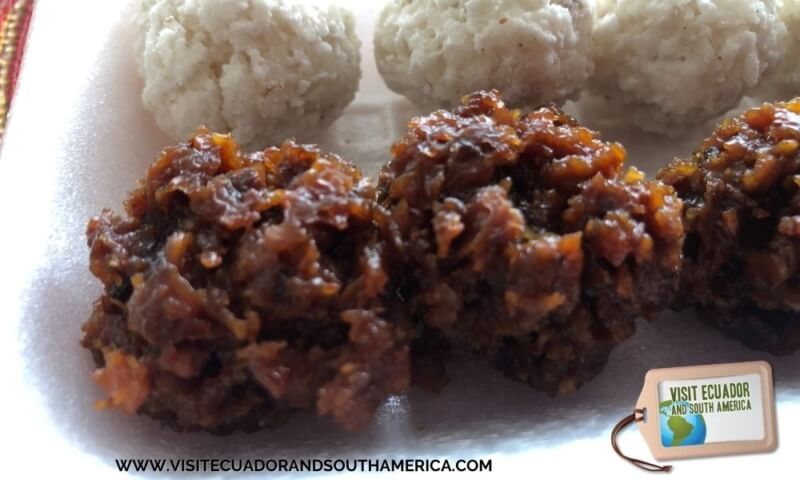 How are cocadas made?

This traditional sweet or dessert is made in a paila or big rounded pot like the one shown in the video below. The shredded coconut is placed inside this pot, together with coconut water, sugar, milk, and then this mixture continues to cook until it simmers, with constant stirring.

I will not go so much into detail as I have been able to make a short video of the process. I believe that the mixing and final part of the process are probably the ones that take more effort. You might agree with that, after looking at the video.
How do they taste
If I can use one adjective to describe the taste of cocadas, it is: mouth-watering. They are sweet and have a special texture, from the coconut and sugar.
Dark cocadas are made with panela or brown sugar, white cocadas are made with white sugar, and we recently discovered that there are also some cocadas that have added flavor to them.
So we have included a couple of pictures of cocadas with maracuya taste (yellow) and pineapple taste (darker yellow or orange)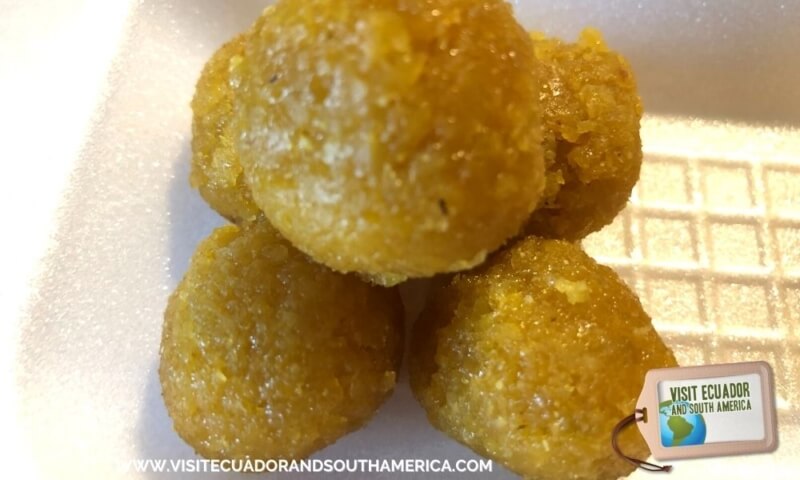 How do you eat them
You can eat your cocadas anywhere, as they are ready to eat, straight from the box or bag.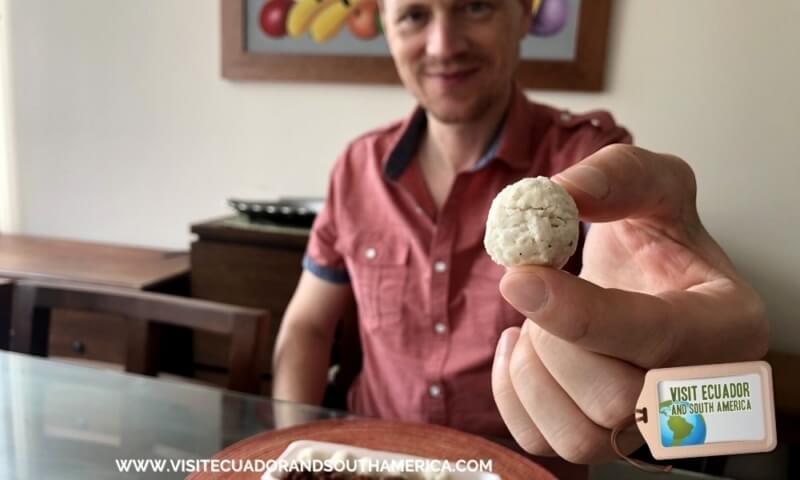 We highly recommend you add cocada to your list of traditional food to taste during your visit to the Coastal region of Ecuador!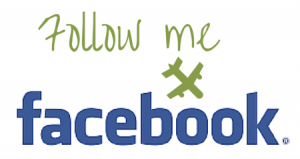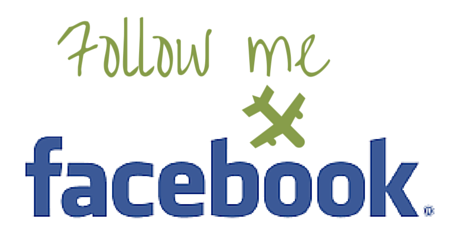 Ecuador is a small country with four very different regions, offering a wide range of snacks and food that you can enjoy. We have gathered  Some of the best snack souvenirs to get on your visit to Ecuador – South America, with 5 of the tastiest snacks you can easily buy and taste while visiting the country.
Have you tried cocada before?
Leave your comment below!
If you found this post inspiring and helpful, We would appreciate it if you would pin, share or tweet this page on any social media platforms you use!
Every little bit will help us fund our travels to continue bringing great content to our site.
PIN IT FOR LATER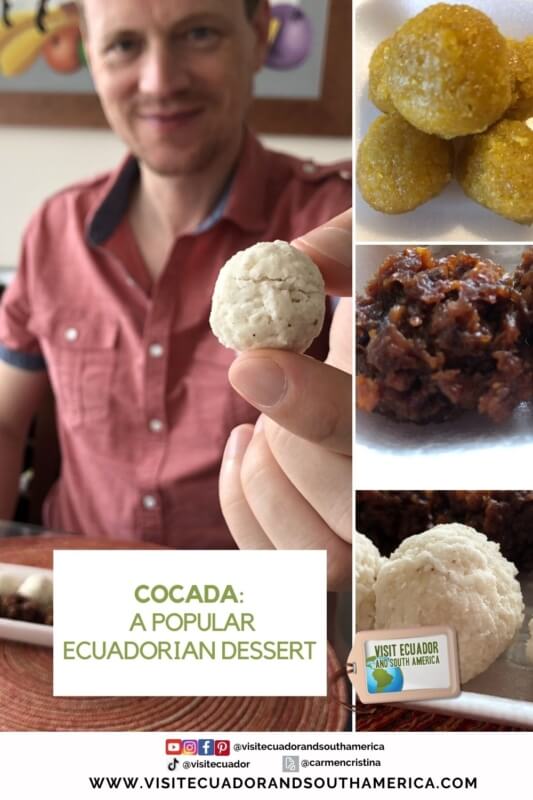 Want to learn to make some of these dishes and many more? This book: Gran Cocina Latina: The Food of Latin America, comprises 500 well-written recipes from all Spanish-speaking countries in Latin America, providing great information and recipes of the exciting food you can prepare at home while you plan your visit to South America.
Some posts on this site contain affiliate links, meaning if you book or buy something through one of these links, I may earn a small commission (at no extra cost to you!).
Don´t just dream it, make it happen. Plan your South American trip with a local!
Take a look at this list of travel resources to plan your trip and travel in South America.
Daydreaming about your trip to South America? Order here your  Ebook, I share with you some useful tips & resources for a memorable trip!
I invite you to follow me on Facebook, Twitter, Pinterest, and Instagram. In addition, you can subscribe on YouTube. You can also send me an email to get more information or help planning your trip: info(at) visitecuadorandsouthamerica(dot)com