Casa Quinta Clementina:  Best accommodation in Ambato & to visit Baños
Whether you are traveling from Quito to Cuenca, or planning to visit the warm town of Baños, Casa Quinta Clementina is a wonderful option.

You know you will spend the night in a peaceful and memorable place in Ambato when you approach the area where Casa Quinta Clementina is located, and then as you walk through the beautiful path towards the main entrance.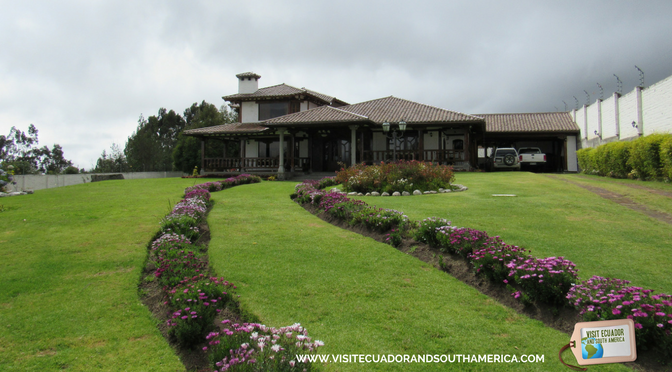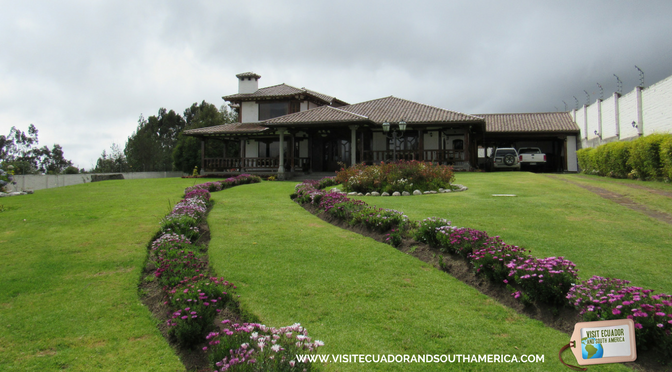 Having spent 5 hours driving from Cuenca to Quito, I was committed to finding accommodation in Ambato, that combined the charm of an Andean home and the warmth of Ecuadorians.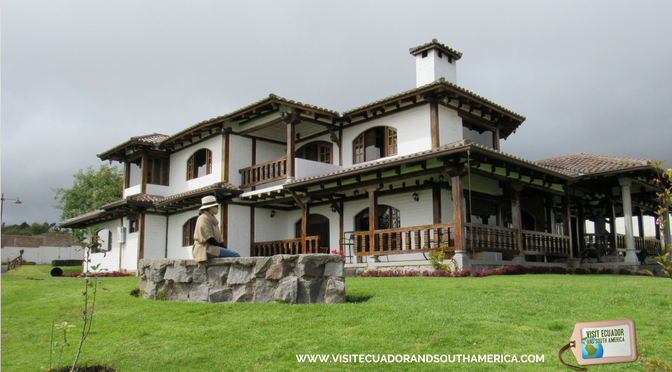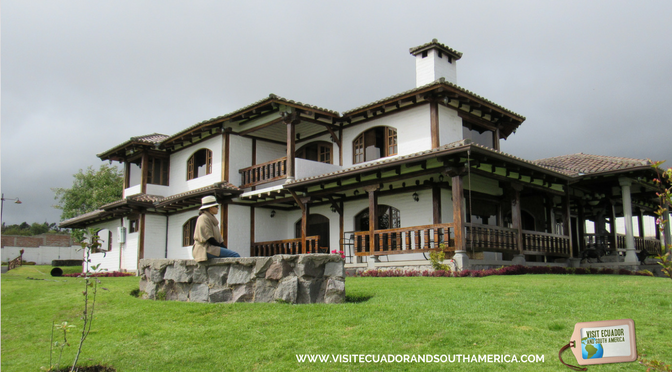 Location
Casa Quinta Clementina is ideally located in Montalvo, near Ambato. Only 25 km drive from Baños.  Baños is one of the top places to visit in Ecuador due to the warmer weather and to enjoy adventure sports, as well as for being a hotspot for relaxing getaways.
We found the hotel easily.  Its located in a nice and quiet area. Google Maps can assist you to find the address if needed.

About the Hotel
This privately owned hotel is built-in a Spanish style country house and creates a "home from home" feel.
The furnishings are comfortable and reflect the culture of the Andes. All decor is matching the countryside style of the house with wooden touches including rustic and elegant details.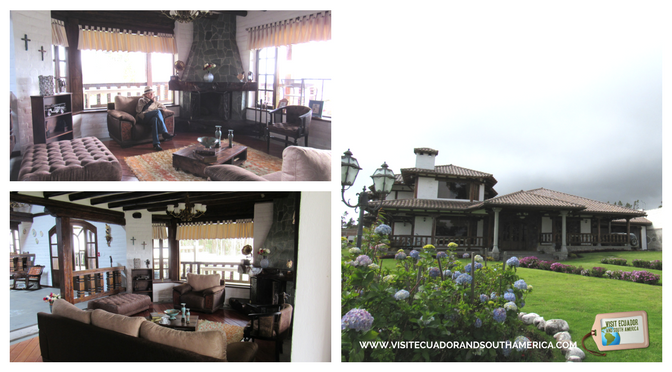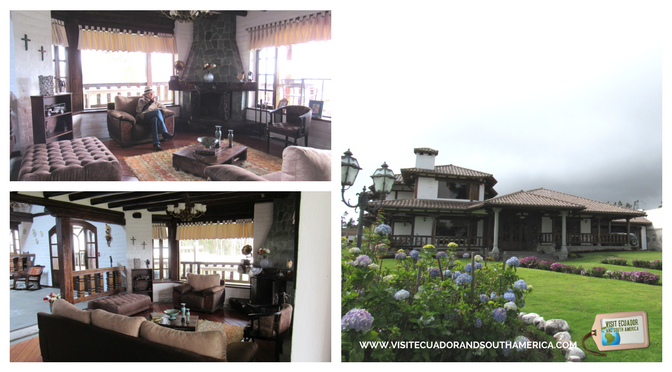 I loved the living room. An area of the house that brings guests together in a cozy and relaxed atmosphere, it brings to mind the hygge concept I was used to in Norway. It is beautifully decorated with rustic furnishings, hardwood floors and a lovely fireplace.
Next to it, a beautiful fountain adorns the main room, together with a bar, creating a welcoming atmosphere to all guests coming in the hotel.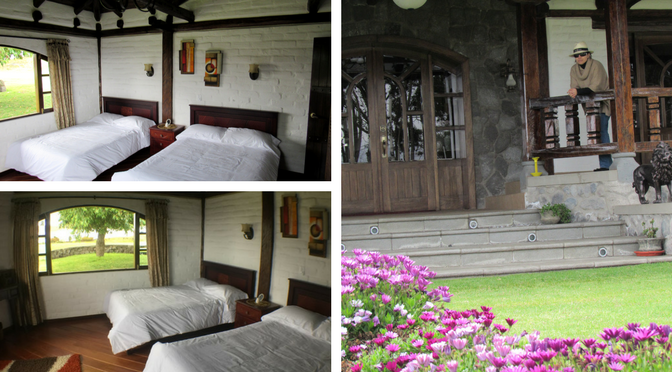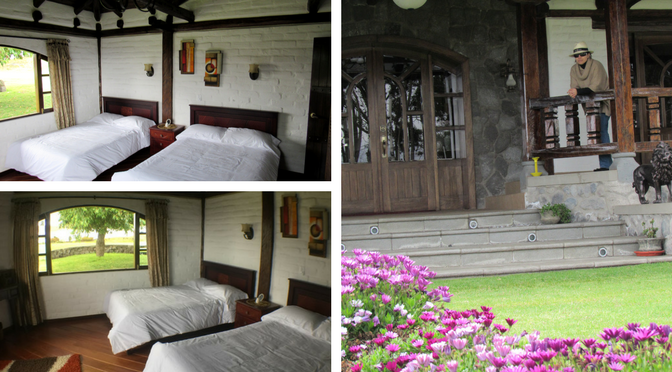 Casa Quinta Clementina is perfect for those who want to take a day trip to the city of Baños, located 25 kms away.
For our road trip it was wonderful that the hotel offers free parking, free wi-fi, BBQ facilities, board games, puzzles and a shared kitchen.
If you are in South America I would love to see your pictures.
The garden
The hotel provides visitors the peaceful feeling of the Ecuadorian countryside. Boasting ample green areas and a beautiful garden surrounding the house.
Bedrooms
Our bedroom on the main floor was elegantly decorated with comfortable beds and a sitting area. All rooms provide guests with a lovely view to the garden or the mountain.  As well as, a private, modern bathroom with fine toiletries.
Breakfast

 

 
Having spent a night of peaceful and replenishing sleep, we felt ready to start the day and continue our road trip from Cuenca to Quito.  In the morning it was lovely to find the ample breakfast room warm and well-lit by the sun rays and with our nice breakfast.
It was wonderful to find out that requests on food can be made prior to arrival and the chef will prepare tailored-made dishes to guests staying at Casa Quinta Clementina.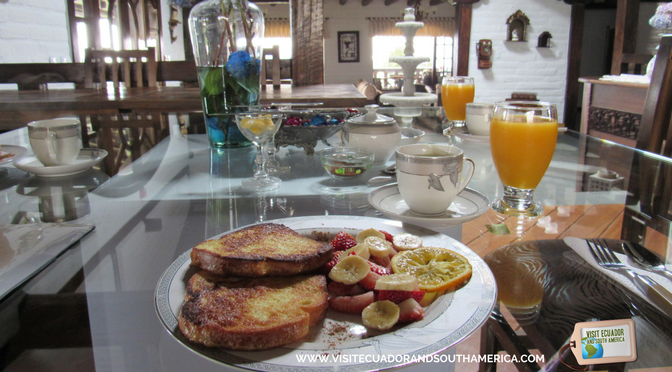 Throughout our stay I was highly satisfied with the warmth, friendliness and professional customer service provided. First upon arrival, and then through breakfast before departure.
About and activities in Ambato and Baños
Each year there is a famous Festival of Fruits and Flowers (Fiesta de las Flores y de las Frutas) that takes place here, in Ambato.  During carnival you can enjoy one of the best holidays in the country, including festivities and colorful parades.
To find out about the activities and reasons to visit Baños, here are some of our previous posts.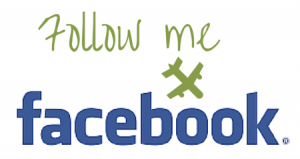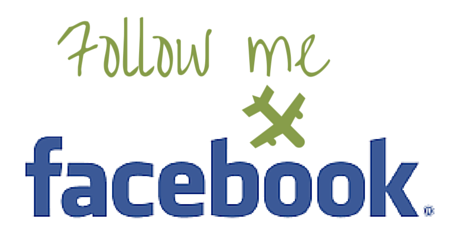 Venue for weddings and Events
Casa Quinta Clementina with its elegant and romantic atmosphere provides an ideal venue for weddings. The upper level of the house has been carefully decorated and provides the perfect honeymoon suite. Including a chimney, a balcony, a walk-in closet, a bathroom with a spa bath and breathtaking views across the countryside, to Cotopaxi volcano.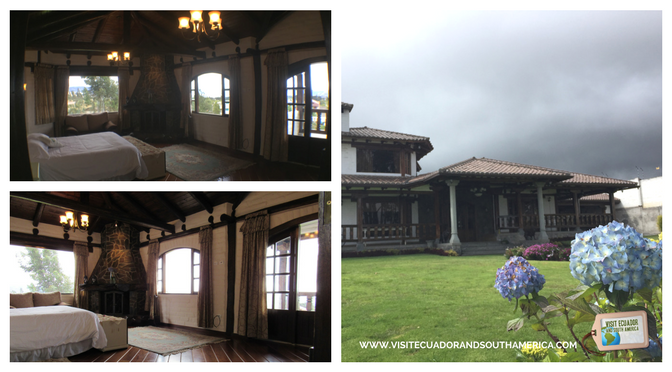 Conclusion:
I can honestly say that I had the most replenishing night of sleep during this road trip and I wouldn`t hesitate to recommend Casa Quinta Clementina for accommodation in Ambato.
I was captivated by its colorful gardens and peaceful location, the spacious rooms and was highly satisfied with the level of customer service provided.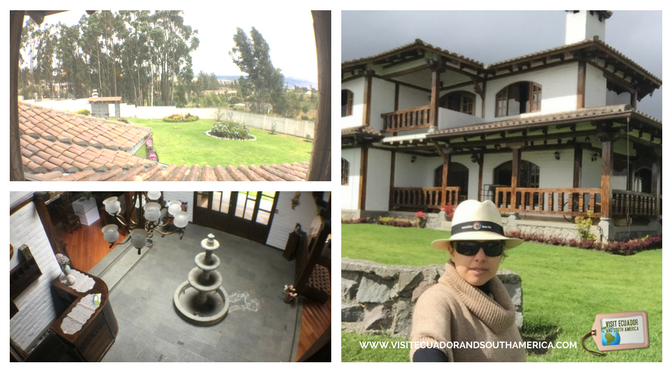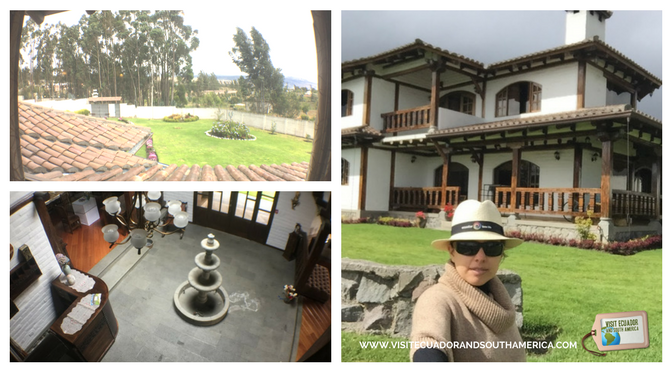 Nothing beats waking up refreshed, ready to enjoy the activities in Baños or for us, to continue our trip North.
I can personally recommend booking accommodation at Casa Quinta Clementina. Ideally located near Ambato.
Editors Disclosure: I was a guest at Casa Quinta Clementina. As always, all opinions expressed here are entirely my own and based on my personal experience.
If you found this page helpful, I would appreciate it if you would pin, share or tweet it on any social media platforms you use! Every little bit will help fund our travels and continue to bring great content to our site!
Planning a trip soon?  Comment below or send me an email, I can help you with more tips to save money or to plan your trip.
PIN IT FOR LATER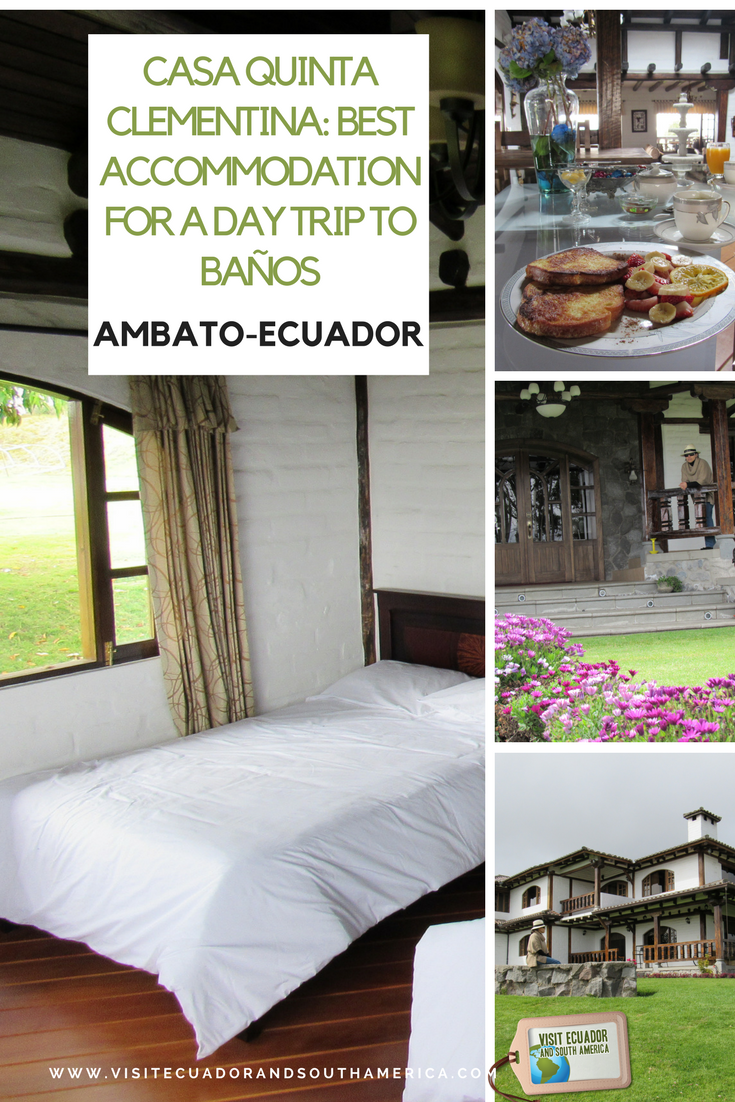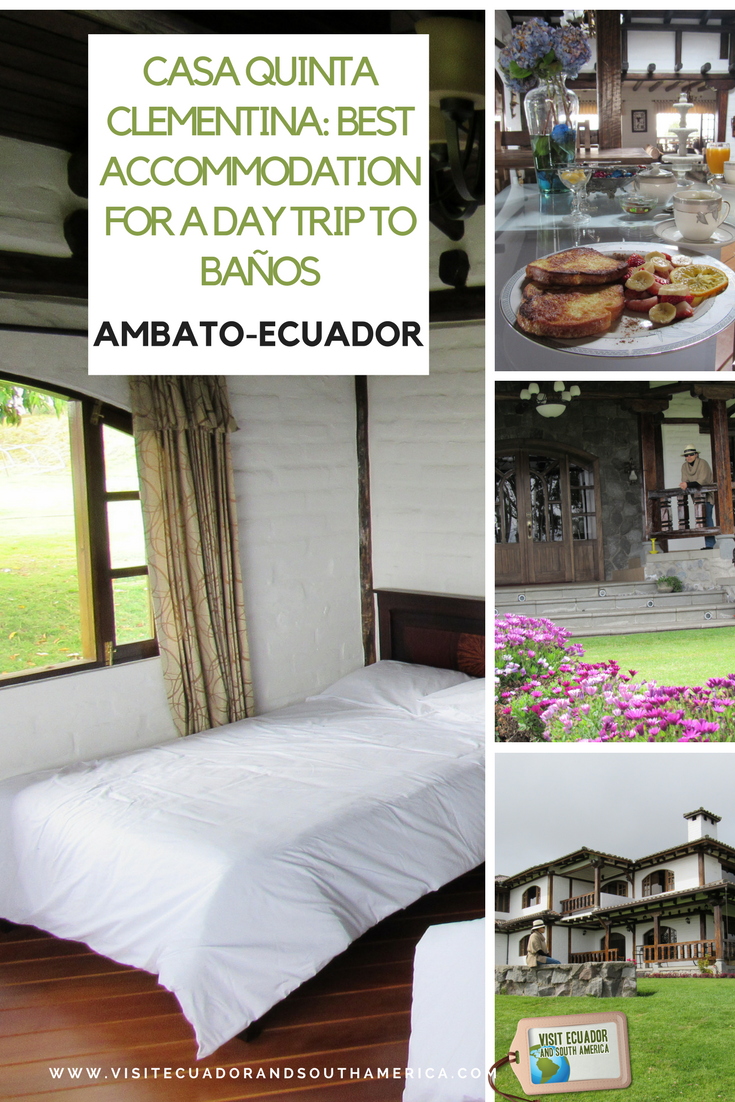 If you want more in-depth information and also a guide that you can bring along during your trip, I recommend the travel guide Lonely Planet Ecuador & the Galapagos Islands
.
This is a great source of information and tips, maps and all you need if you plan on visiting Ecuador. I personally like the option of having a hard copy version where I can take notes and have at hand.
Don´t just dream it, make it happen. Plan your South American trip with a local!
Take a look at this list of travel resources to plan your trip and travel in South America.
Day dreaming about your trip to South America? Order here your Free Ebook, I share with you some useful tips & resources for a memorable trip!
I invite you to follow me on Facebook, Twitter, Pinterest and Instagram. In addition you can subscribe on YouTube.
You can also send an email to get help planning your trip: info(at) visitecuadorandsouthamerica(dot)com