Qué comprar en Ecuador: recuerdos artesanales imprescindibles
Traducido por: Carmen Tobar S.
¿Te preguntas cuáles son los mejores recuerdos artesanales para compartir un poco de la cultura ecuatoriana con amigos y familiares?
En primer lugar, tenemos un país mega-diverso en flora y fauna. Ya sea que se pregunte qué comer y ver en este país megadiverso ubicado en la Mitad del Mundo, o si desea obtener más información sobre este país sudamericano, ¡este es el Ebook para usted! Julio de 2017 lanzamos el Ebook: Must-See and Eat Ecuador and its Galápagos Islands.
Donamos el 10% de nuestras ventas para ayudar a nuestros compañeros ecuatorianos en la provincia de Manabí, afectados el 16 de abril de 2016 por un terremoto de magnitud 7,8. Las ganancias del 10% se destinan a una NGO que trabaja brindando ayuda en el área.
Ecuador también es un país que proporciona materiales de calidad para la producción de magníficos regalos y recuerdos. De ahí los muchos recuerdos encantadores disponibles de cada región de mi país.
Otra cosa que disfruto mucho es la variedad de recuerdos hechos con diferentes materiales disponibles. Hay mucha creatividad y artesanía en cada artículo, lo que hace que muchos de ellos sean recuerdos artesanales imprescindibles.
Después de años de comprar regalos para familiares que viven en el extranjero, amigos que vienen y ahora viven en el extranjero, estas son mis principales sugerencias para todos ustedes que viajan a este magnífico país sudamericano.
SOUVENIRS ARTESANALES DE ECUADOR

Artesanías Ecuatorianas por I-guana Craft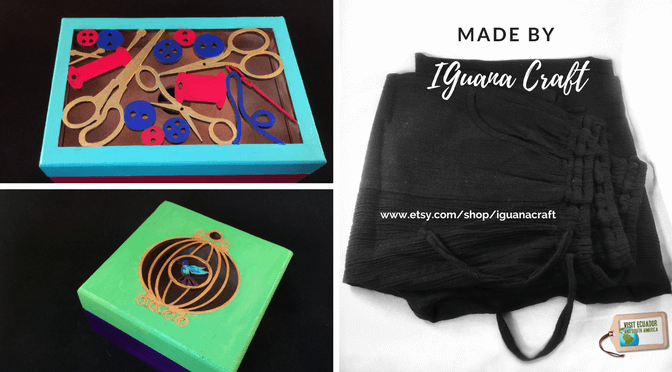 I-guana craft es una empresa creada por la profesora y talentosa artista Belen Carpio.
Belén es una ecuatoriana con sede en Florida que quiere exhibir algunos de los hermosos materiales y artesanías del país, dándoles un toque moderno. Su producto final da como resultado una gran cantidad de hermosas artesanías ecuatorianas, perfectas para un regalo y para decorar su hogar.
Ordene estas y otras artesanías ecuatorianas de Iguanacraft
Made by Pyro es una empresa creada por la madre y diseñadora de interiores Linda Tovar. De una manera lúdica y original, ha capturado la identidad de Ecuador en sus juguetes y rompecabezas.
Los niños prueban y fortalecen la resiliencia a través del juego y luego a través del recuerdo de esas experiencias.
Además, estos rompecabezas no solo son los mejores juguetes, sino que también son recuerdos únicos e inolvidables que puede llevar a casa después de su viaje a Ecuador. Deja aquí tu pedido o llama para hacer tu pedido.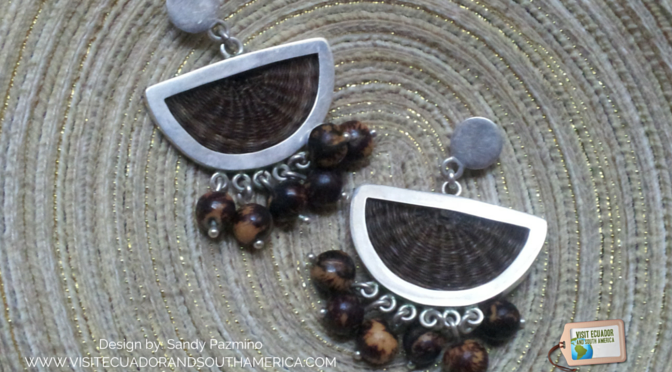 El país tiene una industria minera con la plata como uno de los principales materiales utilizados para hacer joyas finas. Elija el recuerdo de plata perfecto hecho de piedras preciosas, cuentas semipreciosas, crin, madera, semillas y tela para sus joyas exclusivas hechas a medida.
Asegúrate de contactar a Sandy Pazmiño para pedir tu diseño y llevarte un hermoso souvenir exclusivo.
Bufandas y otros textiles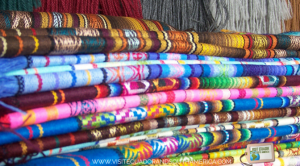 Traiga una bella pieza de cultura local con usted. He descubierto que estos son excelentes regalos para amigos y familiares, son fáciles de usar y livianos, lo que significa que es fácil de llevar en su maleta.
También puede encontrar estas chalinas o chales hechos a mano con Orlon, un material hipoalergénico resistente a la luz solar en la mayoría de los mercados y tiendas que ofrecen recuerdos. Además, pueden usarse como caminos de mesa
Tagua –  figuras y joyas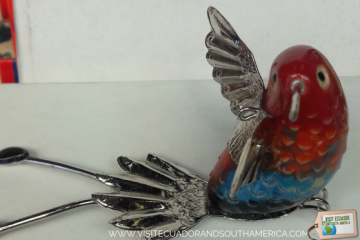 Tagua es una planta tropical conocida mundialmente como marfil vegetal. Los artesanos usan esta semilla para hacer diferentes recuerdos, incluidas hermosas joyas. Además de ser un gran regalo, también es una excelente manera de mantenerse ecológico.
Las figuras y joyas de Tagua están hechas principalmente con materiales compostables. Otro hecho que vale la pena mencionar es que no se daña a los animales al producir este marfil natural.
If you are in South America I would love to see your pictures.
Guantes de alpaca, gorros y suéteres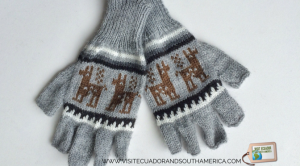 Si desea traer algunos regalos cálidos y muy tradicionales a casa, su mejor opción son los recuerdos de lana de alpaca. Todos los artículos de alpaca, como suéteres, guantes, bufandas y otras prendas de vestir, se tejen a mano en telares que se encuentran en dos ciudades importantes de los Andes: Peguche y Otavalo.
A menudo visito y llevo visitantes al mercado al aire libre en Otavalo, el mejor lugar del país para obtener recuerdos artesanales y artículos de alpaca de calidad.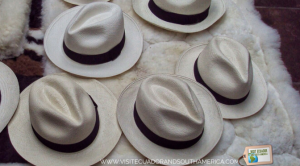 Los famosos sombreros de Panamá, o fedora, son originales de Ecuador. Por eso los conocemos como sombreros de paja toquilla o "sombreros de paja". Hacemos estos hermosos sombreros tradicionales cerca de Cuenca y en Montecristi en la región de Manabí en Ecuador, desde allí los exportamos y vendemos en todo el mundo.
Comprar online
Hay diferentes modelos y precios disponibles, te doy dos excelentes opciones:
Si buscas el auténtico sombrero de paja Clásico de Fedora,  o
El "verdadero" sombrero de Panamá tejido a mano en Ecuador, estilo Fedora, color natural o blanco, grado 2, fabricado desde 1975.
Lea todo sobre los sombreros auténticos  de paja ecuatorianos, también conocidos como sombreros de Panamá
Lee todo sobre los sombreros Ecuatorianos de paja toquilla, también conocidos como Panama Hats.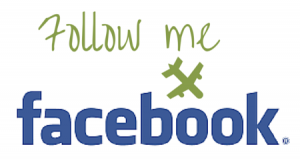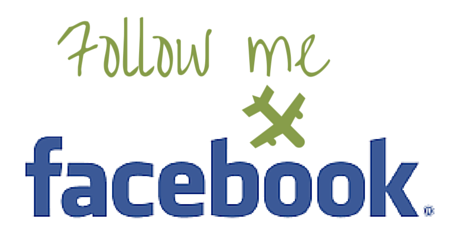 Souvenirs de cuero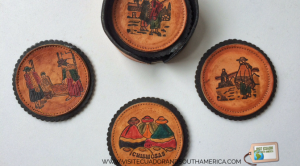 En el país, los artesanos usan el cuero como uno de los principales materiales para hacer hermosos recuerdos y ropa en Ecuador.
Además, el país tiene una historia de producción de artículos de cuero solicitados internacionalmente. Si es posible, planifique un viaje a Cotacachi en la provincia de Imbabura. Esta ciudad es conocida mundialmente por la alta calidad de sus artículos de cuero y artesanías.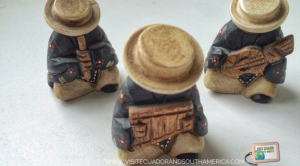 Puedes comprar artículos delicados hechos en madera en muchas ciudades del país. Elija entre decoraciones finas con temas inspirados en los incas, imágenes religiosas y muchos otros artefactos para llevar a casa o como los regalos de recuerdo perfectos de su visita a Ecuador.
El mejor lugar para comprarlos es San Antonio de Ibarra.
Donde conseguir recuerdos artesanales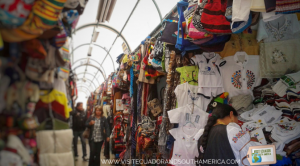 Si se encuentra en Quito, puede visitar el Mercado Artesanal en Juan León Mera y Jorge Washington, donde puede encontrar varias tiendas que venden recuerdos artesanales.
Además, si tienes suerte puedes ver a algunos de los artesanos trabajando en sus artesanías y comprarles directamente.
También encontrará tiendas de recuerdos en los principales aeropuertos. A saber, Galápagos, Cuenca, Guayaquil y Quito.   Además, puede encontrar tiendas que ofrecen recuerdos en los centros comerciales más grandes del país.
Si tiene tiempo, definitivamente debe visitar uno de los mejores mercados al aire libre de Sudamérica, Otavalo. Este es el lugar para ir si planea comprar recuerdos artesanales hermosos y coloridos mientras está en Ecuador.
Conclusion
En conclusión, elegir hermosos recuerdos artesanales en Ecuador le permitirá recordar las mejores experiencias que tuvo en este país sudamericano, así como compartirlas con amigos y familiares.
GUARDALO EN PINTEREST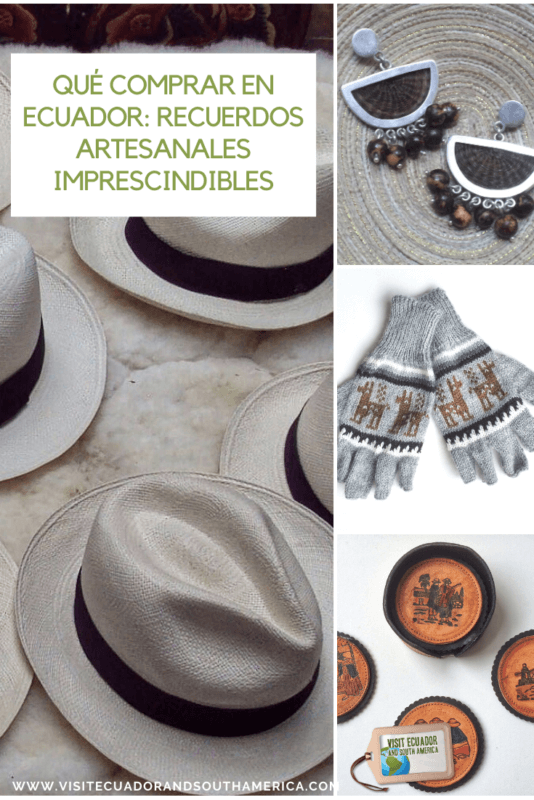 Si deseas información más detallada y también una guía que puedas llevar durante su viaje, te recomiendo la guía de viaje Lonely Planet Ecuador & the Galapagos Islands.
Es una gran fuente de información y consejos, mapas y todo lo que necesita si planea visitar Ecuador.
No solo lo sueñes, haz que suceda. ¡Planifica tu viaje sudamericano con un local!
Echa un vistazo a esta lista de recursos de viaje para planificar tu viaje y viajar en América del Sur.
¿Estás soñando con tu viaje a Sudamérica? Ordena aquí tu libro electrónico gratuito, ¡comparto con ustedes algunos consejos y recursos útiles para un viaje memorable!
Les invito a seguirme en Facebook, Twitter, Pinterest e Instagram.. Además puedes suscribirte en YouTube..
También puedes enviar un correo electrónico para obtener ayuda al planificar tu viaje: info (arroba) visitecuadorandsouthamerica (punto) com
Save
Save
Save
Save
Save
Save
Save
Save
Save
Save
Save
Save
Save
Save
Save
Save
Save
Save
Save