Hvorfor du bør besøke Yanacocha Rescue Centre i Pastaza

Det er flere grunner som har inspirert meg til å skrive dette blogginnlegget, og jeg vil dele noen av grunnene med deg. Men først, la meg fortelle deg litt om Pastaza-regionen i Amazonas' regnskog i Ecuador.
Litt om Pastaza
Slagordet som så flott definerer denne regionen, www.pastaza.travel, Adventure, Jungle, and Traditions, eller Eventyr, Jungel og Tradisjoner.
Pastaza omfatter 40% av nasjonalparken Yasuní og huser en lang rekke plante- og dyrearter. Som en del av Yasuní nasjonalpark, et av de mest biologisk mangfoldige økosystemene i verden, er dette nærmest et obligatorisk sted å besøke for naturelskere.
Denne nasjonalparken huser 600 fulgearter, 200 pattedyrarter og 270 arter amfibier og reptiler.
Yanacocha Rescue Centre i Pastaza
Da Alexander von Humboldt utforsket områdene i Ecuador var lite kjent om geologien, botanikken og de innfødte folkeslagene i Sør-Amerika. Som en del av hans arbeid var det mulig for ham å studere og dokumentere botanikken i Amazonas-regnskogen.
Århundrer har gått siden da, og det er hjerteskjærende å få vite at flere dyrearter har blitt utrydningstruet av ulovlig dyrehandel. Dyrene blir solgt på store markeder og plazaer, og blir holdt som husdyr og kjæledyr.
I 2006 omgjorde en gruppe dedikerte og omsorgsfulle mennesker et forlatt gårdsbruk til dette reservatet for dyreliv i hjertet av Amazonas-regnskogen i Pastaza.
Grunner for å besøke Yanacocha Rescue Centre i Pastaza
Her er noen av grunnene for å legge Yanacocha Rescue Centre til din liste over steder å besøke i Ecuador.
1) Yana Cocha er en veldedig organisasjon som utelukkende lever av donasjoner og de lave prisene på inngangsbilletter og de små summene de får inn av folk som ønsker å bo her for å hjelpe til som frivillige i kortere og lengre perioder.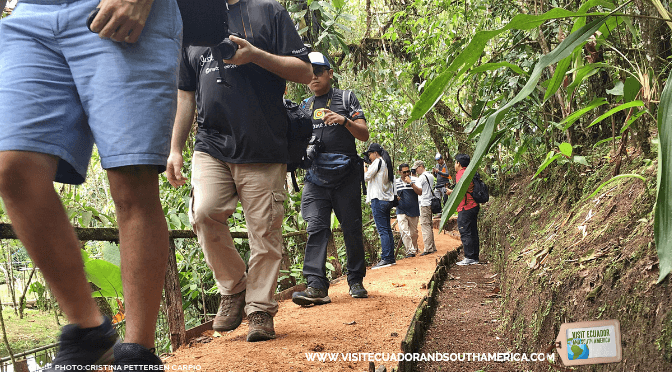 2) Å beundre den fantastiske faunaen i Amazonas-regnskogen, og et prosjekt som har som mål å utdanne og øke den sosiale bevisstheten rundt biologisk mangfold og dets betydning for verden.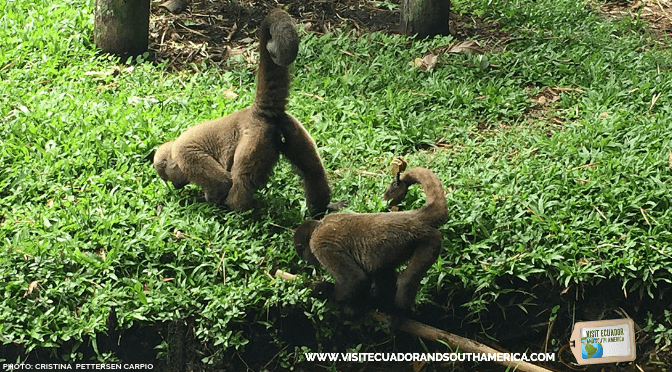 3) Besøkende fra hele verden vandrer langs stiene og uforsker ulike områder mens de lærer om noen av artene i Amazonas-regnskogen.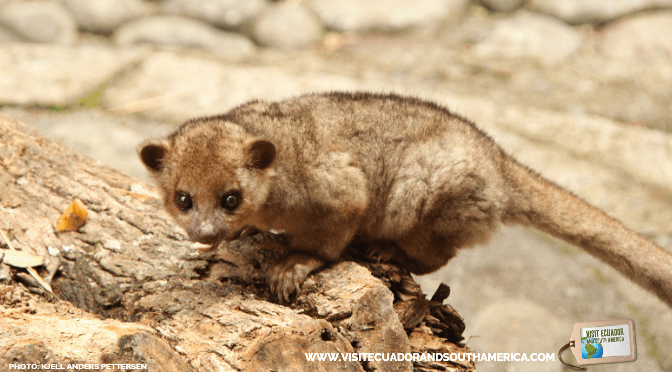 Dette er det vi kan kalle et levende fossil, … en opossum med 50 millioner års stamtavle.
4) Økoturisme er det andre hovedfokuset for Yanacocha, hvor de skaper naturlige landskaper, opprettholder økosystemet og øker verdien av det biologiske mangfoldet.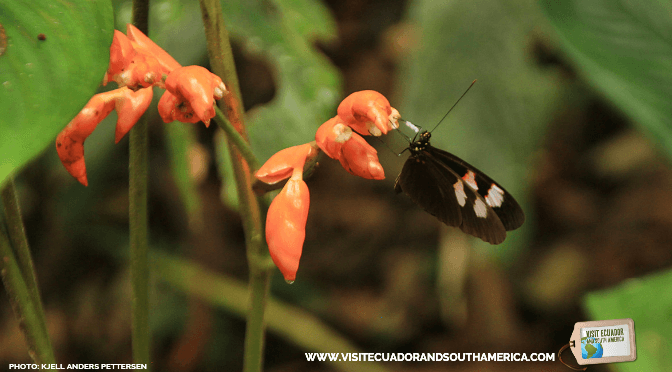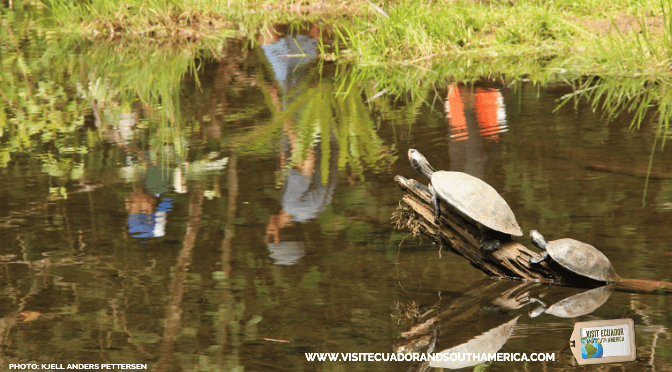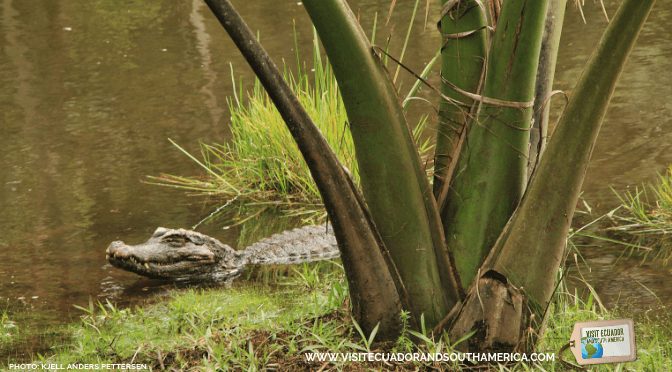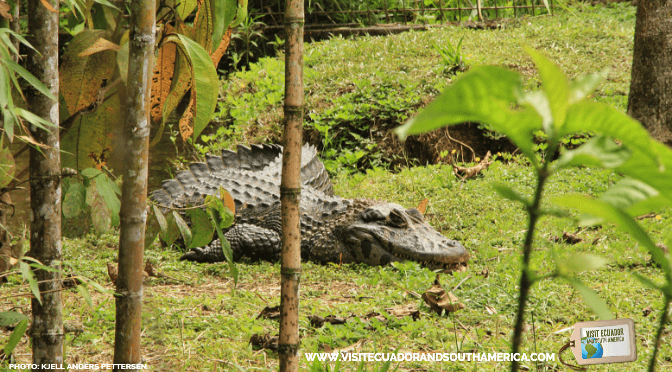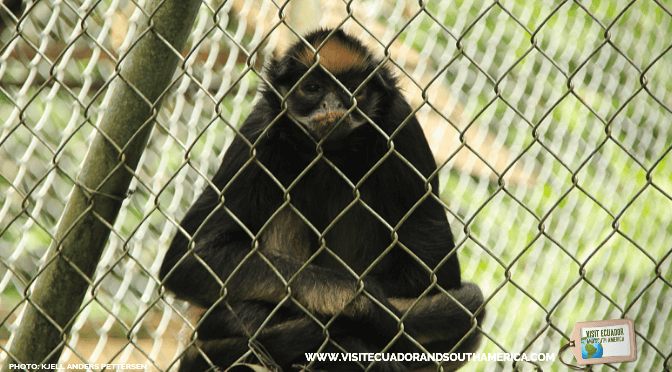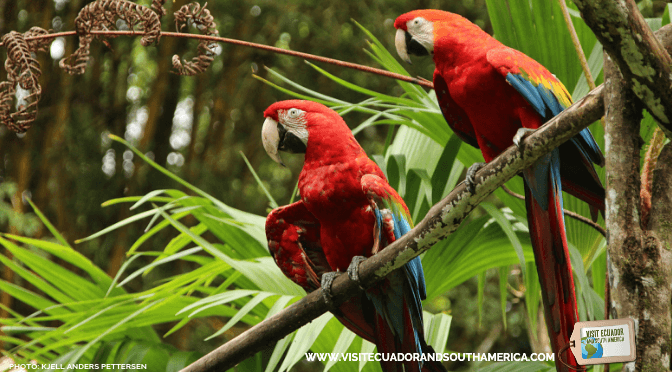 5) I motsetning til an dyrehage disponerer dyrene her større områder med bedre livskvalitet.
6) Et annet viktig mål for Yanacocha er å øke bevisstheten om de negative virkningene av ulovlig dyrehandel.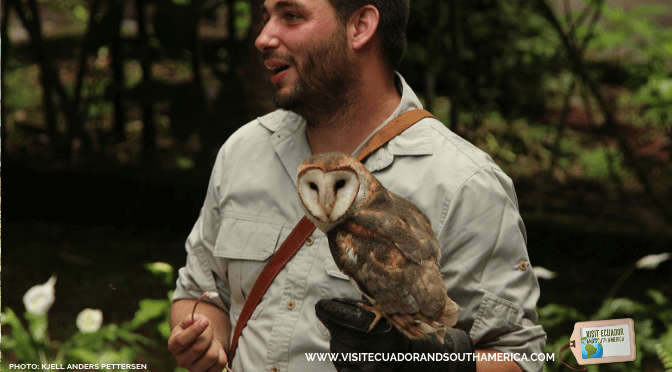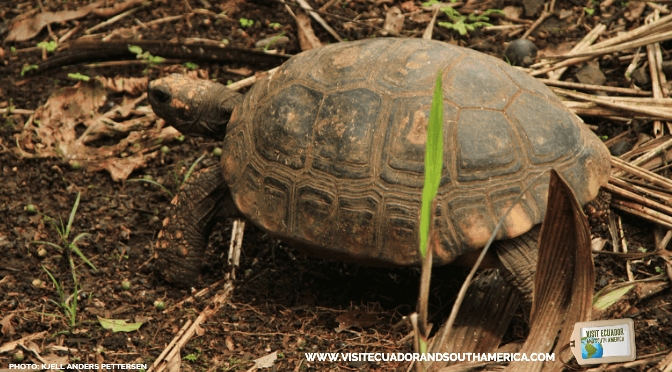 7) For å øke bevisstheten har de begynt å vise fram noen av artene som har blitt reddet fra dyrehandel. Framvisningen finner sted kl. 11:30 og 15:30, og besøkende lærer om målet for stiftelsen og hvor viktig disse dyrene er for oss og livet på planeten, samtidig som de kan beundre demonstrasjoner av imponerende fugler i friluft.

Det er hjertevarmende å se anstrengelsene og kjærligheten de frivillige gir til å hjelpe dyrene i Yanacocha. De kommer fra hele verden for å vise sin støtte til miljøet. De vet hvordan de kan hjelpe dyrene med å holde stressnivået lavt.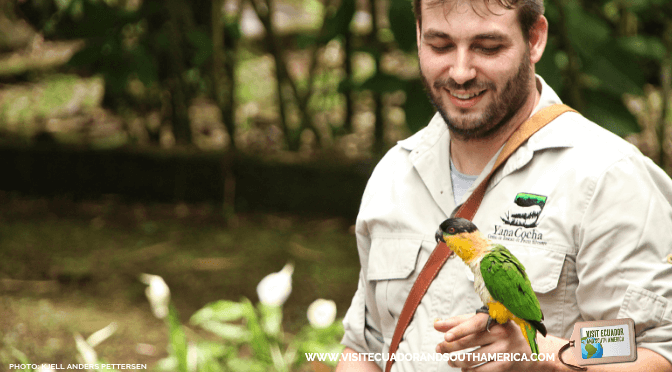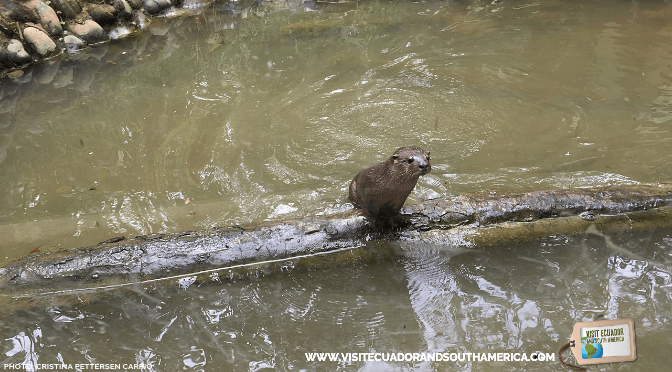 Attester
Jeg var så heldig å møte Sylvie Saint Sevin og Patrice Turpeau som var på reise fra Bordeaux i Frankrike. De satt ved siden av oss og delte hjertelig om sine opplevelser her. De hadde vært litt i den nordlige delen av Ecuador og ble anbefalt å besøke Yanacocha i Pastaza for jungelopplevelsen. For dem var Yanacocha "veldig flott, veldig interessant, og perfekt for de som har litt tid å sette av. Vi elsket å se kaimanene, skilpaddene, all floraen fra Amazon-regnskogen. Og elsket stedet."
Hvordan komme seg til Yanacocha Rescue Center
Fra Quito: ta hovedveien fra Quito via Ambato og Baños til Puyo (omtrent 4 timer i bil, 5 timer med buss)

Fra Guayaquil: ta hovedveien via Durán, Pallatanga, Riobamba og Baños til Puyo (omtrent 7 timer i bil, 8 timer med buss).
Fra Cuenca: ta hovedveien via Guamote, Macas og Alausí til Puyo.
Når du kommer til Puyo: Yanacocha ligger i området "Las Americas", Km 3 via Puyo-Tena, høyre side.
Hvis du er i Sør-Amerika så vil jeg elske å se bildene dine.
Hva du bør ta med til Yanacocha
Pastaza har et tropisk klima med regnskurer nå og da, som forventet i denne delen av verden, og har en gjennomsnittstemperatur på 26 grader. Ta med regnjakke og lette, vanntette sko for å utforske området, og i tilfelle du skulle støte på et overraskende regnskyll.
Ta også med en regn-poncho, en hatt, en paraply, myggspray og solkrem med faktor 30 eller høyere. Husk at vi befinner oss på ekvator så solen er sterkere her.
Inngangsbilletten koster ca 25 kroner ($3) for voksne.
Hvordan kan du støtte
Hvis du ønsker å støtte arbeidet som gjøres ved Yanacocha, gi dine beste tilbakemeldinger om Yanacocha på Tripadvisor, og spesielt nedenfor i dette blogginnlegget. Jo mer vi deler vår kjærlighet for dette stedet og deres arbeid, jo flere besøkende og frivillig vil komme hit.
Meld deg som frivillig blant Amazonas dyreliv og bidra til å ta vare på disse dyrene. Lær mer her (engelsk).
Hvor du bør bo
Dette er det perfekte sentrumshotellet. Det er komfortabelt, har en flott restaurant og god service.
Et hotell med sjarme, komfortable rom og en service som skiller seg ut. Bestill her (engelsk).
Dersom du er på jakt etter et litt mer avsidesliggende overnattingssted så er dette stedet for deg.
Noen av bygningene er som tatt ut av en Tolkien-film, de ser ut som søte hobbit-hus hytter gravd ned i bakken.
Med sin bortgjemte beliggenhet i Pastaza, med hengekøyer som er perfekte for avslapping, fossefall og et naturlig basseng, er det ideelt for å gjenoppta kontakten med naturen, og plasseringen med utsikt over Llanaganates er optimal for fuglekikking. Bestill overnatting her.
Vi har noen alternativer for ting du må se og spise i denne videoen fra vår fullstendige Pastaza-opplevelse. Se den her: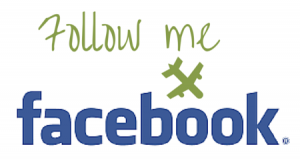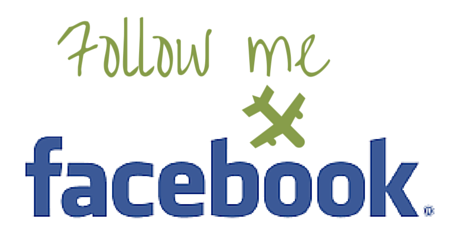 Konklusjon:
Jeg kan sterkt anbefale et besøk til Yanacocha. Det er et nydelig prosjekt, et sted som fungerer som et redningssenter for utrydningstruede arter. Et hjem for alle dyrene som har blitt tamme og som forhåpentligvis kan rehabiliteres og bli sendt tilbake til deres naturlige habitat takket være alt arbeidet som gjøres ved Yanacocha Rescue Center.
Dersom du syns denne siden var hjelpsom og informativ så setter jeg pris på om du vil lagre, dele eller tvitre den i dine sosiale mediekanaler! Alt hjelper for å støtte våre reiser slik at vi kan fortsett å tilby godt innhold til vår nettside!

Planlegger du en reise snart? Kommenter nedenfor eller send meg en e-post. Jeg kan hjelpe deg med planleggingen av turen din.
PIN IT FOR LATER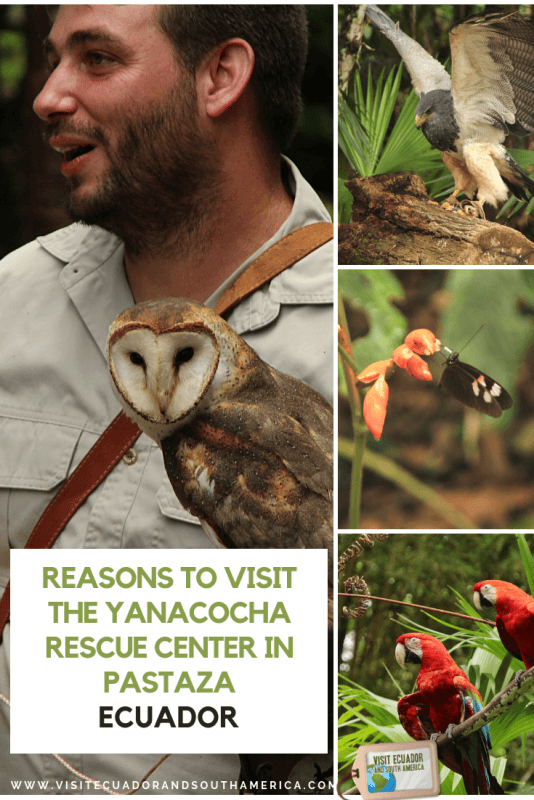 Om du ønsker mer dyptpløyende informasjon og en guidebok som du kan ta med deg på turen så anbefaler jeg reiseguiden Lonely Planet Ecuador & the Galapagos Islands.
Dette er en flott kilde til informasjon om tips, kart og alt du trenger for å planlegge en tur til Ecuador. Personlig liker jeg å ha en bok som jeg kan notere i og ha tilgjengelig.
Ikke bare drøm, gjør drømmen til virkelighet. Planlegg Sør-Amerika-turen sammen med en lokal!
Ta en kikk på denne listen over reiseressurser for å planlegge din reise og besøk i Sør-Amerika.
Dagdrømmer du om din reise til Sør-Amerika? Her kan du bestille ditt eksemplar av vår Gratis Ebok (engelsk), hvor jeg deler mine nyttige tips og resurrser for en minnerik reise!
Jeg vil også gjerne invitere deg til å følge med på Facebook, Twitter, Pinterest og Instagram. I tillegg kan du abonnere på min YouTube-kanal
Du kan også alltids sende meg en e-post for å få hjelp med planleggingen av din reise: info(at) visitecuadorandsouthamerica(dot)com