Djevelens nese, La Nariz del Diablo Togtur i Ecuador, en av de 10 farligste togturene i verden.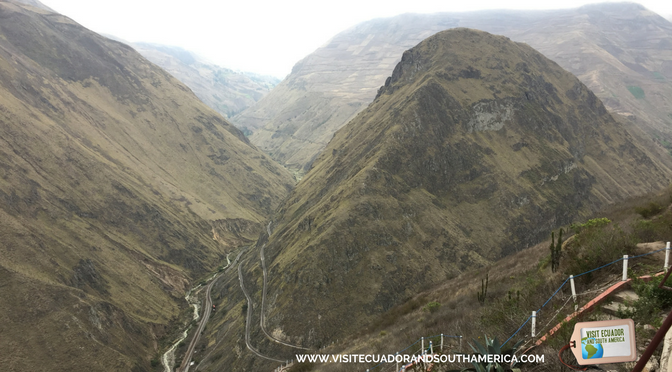 I dag vil jeg dele denne bloggposten, som jeg har jobbet med en stund, med dere. En 2 1/2 timer-lange turen som trekker besøkende fra hele landet, og verden.
Om Djevelens nese
Det er transportmuligheter fra Riobamba til Alausí for å nyte den mest spektakulære skinnegangen ved "Nariz del Diablo" (Djevelens nese).
En spennende tur hvor du reiser gjennom deler av Andesfjellene, selvsagt med de spektakulære landskapene som noen av høydepunktene ved reisen.
Prosjektet startet i 1899 da en av våre mest visjonære presidenter, Eloy Alfaro ønsket en togforbindelse mellom de to hovedbyene i Ecuador, Quito (hovedstaden) og Guayaquil (kystbyen og hovedhavnen). Til dette prosjektet ville han hente rundt 4000 menn, de fleste fra Jamaica og Puerto Rico.
Utfordringen ved byggingen av jernbanen var en nærmest vertikal fjellside, kjent som El Nariz del Diablo (Djevelens nese). Denne veggen forbinder Alausí med Sibambe, og for å ferdigstille prosjektet ble det hugget ut smale spor med omkoblinger for å endre togets kjøreretning flere ganger langs veggen.
Resultatet er en hjertestoppende sikksakk toglinje med en nedstigning på 500 meter.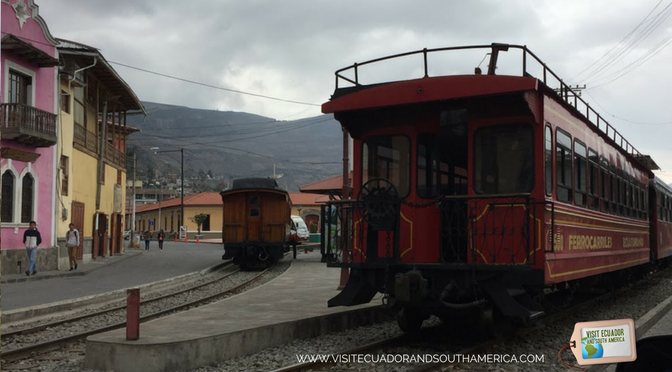 Ta toget fra Chimborazo
Byens historie er koblet til rollen den spilte som en en forbindelse mellom kystregionen og fjellregionen i landet. Toget var tidligere hovedfartsåren mellom regionene.
I de siste årene har det blitt arbeidet på jernbanen igjen, og togturen er en super aktivitet for turister.
Det er togturer hver dag kl. 08.00 og 11.00 bortsett fra mandager.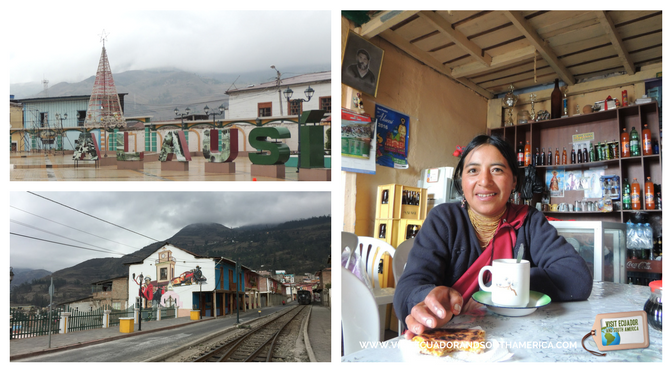 Train del Hielo I
Dersom du ønsker en annen togtur, kan du dra fra Riobamba på denne 43 kilometer lange turen. Langs veien kan du, på en klar dag, beundre Capa Urcu-vulkanen, de majestetiske vulkanene Chimborazo og Carihuairazo. Andre høydepunkter er Ismuseet (Museo del Hielo), møte med Baltazar Ushca – Chimborazos siste "ismann", turstier i naturen og lunsj i La Moya.
If you are in South America I would love to see your pictures.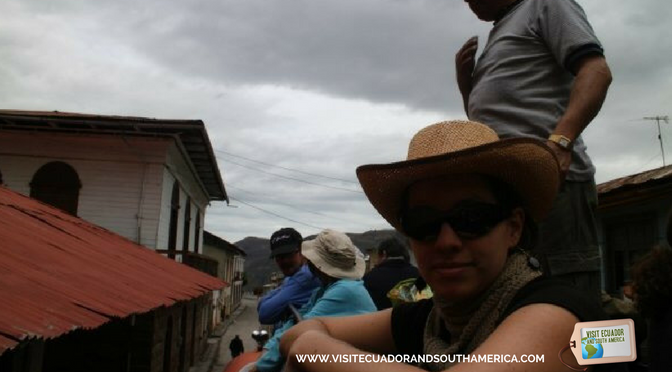 Djevelens nese – Bildet nedenfor viser et av utsiktspunktene, som er et av stoppene langs veien. Her kan du lære om historien rundt Djevelens nese mans du beundrer de fortryllende landskapene.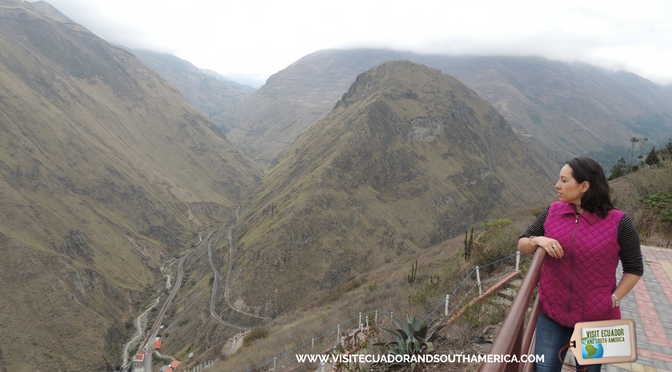 Finne informasjon
Offisiell informasjon og forhåndsbestilling av billetter finner du her: http://trenecuador.com/en/home/ De har også litt informasjon på Facebook. www.facebook.com/TrenEcuador.
Du kan også ringe 1800 TRENES (873637) USA 888 LUX RAIL (5897245).
Togturen
Sørg for at du tar ruten som går fra Alausí til Sibambe (Pistishi).
07:30     Innsjekking på Alausi stasjon
08:00     Togavgang
08:50     Ankomst til Nariz del Diablo utsiktspunkt
09:00     Ankomst til Sibambe stasjon – Kulturelt innslag, besøk til Condor Puñuna Centre, aktiviteter (togkafé)
10:00     Ombordstigning og retur til Alausí
10:30     Ankomst til Alausí. Turen avsluttes
* Samme plan og varighet gjelder for avgangene kl. 11:00 og 15:00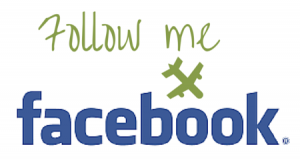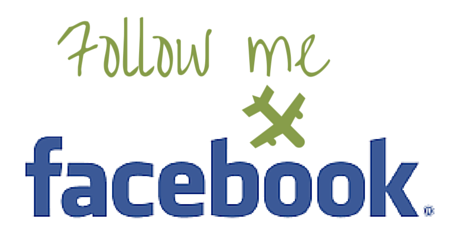 Overnattingssted
Hotel Rincon Aleman – Bo på det beste stedet i Riobamba for å utforske Chimborazo og områdene rundt.
På denne nettsiden kan du finne og velge blant flere andre alternativer.
Du kan ellers finne noen brukbare alternativer på stasjonen i Sibambe.
Hva du bør ta med
Ta med en hatt, solbriller og solkrem. Husk at her i Ecuador bør du smøre deg hver 2. time. Kle deg i lag og ta med varme klær. Avhengig av solen kan det bli varmt eller kaldt svært raskt. Ta med regntøy.
Konklusjon:
Sørg for å legge et besøk til Djevelens nese til din reise. En av verdens farligste togstrekninger.
Hvis du syns denne siden var til hjelp så vil jeg sette stor pris på om du vil pinne, dele eller tweete den på din favoritt medieplatform! Alt hjelper for å støtte våre reiser slik at vi kan fortsette å bringe topp innhold til vår nettside!

Planlegger du en reise snart? 

Kommenter nedenfor eller sen meg en e-post. Jeg kan hjelpe deg med å planleggen turen din.
PIN FOR SENERE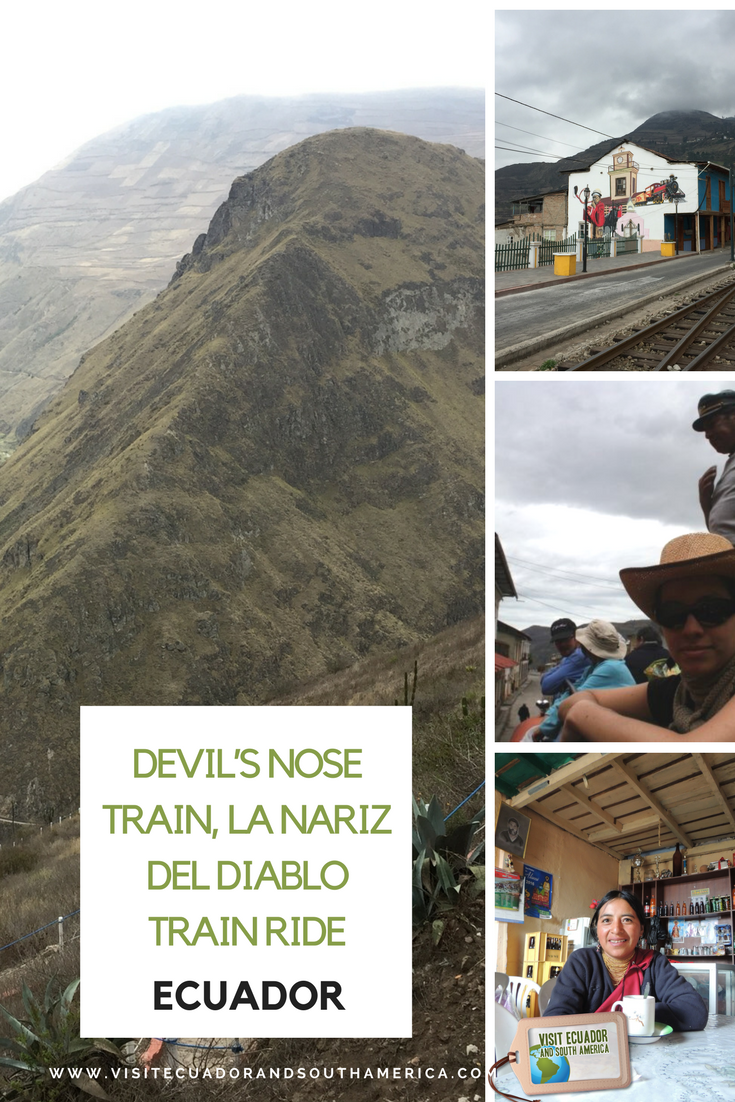 Dersom du ønsker mer dybdeinformasjon og en guide som du kan ta med deg på reisen så anbefaler jeg reiseguiden Lonely Planet Ecuador & the Galapagos Islands. Dette er en glimrende kilde til informasjon og tips, kart og alt du måtte trenge dersom du planlegger å besøke Ecuador. Personlig liker jeg muligheten for å ha en papirbok hvor jeg kan ta notater og ha lett tilgjengelig.
Don´t just dream it, make it happen. Plan your South American trip with a local!
Ta en kikke på denne listen over reiseressurser for å planlegge reisen din i Sør-Amerika. Dagdrømmer du om en reise til Sør-Amerika? Bestill din Gratis Ebok hvor jeg deler noen av nyttige tips og ressurser for en minnerik reise! Jeg inviterer deg til å følge meg på Facebook, Twitter, Pinterest, og Instagram. I tillegg kan du abonnere på YouTube. Du kan også sende en epost for å få hjelp med planleggingen av reisen din: info(at) visitecuadorandsouthamerica(dot)com.