Hva du bør gjøre i Quito: Guapulo Park
Hvis du ser etter nye steder å besøke mens du er i Quit så er Guapulo park et sted å vurdere. Parken ligger en kort taxitur utenfor byen.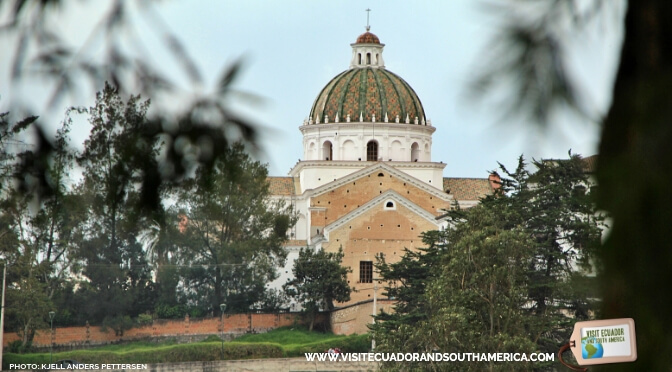 Faktum er at vi alltid er på jakt etter nye steder å utforske i Quito og i landet.
Vi elsker å finne steder som lar oss puste inn frisk luft og nyte det store mangfoldet innen flora og fauna i Ecuador.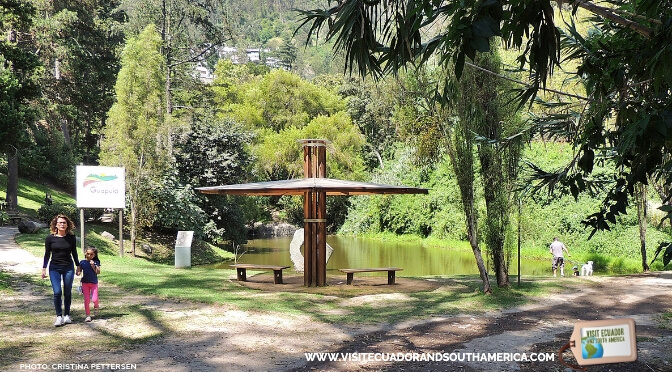 Dette er grunnen til at vi bestemte oss for å besøke parken da min søster fortalte oss om den.
Om Guapulo park

Guapulo park (Parque Guapulo) ligger 15 minutter utenfor Quito eller 10 minutter fra Cumbaya. En park med flotte grøntområder, 100-år gamle trær, stier og aktiviteter som passer alle aldre inkludert spaserturer, lek, fulgekikking og avslapping.
Parken var en hacienda som ble oppført av Nicolás Landes, tidligere eier av Banco Popular. På grunn av en bankkrise ble banken lagt ned og eieren flyktet fra landet.
Området ble overtatt av staten og er nå åpen for publikum som Guapulo park.
Haciendaen
Et av de unike karakteristika ved parken er dens vakre haciendabygg. Nå er den et perfekt lokale for arrangementer.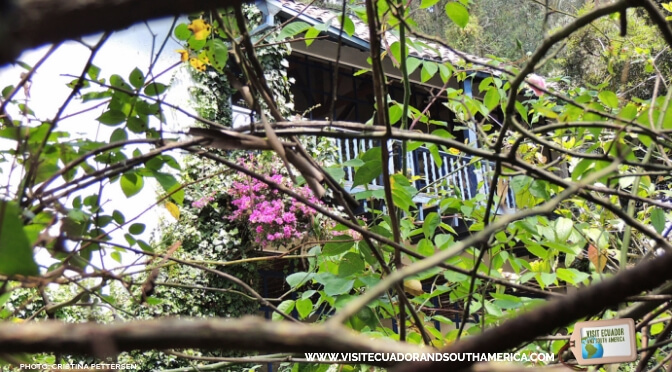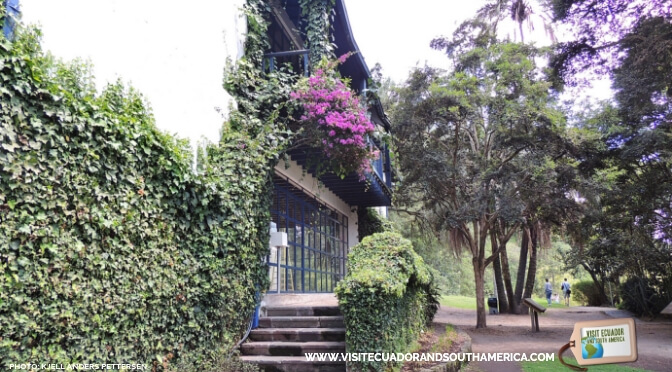 Hvis du kjører fra Cumbaya til Quito så finner du to parkeringsplasser på høyre side av veien etter broen over Machangara-elven.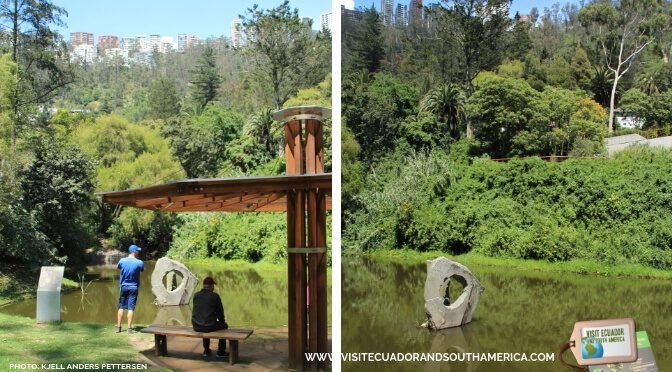 En kort spasertur leder deg til en liten dam, et vakkert sted for å ta inn utsikten, å slappe av, hvile.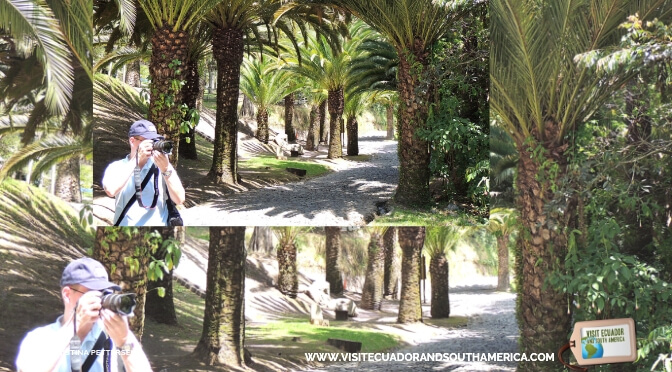 Viktig informasjon
Det er ingen inngangsavgift og parken er åpen fra 08:00 til 17:00.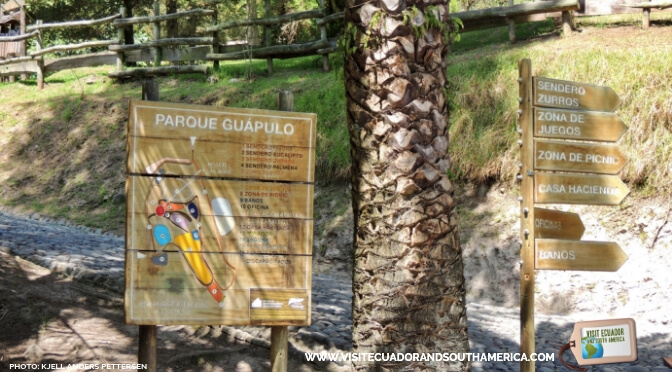 Det er skilt som viser de fire rutene rundt parken, piknikområdet og haciendabygningen.
Stiene
Innenfor de 19 hektarene finner vi fire ulike stier og flere grøntområder perfekte for spaserturer. Stiene er både flate og bratte så det er noe å ta i betraktning når du velger rute. Hvis du ikke har vært i Quito noen dager allerede så husk at byen ligger på 2800 meter over havet så ta det rolig.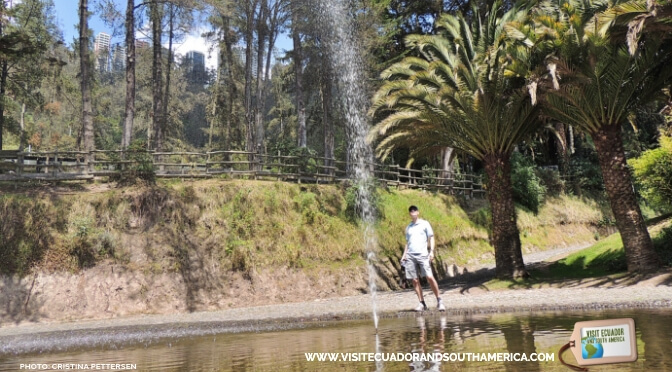 Aktiviteter for alle aldre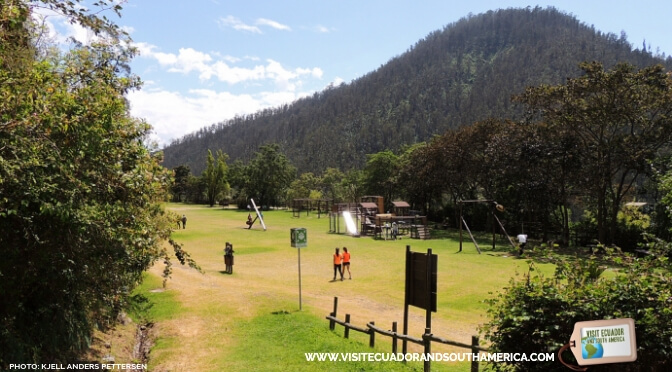 Hesteterapi
Organisasjonen  "A Caballo Vamos" jobber med over 1000 barn med spesielle behov.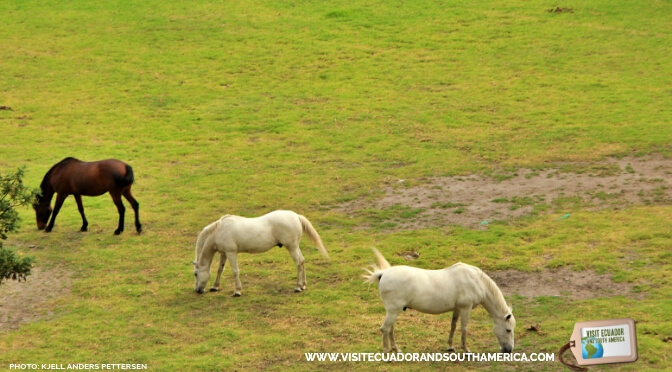 Lekeplass for barn
Morsom lekeplass bygget med trematerialer, inkludert en zip-line, perfekt for barn i alle aldre.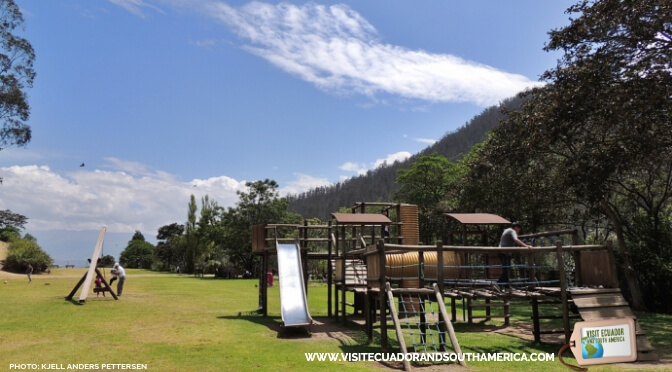 En av de mange utsiktene fra parken er av Guapulo-kirken og avenyen Gonzalez Suarez med sine mange skyskrapere.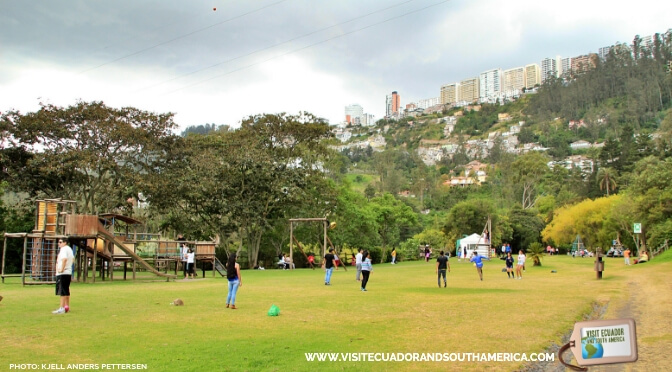 Camping og en kiosk med mat
Det er også et område for camping og en kiosk med snacks, is og drikke.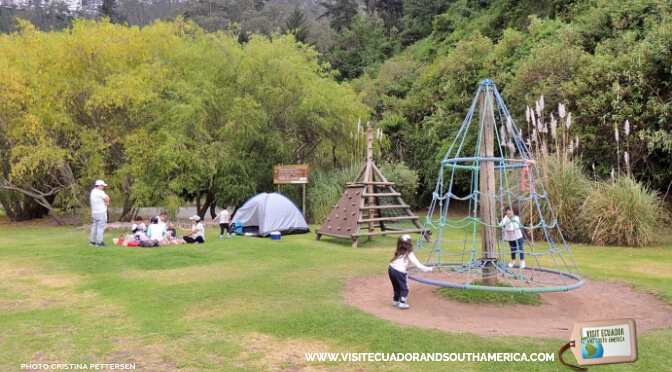 Campingområde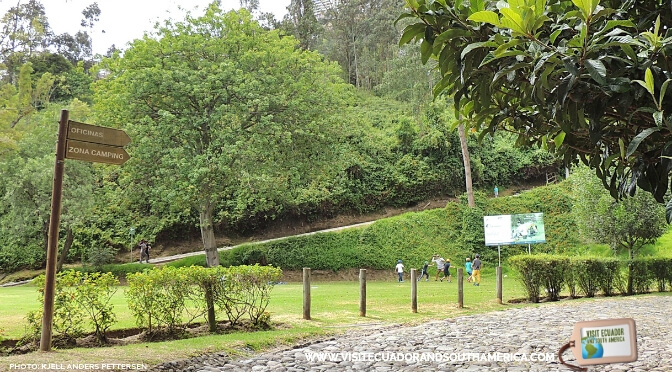 Fuglekikking
Parkens infomasjonsplaketer nevner tre fuglearter, vi så fire, inkludert kolibrier og skogsduer.
Utsiktspunktet
På motsatt side av lekeplassen finner du utsiktspunktet med benker og utsikt over Cumbaya.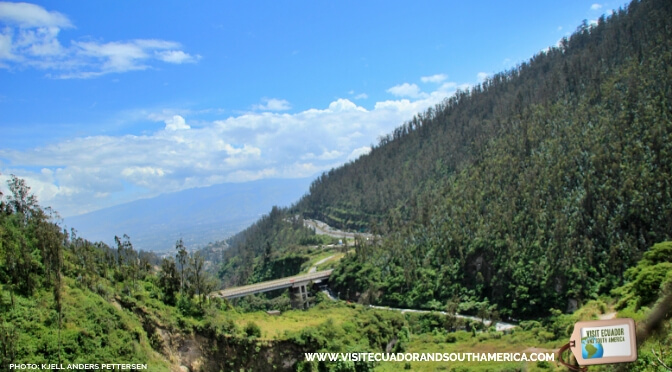 Hvordan komme seg dit
Det er to innganger til parken: en når du kjører fra Cumbaya til Guapulo, og en langs Camino de Orellana ned fra Floresta i Quito.
If you are in South America I would love to see your pictures.
Hva du bør ta med
I tilfelle regn bør du ta med en vanntett jakke eller regnponcho.
Ta med gode spasersko siden ikke alle stiene er på flatmark.
Viktigst av alt: ta med insektmiddel og solkrem. På grunn av vegetasjonen og været er det mange sultne småkryp.
Kjæledyrvennlig
Du kan ta med kjæledyr, men hold dem i bånd og ta med en pose for å plukke opp etter dem.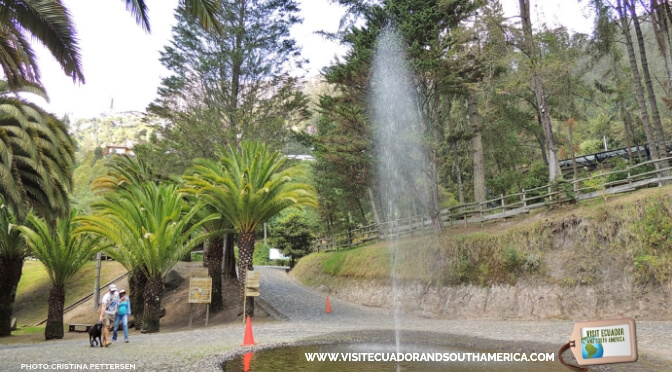 Overnatting
Min toppanbefaling for overnattingssted her er Hotel Quito som ligger på vei ned mot Guapulo. Hotellet har moderne fasiliteter med avslappende rom, panoramarestaurant og utendørs basseng.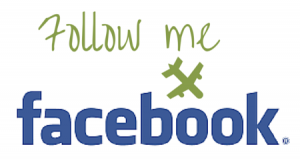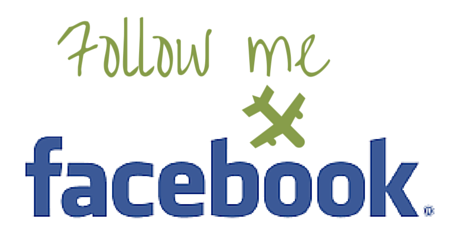 Konklusjon:
Hvis du elsker natur, ta en tur til Guapulo park.
Dersom du syns denne siden var hjelpsom og informativ så setter jeg pris på om du vil lagre, dele eller tvitre den i dine sosiale mediekanaler! Alt hjelper for å støtte våre reiser slik at vi kan fortsett å tilby godt innhold til vår nettside!

Planlegger du en reise snart? Kommenter nedenfor eller send meg en e-post. Jeg kan hjelpe deg med planleggingen av turen din.
PIN FOR SENERE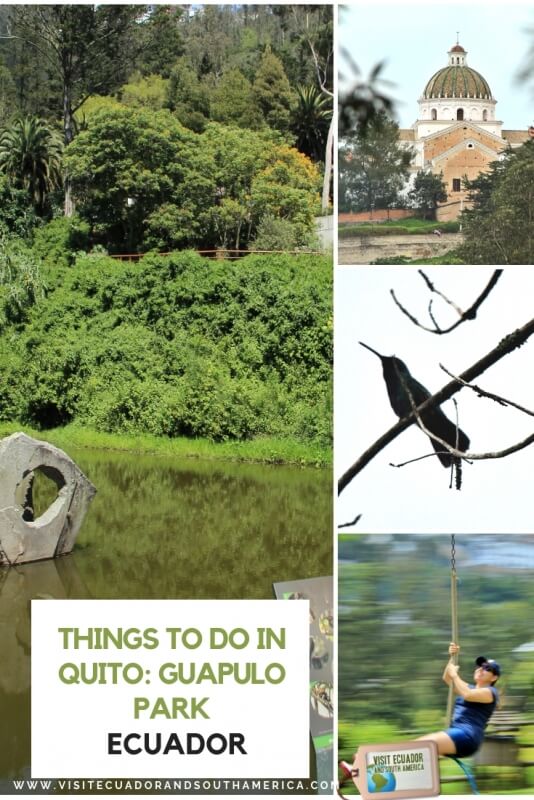 Om du ønsker mer dyptpløyende informasjon og en guidebok som du kan ta med deg på turen så anbefaler jeg reiseguiden Lonely Planet Ecuador & the Galapagos Islands.
Dette er en flott kilde til informasjon om tips, kart og alt du trenger for å planlegge en tur til Ecuador. Personlig liker jeg å ha en bok som jeg kan notere i og ha tilgjengelig.
Ikke bare drøm, gjør drømmen til virkelighet. Planlegg Sør-Amerika-turen sammen med en lokal!
Ta en kikk på denne listen over reiseressurser for å planlegge din reise og besøk i Sør-Amerika.
Dagdrømmer du om din reise til Sør-Amerika? Her kan du bestille ditt eksemplar av vår Gratis Ebok (engelsk), hvor jeg deler mine nyttige tips og resurrser for en minnerik reise!
Jeg vil også gjerne invitere deg til å følge med på Facebook, Twitter, Pinterest og Instagram. I tillegg kan du abonnere på min YouTube-kanal
Du kan også alltids sende meg en e-post for å få hjelp med planleggingen av din reise: info(at) visitecuadorandsouthamerica(dot)com