Top things to do in Singapore
Whether you are looking for urban attractions or natural ones, Singapore has a wealth to offer to visitors. If you are looking to do some shopping, you can visit the bustling stores in Litte India,  and stop at the designer stores on the commercial Orchard Road.
About Singapore
Singapore is one of the Four Asian Tigers, which became independent not so many centuries ago. It was a part of Malaysia in 1963 and became a fully independent state two years later.
The economic growth can clearly be seen once you arrive at the country´s airport. I would describe it as an extremely modern, diverse, and interesting city/country.
"The economy heavily depends on the industry and service sectors. Singapore is a world leader in several areas, it is the world's fourth-leading financial center, the world's second-biggest casino gambling market, the world's top three oil refining center." Wikipedia.
Are you planning a city Break? I found that this website helps me find & book fun and interesting tours in Singapore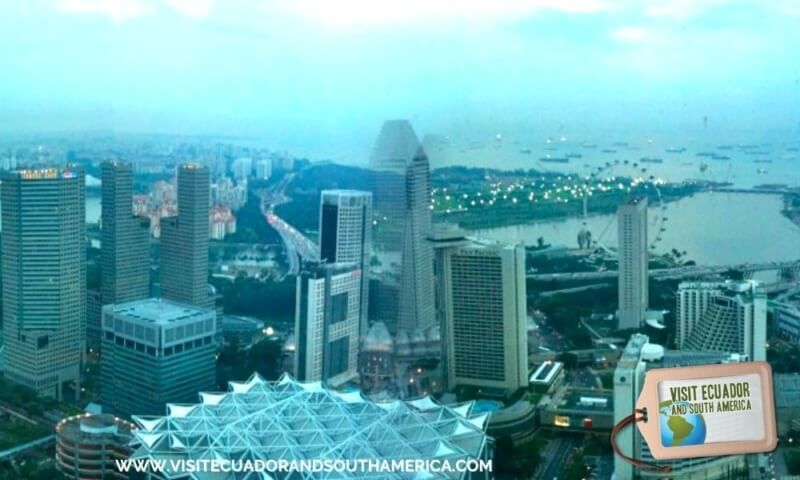 Interesting facts
The city is incredibly clean, and it is worth mentioning that the city has a chewing gum ban. People used to displace their old chewed chewing gum under tables and chairs, now there is no gum available and you can definitely feel that you are in a clean, modern city.
Merlion Park
One of the most impressive views I have experienced is the one standing in Merlion park, towards the illuminated skyscrapers.
Merlion Park has Singapore's most iconic statue, that of 28-foot Merlion, a half-fish, half-lion stone carving that shoots water into the bay and symbolizes Singapore's beginnings as a fishing village while the lion head is a nod to Singapore, which means "Lion City" in Malay. The promenade is overlooking Marina Bay another breathtaking view in the city.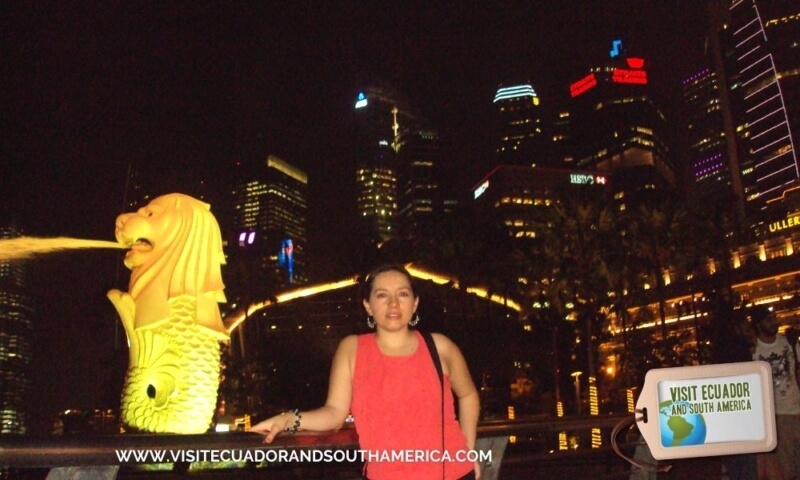 Share your pictures with our community, tag #VisitSAmerica
Marina Bay Sands
Designed by Moshe Safdie, Marina Bay Sands is a mall, casino, convention center, and hotel and is the most iconic building in Singapore.  You can stop at the ArtScience Museum, or the 57-story-high SkyPark where the pool is located for a breathtaking birds eye's view over the harbor and the modern skyline of the city.
Treat yourself to a unique and luxurious experience by reserving a hotel room at Marina Bay Sands.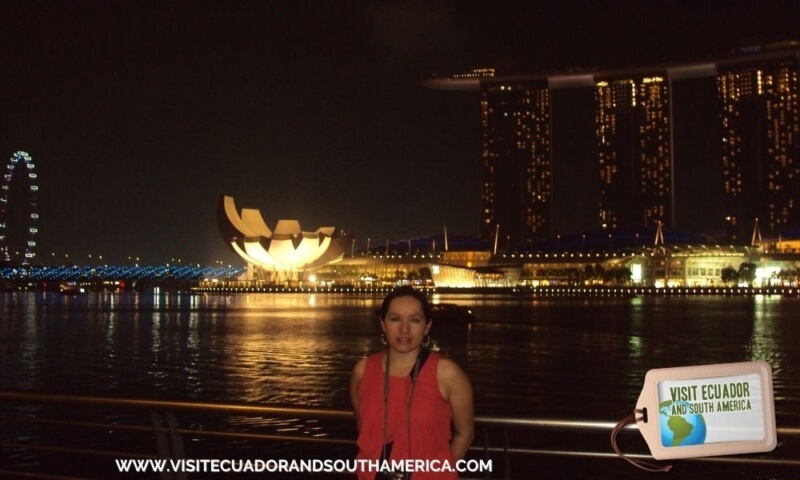 Orchard Road
To feel the beat of the commercial, modern part of Singapore and shop at some designer stores,  make sure to visit the commercial Orchard Road.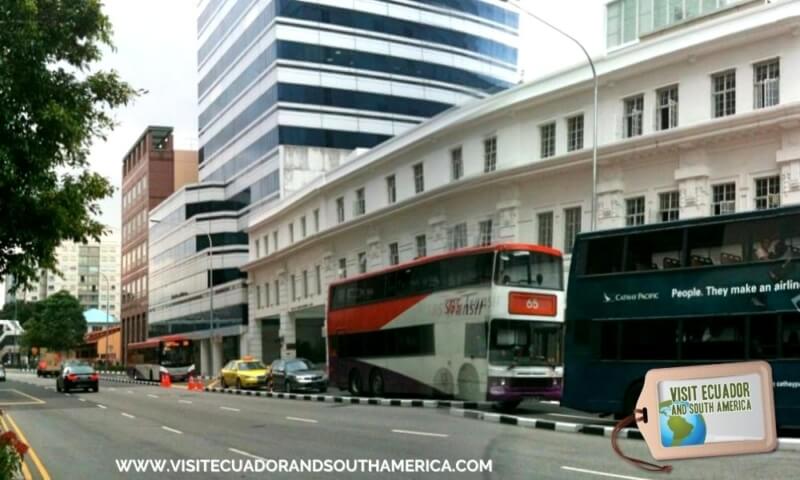 Singapore is made of immigrants and one of the reasons why visiting Singapore is such an amazing experience is the diversity it has. There are a number of ethnic enclaves that bring you to a completely different experience or culture.
China Town
Chinatown is one of the largest enclaves in Singapore. Whether you like to shop or eat, there is a wide range of things to do here.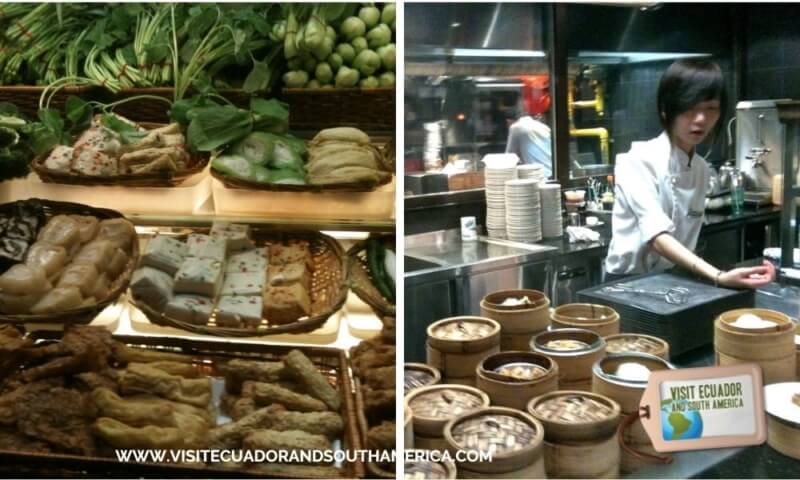 Little India
Immerse yourself in Little India for an experience that will delight your senses. While you stroll through the dense network of streets in this cultural enclave, located a little more than 2 miles northwest of Marina Bay,  make sure to visit a temple, and the stalls with colorful fabrics and fragrant spices.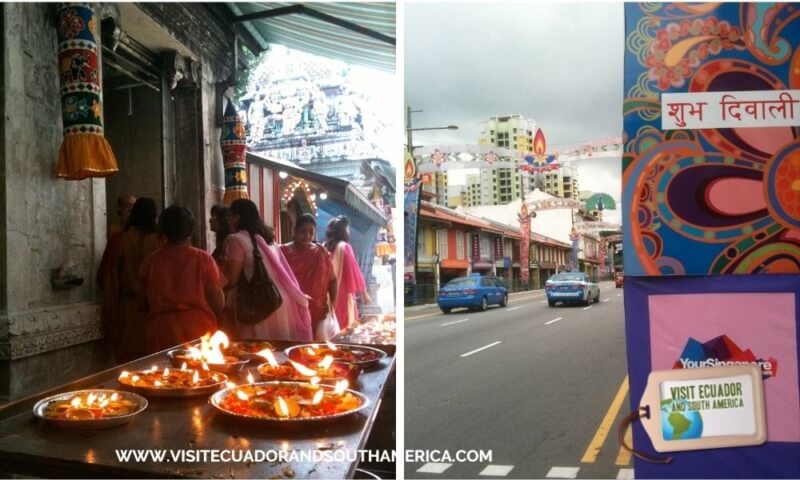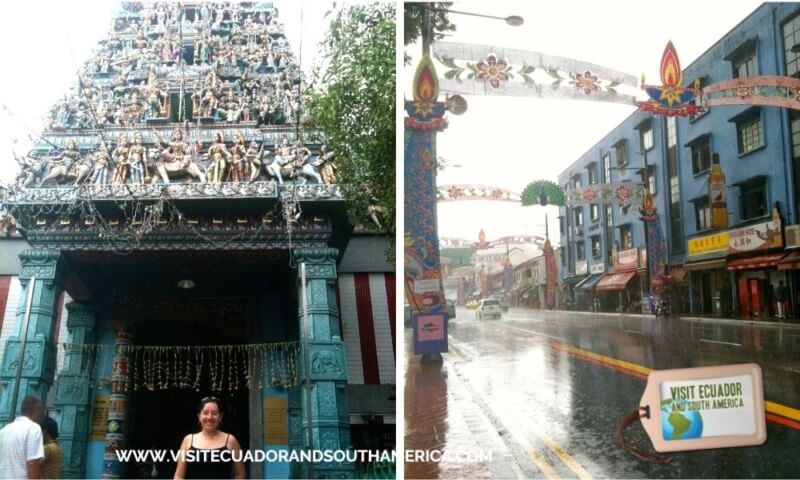 Gastronomy
It was impressive to see the amount of Food Courts all around Singapore. Mainly offering Chinese and Indian food.
Some recommendations of Indian food include yellow lentils soup, egg curry, dosas, and masala tea.
We also recommend tasting some dumplings that I was amazed to find for sale even at the self-service section at
one of the many 7 Elevens, that are all over the city.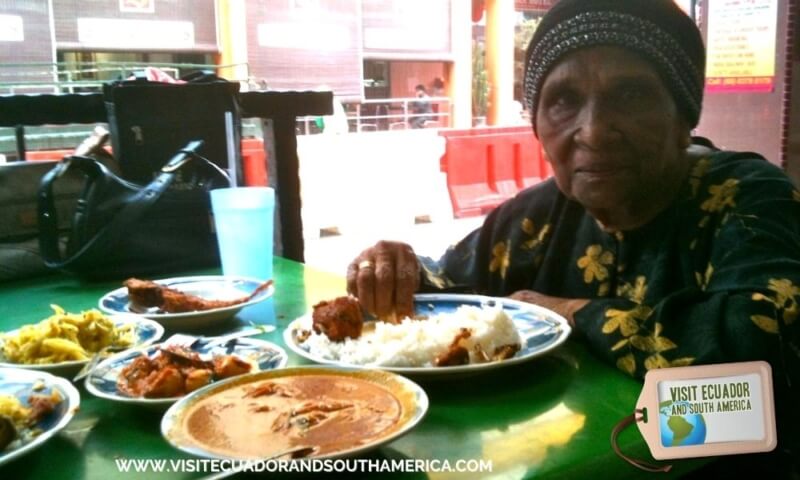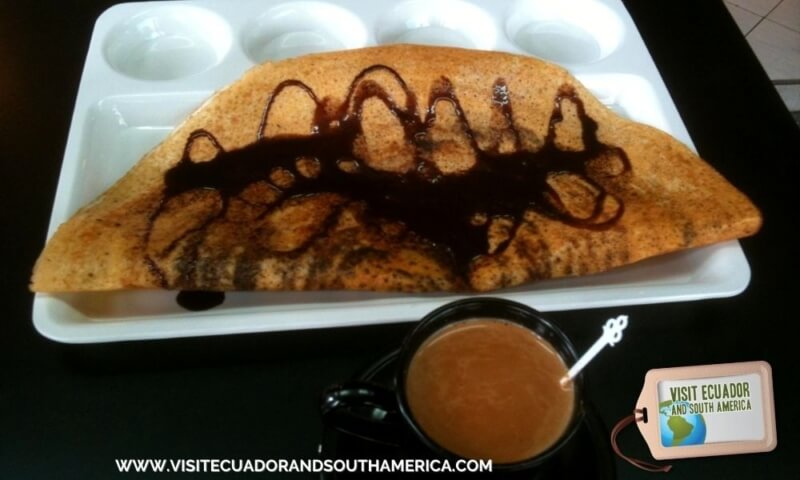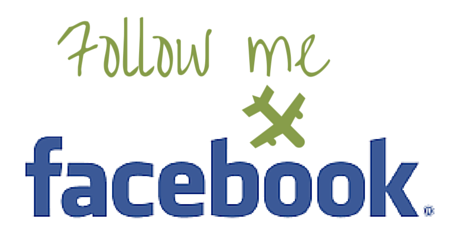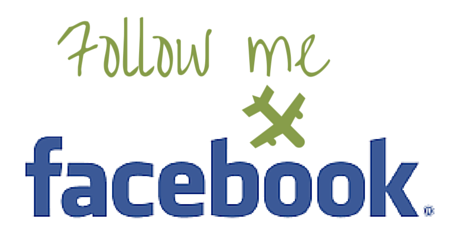 With diversity at every corner, you will love to experience this cosmopolitan country and take in as much as you can during your visit.
My recommendation is to take a hop-on-hop-off bus, to get a good look at the whole city first. Then you can decide where you want to get off in order to explore more in-depth each of the attractions in this metropolis.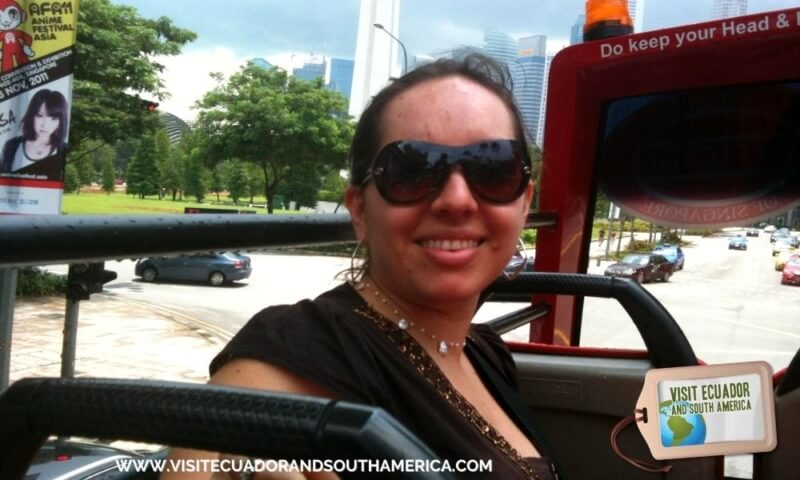 On one hand, you have a modern cosmopolitan city and on the other conclaves of Chinese, Indian, and Malay people offer a diversity of experiences and flavors to all who visit this country.
There are many reasons and amazing places to visit in this modern city that really seems more like taken from a futuristic movie!
Pin it for later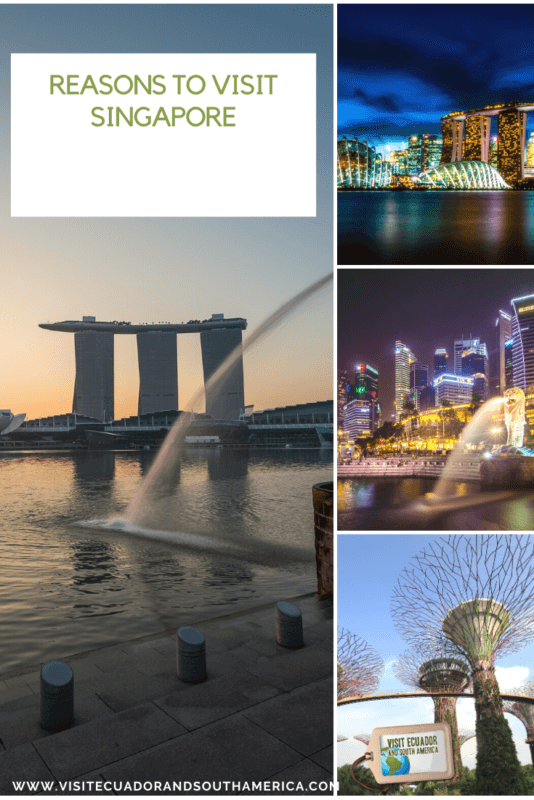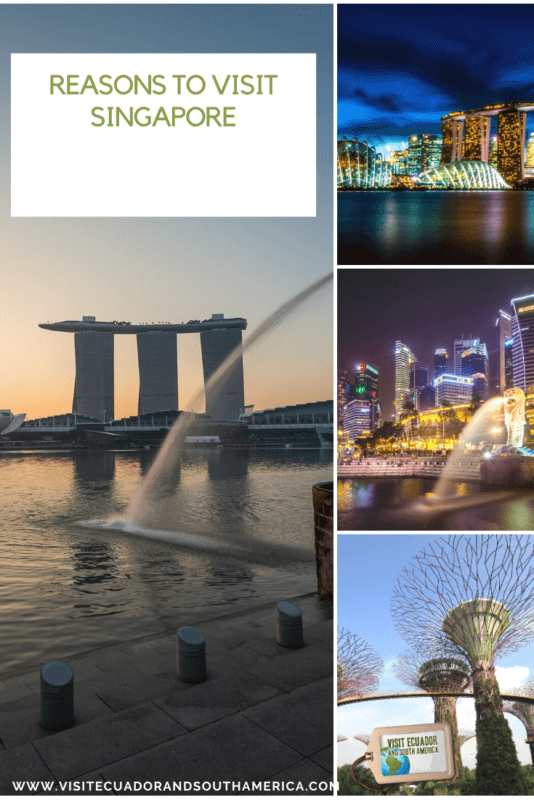 If you want more in-depth information and a guide that you can bring along during your trip, I recommend the Lonely Planet Singapore travel guide. It is an excellent source of information maps and all you need if you plan on visiting Singapore. I like the option of having a hard copy version where I can take notes and have them at hand.
Take a look at this list of travel resources to plan your trip and travel in the world.
Daydreaming about your trip to South America?
Order here your Free Ebook. I share with you some useful tips & resources for a memorable trip!
Finally, I would like to invite you to follow me on Facebook, Twitter, Pinterest, and Instagram. In addition, you can subscribe on YouTube.
Send me an email for help planning your trip: info(at) visitecuadorandsouthamerica(dot)com.