Paris: a getaway of culture and romance
6:00am, sat 12th 2014! Start the day early to so as much as possible on the first day is out moto for the day! Aka "Early bird catches the fly". Something we were going to keep confirming as the days passed.
With only 2 carry-ons, lots of memory disks for our cameras and good walking shoes, we embark ourselves in a fascinating journey to with Paris as first stop, including: visiting the family, good old friends, mouth-watering world-class food and much more!
Mona Lisa, Eiffel Tower looking forward to seeing you again!
We booked out flight with AirFrance which just recently inaugurated direct flights from Stavanger to Paris. After a delightful 1h45  flight we arrived to Charles De Gaule!
Book a tour
Booking a tour in Paris will make it a much stress free experience. It will ease communication barriers and avoid the hassles of planning and logistics in the cosmopolitan city of Paris.  Visit the Louvre with a knowledgeable guide and skip-the-queu, the Palace of Versailles or the Opera.
But first.
I have a great place to book tours. Here is the link
Next, we had to take a local bus that is provided by the airport to the train station  SNCF, direction Chatelet des Halles in the 2eme arr where our B&B is located.
Where to stay?
I found this website, it is perfect to find & book quality rental properties.
We had a short walk in nice weather to Rue de Clery where our hostess Cyrienne C had our room waiting with a nice view of the top of the Eiffel Tower.
Time to eat, we stop on our way to the Centre Pompidou where we enjoy some fresh salads al fresco.
And here we are at Pompidou library, an impressive building showcasing modern architecture and a plethora of resources for all the citizens.
We then crossed the Seine with all the imposing architecture and breathtaking sights of Paris.
We then arrived to the iconic church of Notre Dame, gothic medieval architecture
On our way to the Pantheon, we had some dessert or mid afternoon meal: at Café Crêperie
One of my favorite French foods, in the making:
VIDEO
There are vendors all around the city, selling the delicious traditional crêpes.
Visit to the Pantheon
Afternoon stroll along the gardens of Luxembourg, with lovely landscapes and we were lucky to enjoy sit and enjoy some music.  http://instagram.com/p/mtRqswKq2I/
At night we went to St Germaine to have dinner with friends! We met with Sofia at the French Institute – Alliance Française à Quito, and it was very nice to see her. We had 14 years without seeing each other!
Day 2
We bought tickets in a tabac store to avoid the queues. 12:00pm we enter the Louvre, to admire some of the most impressive works of art in history.
Video: http://instagram.com/p/mxs2m3Kq2z/
Video http://instagram.com/p/mvdiKyKq5q/
http://instagram.com/p/mvdqhiqq6R/
Hammurabi's code, the bases for law as we know it.
Video:
Selfie with the Venus de Milo – Greek sculpture
Italian paintings, here a 15th century masterpiece, with fresco technique.
We could not avoid taking a selfie with Mona Lisa at Le Louvre. Selfies are a trend now on social media and that is a bit portion of my work and my expertise. Had to do it!
Time for dinner, we enjoyed a salade niçoise and à quiche au saumon (salmon) we chose a restaurant at the base of Sacre- Cœur in Montmartre, and enjoyed the view while we ate.
The weather was gorgeous and we walked to the top which not only allows to take an up-close look at Sacre- Cœur, but also to enjoy the spectacular view of the Parisian skyline.
After this we strolled along the bohemian area to finish at a kind of red district area, to see the famous Moulin Rouge.
Day 3
Since we were going to make several trips throughout the day with the metro today, we got good advice at the metro Station and bought a day pass for € 6,80 which includes all means of transportation in the area of Paris. Each ticket is €1,70 (2014)
This is where we headed first!
11:00 am we started doing the line…
12:00 pm we realized almost at the entrance that it was a line only for those who wanted to take the stairs 2 floors up. We decided to come at night instead and take the elevator.
Vintage Eiffel tower
Musée d'Orsay was our next stop, we did not check it out, so we found out on site that it is closed on Mondays.
We then crossed a nice pedestrian bridge on the Seine towards Les Champs Elysées.
Here is a video: http://instagram.com/p/mxkqtSqq5T/
The 23 m impressive Egyptian obelisk of Luxor in Place de la Concorde #paris #france
At around 16:30 pm we went back to the place where we are staying at and decided to try to reserve a table at the restaurant Frenchie. The day before we decided to find out if there was an episode of the programme No Reservations by Anthony Bourdain in Paris. And as a matter of fact there was one. Therefore we chose this restaurant. 
This is what this creative chef had created, we delighted our taste buds with the following dishes: 
Lamb shoulders, artichokes, feta, green mango.
Trout, asparagus, cedrot and mandarins 
Pollock, celery, white garlic and chorizo 
Duck from Challand, kumquat, seasonal vegetables
Rhubarb, verbena, oat crumble 
Bread and butter pudding, bacon icecream 
The evenings can be chillier, so we took some warmer clothes. 
We took a metro and stopped first at Trocadero to take some nice panoramic shots, then took again the metro to Eiffel Tower Metro stop. 
The line to take the elevator at 22:10 pm was a lot shorter, in less than 15 minutes we were inside, taking the elevator to the 2nd floor. Of course the last ride was at 23:00 so getting there before 2200 and bringing a scarf, good jacket and a hat are highly recommended!
This place offers a magical view over the Parisian skyline. 
In the meantime in Ecuador, my family is getting ready to see the red moon. 
Day 4
We started a bit late due to our late night at the Eiffel Tower the previous night. So, after buying a day pass that included the train to Versailles, we took the train that lasted 30 min. We arrived at 12:15 pm to the entrance of the castle to find a huge line waiting for us. 
The excitement increases after an hour in the line.
I was there 18 years before and was looking forward to see this imposing palace again with a new perspective. 
We bought tickets in advance when at the louvre, so that saved us a going to a 1 hour line today in order to buy them. 
After two hours in the line -12:15 pm to 14:15 pm, we finally entered. So if you are planning on going there, take that waiting time into consideration and take sunblock, some snacks and drinks with you. 
There were now many well-done videos in different sections, explain the history of the castle, the architecture, how it was built and more.
Here is a shot of the Hall of mirrors, an impressive example of the decor of the royalty during the XVII and XVIII c. 
Many details and also main areas were built under the rule of the sun king. 
We spent some good 3 hours inside the castle and decided that in the future we can take a tour of the gardens due the incredible size and that we were running short of time. 
We had a bit of time to go home relax, change and leave some o our thing, to then take the metro to Abbasses stop were our friends from Ecuador (Sofia) and Paris (Pierre Phillipe) waited for us.
So they took us to a quite special and original place, where we enjoyed our wines on a baby bottle and some delicious cheese fondue in the Montmartre area.
23:00 pm, time to head home and charge the batteries for our last day in cosmopolitan Paris.
Day 5 – Our last day
Then,  Emilie took us to see her apartment which was just some minutes away, there we had some green tea and continued creating good memories. 
We run a bit with our carry ons along the streets of the 2eme arr. as we realized that maybe we should have walked faster on the way back from Marais. We run even faster in the metro station and almost took the wrong metro, and arrived just a couple of min. before the train was meant to depart, luckily it was 20 min. delayed.
Now we have to say, Merci beaucoup et À+ Paris! 
Next: Easter with the family in Bruxelles 
Thank you for reading. 
Cristina
Pin it for later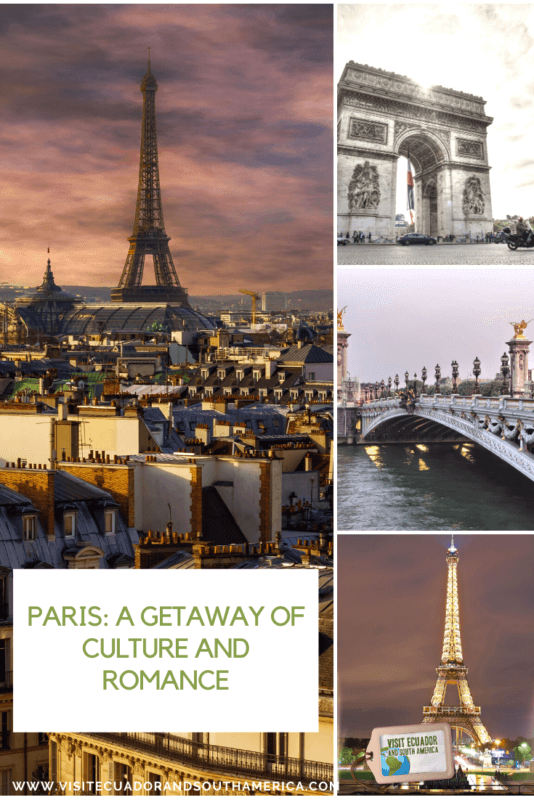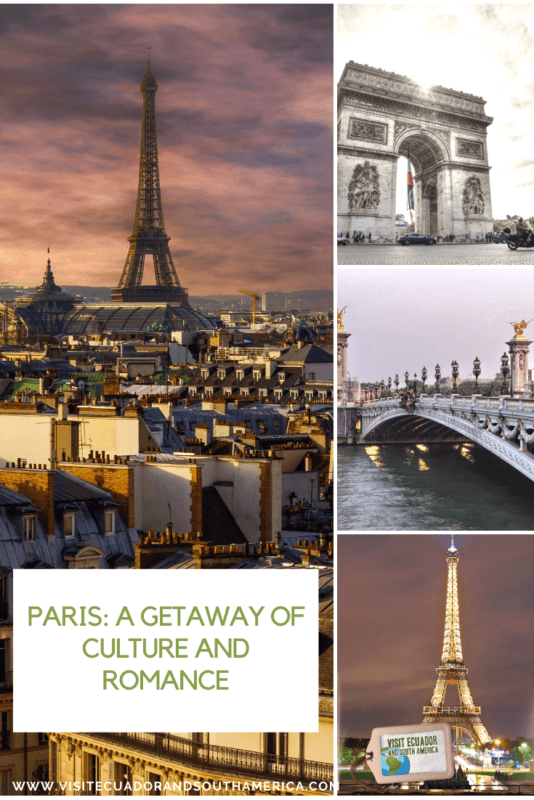 I also inspire travellers to visit South America: www.visitecuadorandsouthamerica.com
And share my passion for travelling the world: http://passiontotraveltheworld.blogspot.no
Like Visit Ecuador and South America on Facebook, follow the blog on Twitter, Pinterest and Instagram, and subscribe on YouTube. Send us an email to get more information or help planning your trip: info(at) visitecuadorandsouthamerica(dot)com
FREE EBOOK:
I have written an Ebook to help you plan your memorable trip to South America.
How to decide the best places to visit in South America, where to stay and what to bring?
Download here your Free Ebook: Travel to South America, highlighting Ecuador and the Galápagos Islands.
WORK FROM HOME, EARN SOME EXTRA MONEY
Need some extra cash? Or want to make money from home? – http://bit.ly/2dQu3cc
ACCOMMODATION
Lately I have grown fonder of AirBnB. I have written a full review, so   find out What I love about AirBnB as a guest and as a host plus some good tips.
Be sure to claim this offer! Click here to get USD 38 credit or discount, as a guest!  If you have an extra room, apartment or any space that can fit a nice bed, you can click this link and earn an extra USD 100 for hosting on Airbnb)
TRAVEL RESOURCES
Take a look at this list of travel resources to plan your trip and travel.