Budapest in a nutshell
Budapest is a city where visitors can experience, among other things, vibrant nightlife in ruin bars, hearty food, and beautiful architecture.
There are many activities to do and things to see in this city, so we have chosen to visit twice and want to share with you some of its highlights.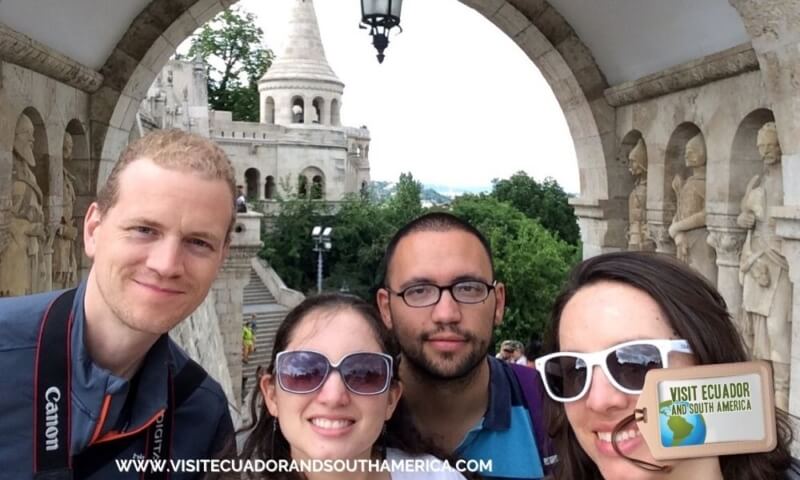 About Budapest
Originally a Celt settlement in the 9th c., the region was later part of the Roman Empire and later invaded by the Magyars, who founded the Kingdom of Hungary in 1000.
In 1361 the Buda castle was built, and since then, Budapest has been the kingdom's capital. Later on, by 1873, both towns, Buda and Pest, joined the third area of the city, Óbuda (Old Buda), forming what is now known as Budapest.

When it comes to the etymology of Budapest, the word is composed of 2 words: Buda and Pest. Legend has it that Buda means either water which Slav languages or the second option, the brother of Attila and Pest, meaning caves.

Pest is the most prominent part or area in the city, with 2/3 of the population.
Our trip there
We arrived early and are happy to be able to check-in at our AirBnB apartment. We were forced to change our schedule due to an additional stop in Zagreb we did not know that our bus would take. So, from the gas station at the border, we took a taxi, then a train back to Ljubljana, and then luckily we got 4 available seats at 23 pm to Budapest.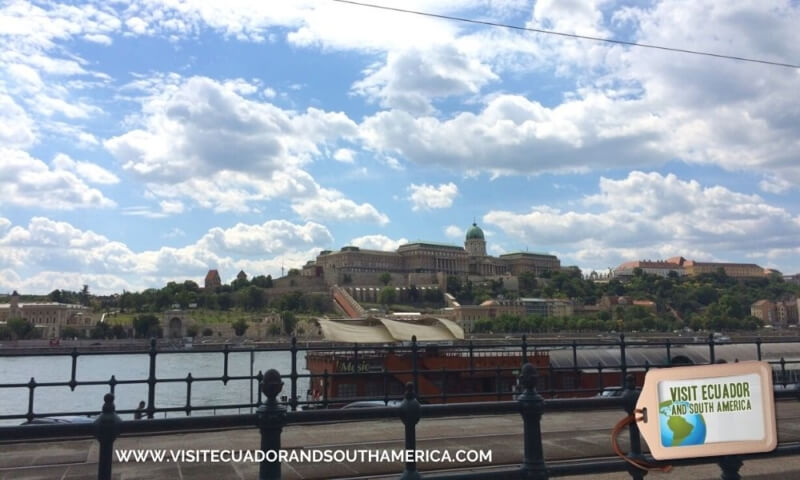 Explore Buda and Pest
Budapest, the capital of Hungary with 2 million inhabitants, is divided into two parts by the Danube river:  Pest – nowadays the commercial side and Buda that used to be the political center. 
Buda was the home of the royalty, and Pest was the commercial area already back then.
A walking tour
Vörösmarty is the meeting point for the free 2,5 h guided tour of the city that we took and as in most European cities this is a great way to explore the city and get a good glimpse into its history and traditions.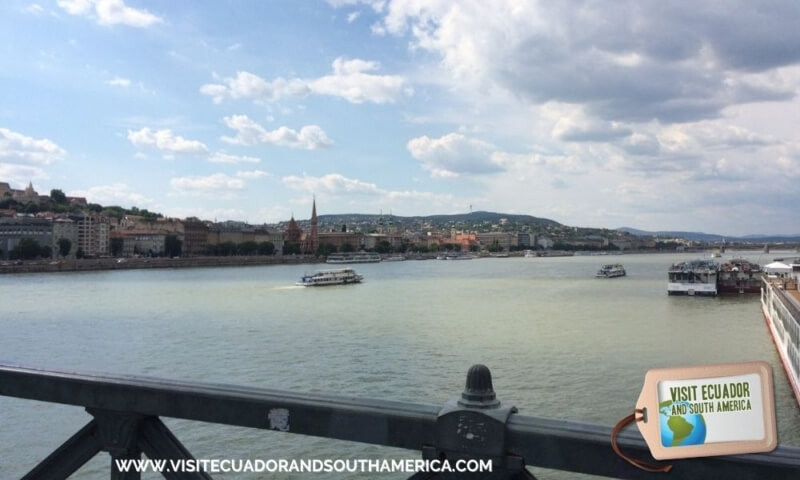 The Opera House
The Opera House is a Neo-Renaissance building opened in 1884, with a 1200 auditorium considered one of the best for operatic performances.
The inside is richly decorated with frescos and statues of great composers, such as Mozart, Verdi, Beethoven,n, and Tchaikovsky. 
The outside of the building showcases the statues of two famous Hungarian composers: Ferenc Erkel (composer of the Hungarian National Anthem) and Ferenc Liszt.
If you love opera or classical ballet and want to enjoy a performance, make sure to buy tickets ahead of time.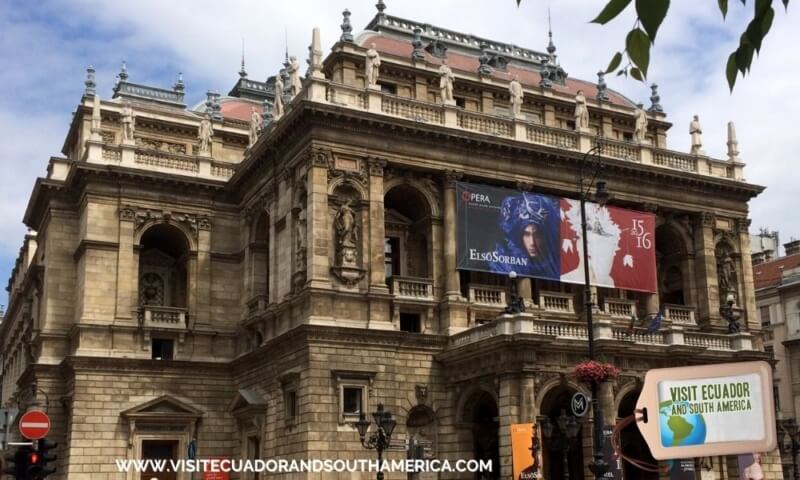 St Stephen's basilica
Another important stop in our walking tour was St Stephen's Basilica,  named after the first king of Hungary, Stephen 
An imposing building, built in neo-renaissance style, is the basilica, a holy site and one of the highlights in Budapest. If you want to go inside, know that you must keep your knees and shoulders covered for all who wish to enter.
Hungarians came and wanted to convert people to Roman Catholicism. 25% Christian, many could not practice their religion during communism.
If you want to get a bird's eye's view over the city, you can go to the dome's base and enjoy some postcard views of Budapest.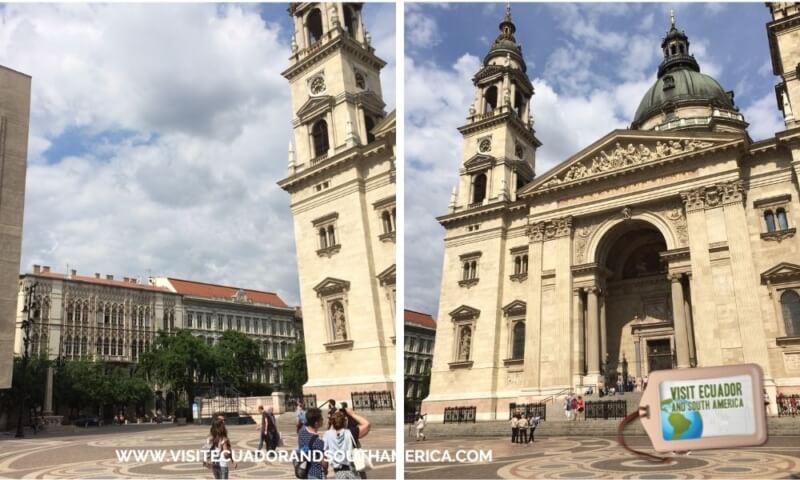 Heroes Square
A must-see or stop is the Heroes square, a semi-circle of pillars with lots of history and incredible architecture, an excellent spot for picture opportunities.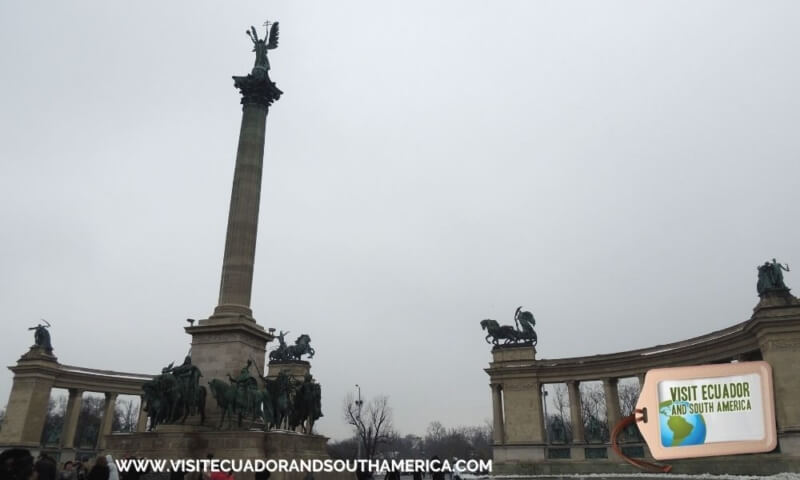 Share your pictures with our community, tag #VisitSAmerica.
See Castle Hill
A UNESCO World Heritage Site that offers a breathtaking view over Pest and the Danube river. For us, this was the most charming area in Budapest. As you stroll along the cobblestone streets of this section of the city, you travel back in time to the middle age and admire baroque houses and Habsburg monuments. You can get up the hill by foot, bus or take the funicular.
Mathias church on the left below,  was then turned to ottoman style and then back to Christianity another important sight in Castle Hill.  
Saint Stephen basilica
If you are ready for wonderful vistas over Budapest including the Fishermen's Bastion, climb the stairs up to the tower. ( right picture below)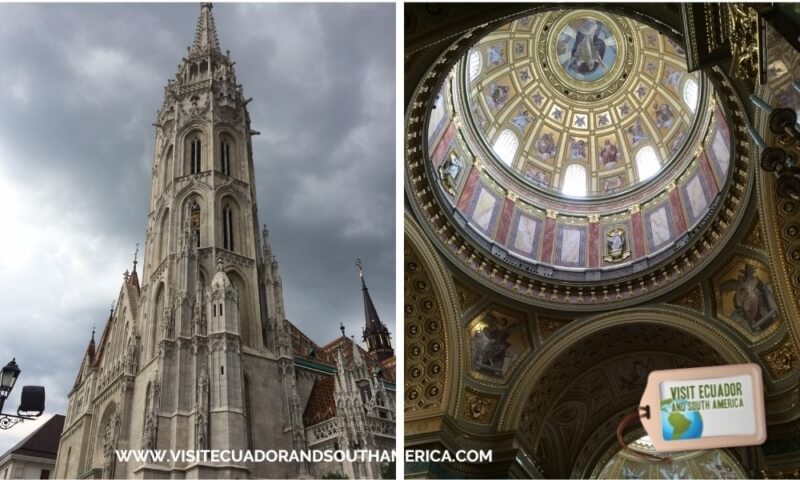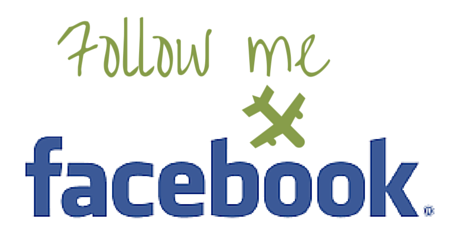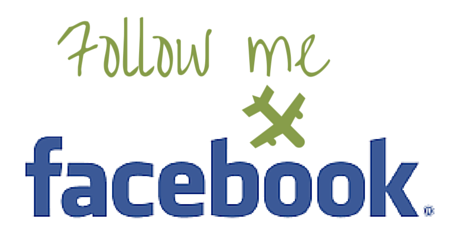 Fishermen's Bastion
Another must-see, located at the top of the hill, is the Fishermen's bastion, Neo-gothic, neo-Romanesque styles blend in the Buda part of the city. This terrace has seven towers, each one representing a Hungarian tribe that founded the city.
I felt like these castles and towers inspired the ones at Disney World.
In addition, this is an excellent viewpoint to the city, the Danube city, and the main highlights from this iconic place.
Our 3-hour tour took us to the top of the hill, to Citadella, nowadays a restaurant offering some fabulous vistas.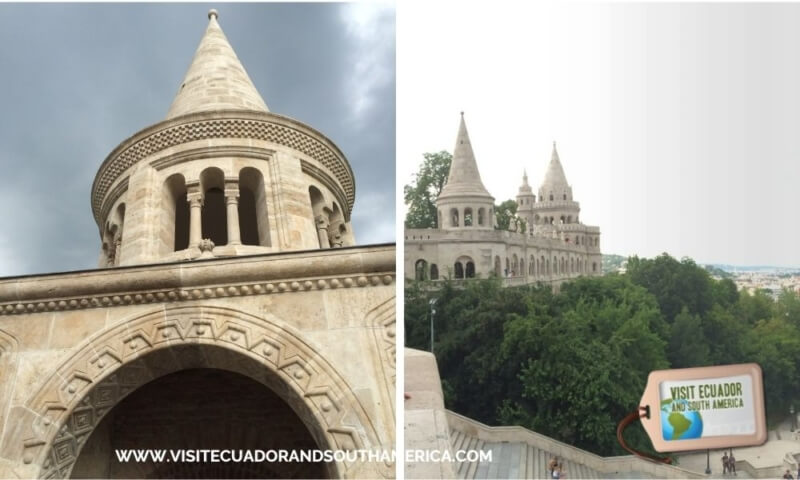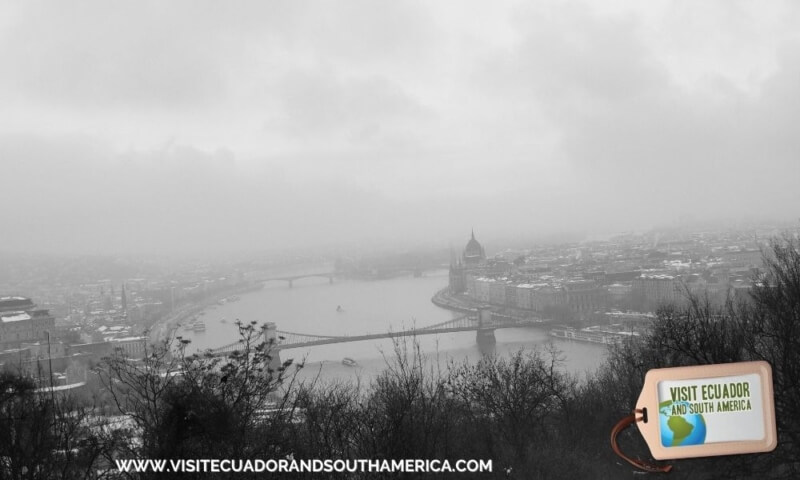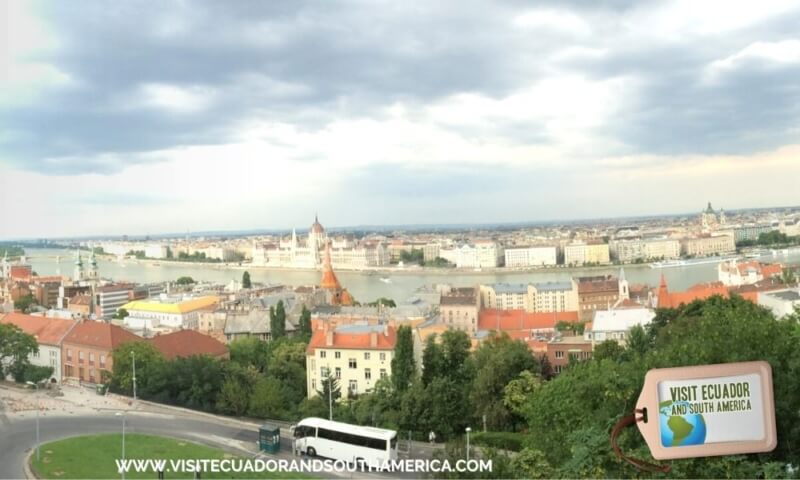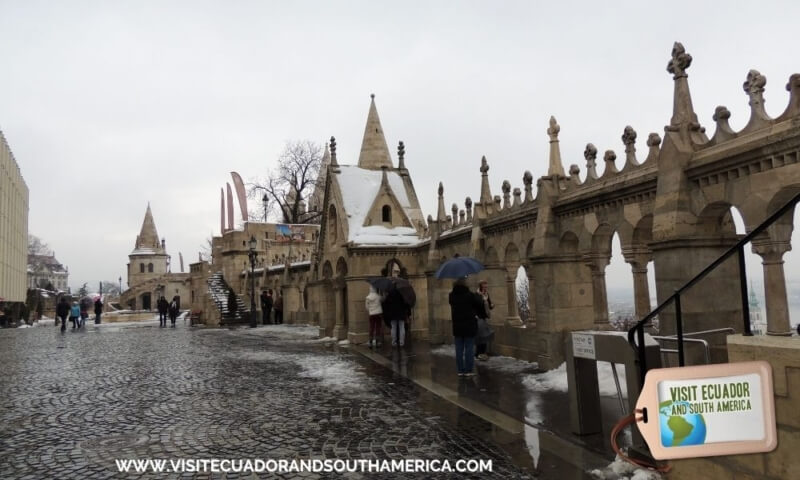 Gastronomy
You can eat your way through Budapest, as restaurants and street food options abound.
Visit some of the food trucks and stalls to enjoy some of the street food that Budapest offers.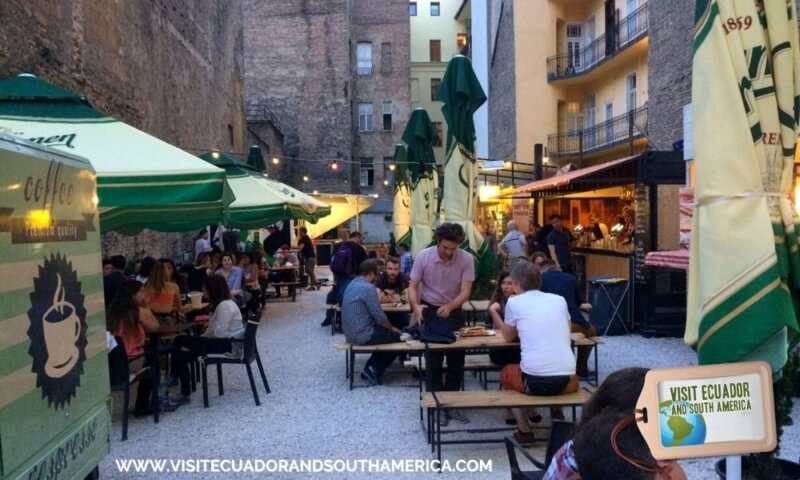 You can then visit the Jewish Quarter in Budapest for some traditional Jewish Food.
Twenty percent of the population of Budapest were Jewish a hundred years ago, and now around 80.000 Jewish people live there.
We loved enjoying some Jewish food at a restaurant called Macesz, including two favorites are cholent and matzo ball soup.
Great Market Hall
Budapest's most famous marketplace is the Great Market Hall.
It was one of the activities we added to our itinerary, and we enjoyed watching all the variety of locally grown vegetables and fruits, colorful souvenirs, and other items.
The highlight for us was to visit the top floor and try some local delicacies at some of the food stall upstairs.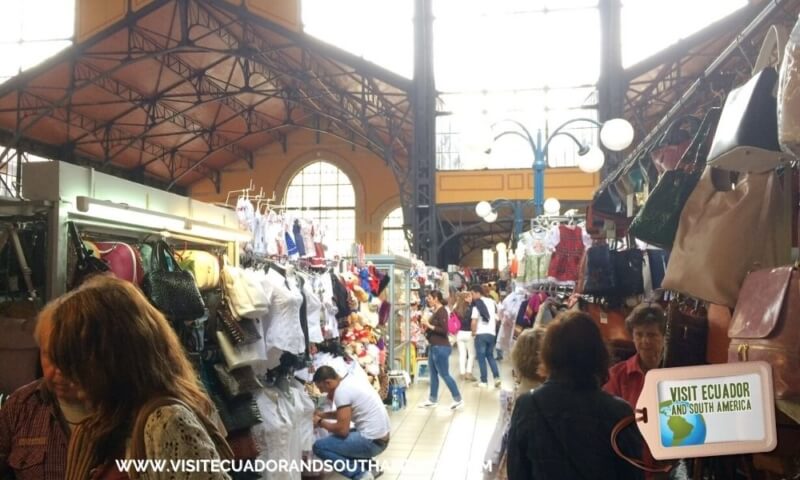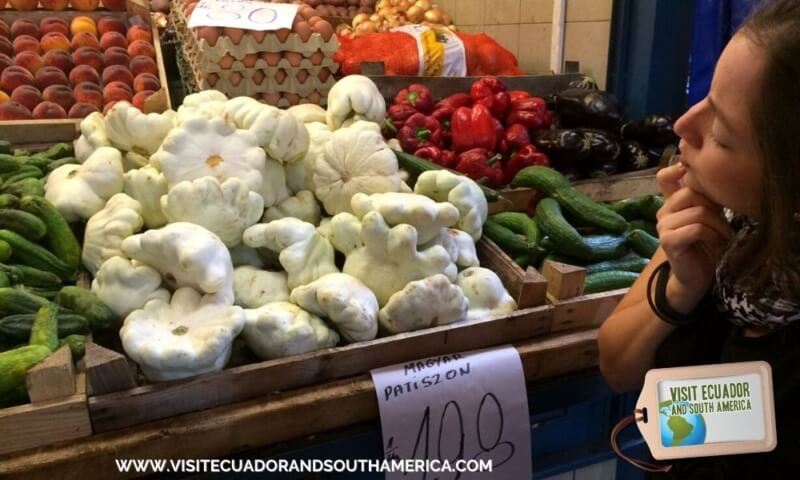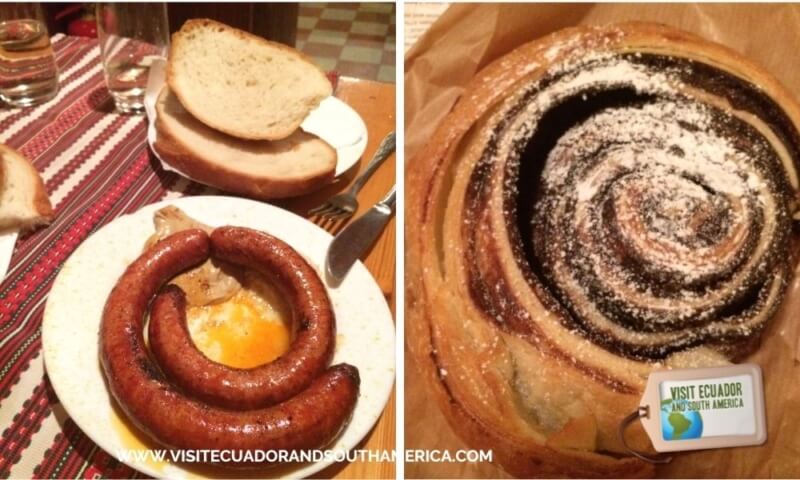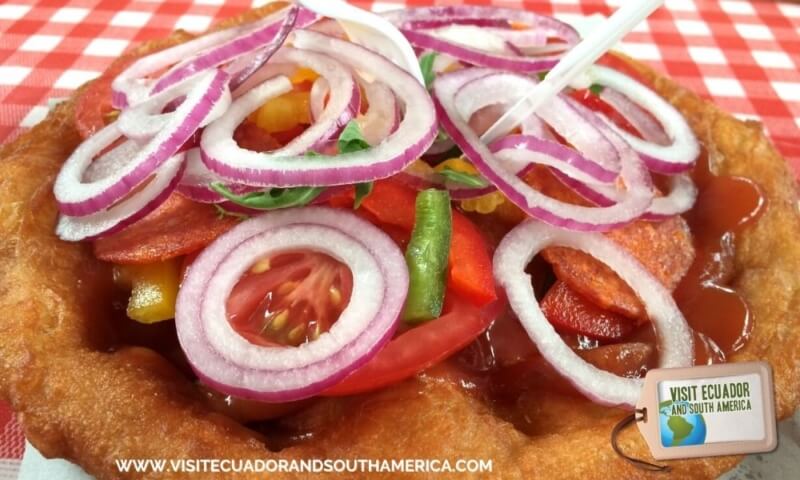 Visit a Ruin Bar
Eclectic, arty, and funky ruin bars are a must if you enjoy going out at night. In the '90s, bars began to appear in the abandoned buildings in the old Jewish Quarter and are nowadays filled with worn-out furniture and plenty to drink.
We decided to take the Communist tour on the second day of our most recent visit to Budapest.
The tour included a visit to a Ruin bar, where we found a "monopoly" in communism, "how to become a loyal farmer".  The maps did not include the U.S. and, there was another map, marked like the rest of the world. Why should people want to travel there?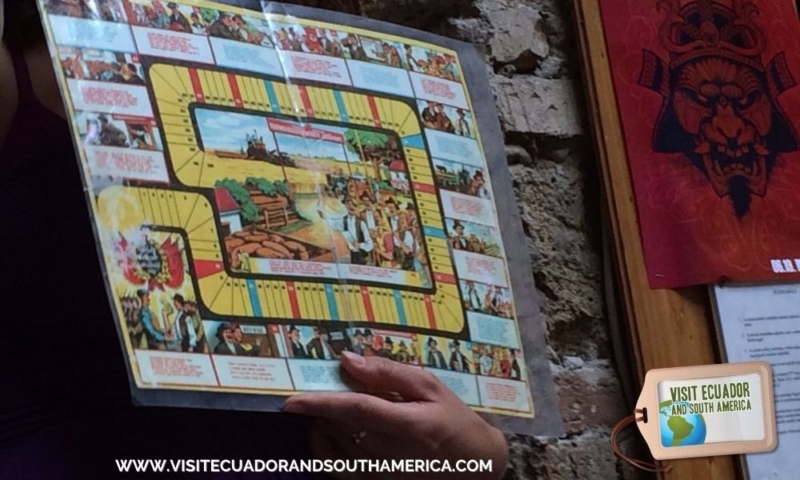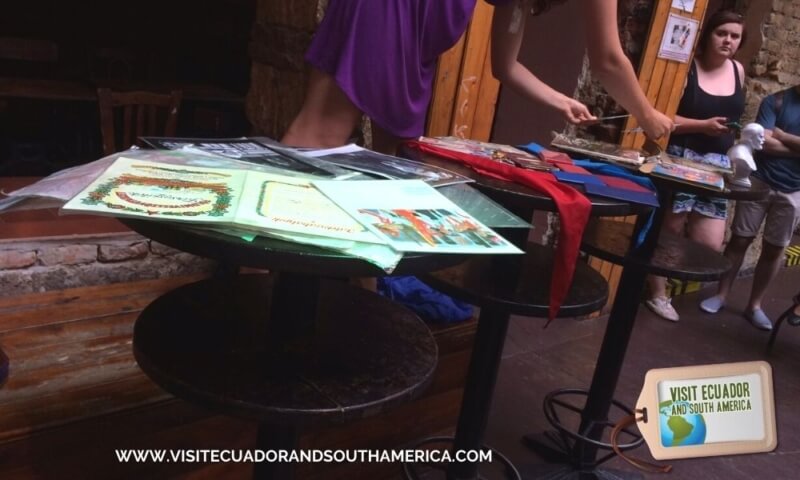 Other facts we learned during the Communist tour include:
At the end of WWII, Hungary was in ruins, and was it aligned with the nazis, and those not
supporting communism were enemies, that there were spies placed all over, and enemies made them sent to forced labor, among other things.
Everything was nationalized, bankers, entrepreneurs, all generating employment and wealth were declared enemies of the system, forced to work to death or imprisoned! Products were scarce and people had just once a year fresh vegetables and fruits. As an anecdote, we were told that some families traveled to Vienna to get bananas and other "special" products. 
Where to stay in Budapest?
Are you planning a city Break? I found that this website helps me find & book tours in Budapest.
The city is also very famous for its thermal baths, with more than 100!

Interesting fact: Hungary is a relatively small country, a member of NATO, of the EU, but they still have their currency due to the conditions of the country's economy.
TIP: Public transportation, buy a 24 h pass, never go online on a non-validated ticket, do not cross the street outside the zebra lines, there are big fines.
After you visit Budapest, you realize that there are many things to do and that this is a destination you can keep coming back to again and again.
Pin it for later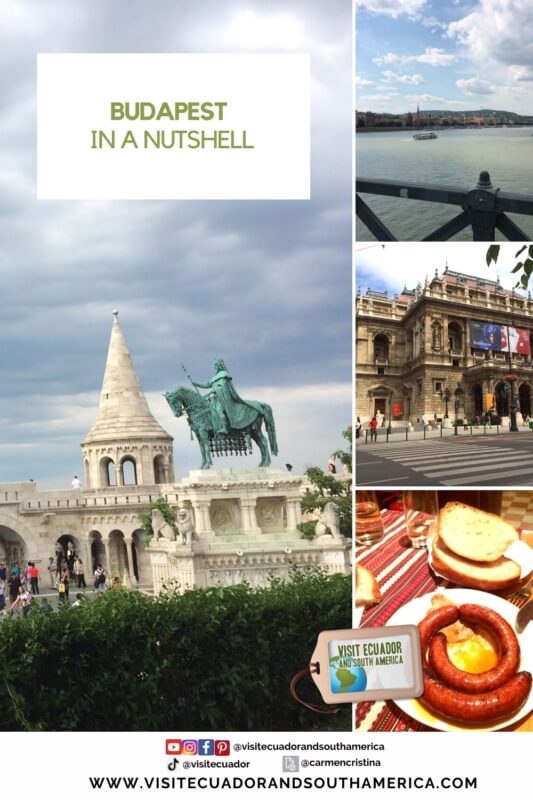 If you want more in-depth information and a guide that you can bring along during your trip, I recommend the Lonely Planet Budapest travel guide. It is an excellent source of information maps and all you need if you plan on visiting Budapest. I like the option of having a hard copy version where I can take notes and have them at hand.
Take a look at this list of travel resources to plan your trip and travel in the world.
Daydreaming about your trip to South America?
Order here your Free Ebook. I share with you some useful tips & resources for a memorable trip!
Finally, I would like to invite you to follow me on Facebook, Twitter, Pinterest, and Instagram. In addition, you can subscribe on YouTube.
Send me an email for help planning your trip: info(at) visitecuadorandsouthamerica(dot)com.